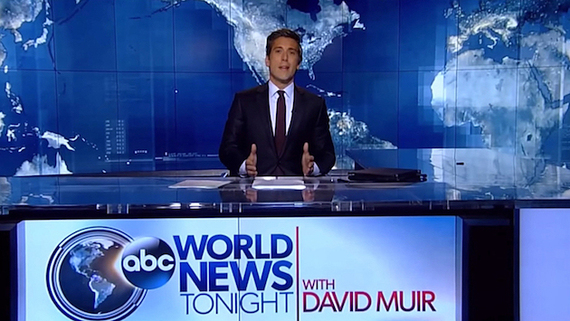 ABC anchor David Muir's World News Tonight cited climate change only once this year in passing, but aired at least six pieces on NFL quarterback Tom Brady.
Secretary of State John Kerry, in Marrakesh this week for international climate talks, recently said it "pissed him off" that there wasn't a single question asked about climate change during the six hours of televised presidential and vice presidential debates prior to the election.
Kerry's annoyance is justified. Given rapidly rising global temperatures, dramatic extreme weather events, the global agreement to curb carbon emissions, and stark divisions among the major party candidates, climate change deserved to be one of the most talked-about issues of the campaign. And yet, outside of a passing reference during the "town hall" presidential debate, the candidates were not asked about it, despite the fact that queries about climate change were the fourth most-popular question category submitted by the public for the town hall debate, demonstrating that voters wanted to hear about it.
But it wasn't only the debates.
Since January, the broadcast television networks barely reported on climate, even though this year is on pace to be the hottest one in the books, setting a record for the third year in a row. Out of more than 1,700 evening, morning, weekly and Sunday public affairs news programs aired between January 1 and October 31, the four commercial broadcast networks that provided moderators for the debates -- ABC, Fox, CBS and NBC -- collectively aired only 32 segments and 24 briefs on the topic, a total of 56 pieces. And most of the evening news segments ran less than two and a half minutes in length, while each brief was no more than three or four sentences long.
By contrast, the commercial broadcast networks found time for considerably less important topics. Take the coverage of New England Patriots quarterback Tom Brady and the fallout over his "Deflategate" football tampering scandal. During the first nine months of this year, ABC, CBS and NBC aired 33 segments and 40 briefs on Brady, for a total of 73 pieces. (Fox's lone national news show somehow missed the story.) Nearly half of the pieces -- 34 -- were on Deflategate and Brady's four-game suspension. The rest reported on such riveting topics as Brady's haircut, his new $200 cookbook, and his new family dog, Fluffy.
Fox Broadcasting Company -- not to be confused with 21st Century Fox's cable channel Fox News -- was by far the worst offender. The network doesn't have a nightly news program, but it does air Fox News Sunday, a public affairs show hosted by Chris Wallace, the moderator of the third and final presidential debate. Since the beginning of the year, Fox News Sunday only broached the topic of climate change once, during an interview Wallace did with Green Party presidential candidate Jill Stein on September 4. Stein mentioned it in one sentence, and Wallace changed the subject. But Fox News Sunday was not alone. The topic didn't come up on the other Sunday morning political gabfests either unless a guest mentioned it in passing. More often than not that guest was Bernie Sanders. (Given the incidental nature of these remarks, they aren't included in the segment or brief totals.)
ABC, where town hall debate co-moderator Martha Raddatz works, was only marginally better than Fox, and it runs a lot more news programming. The network has aired only three segments on climate change this year, and they were all variations of the same story. On January 6, Good Morning America ran a relatively long segment on a melting glacier in Iceland that is retreating about a hundred yards every year. Nightline aired a shorter version of the piece that night, and the next morning, Good Morning America did a follow-up. Since then, the network aired only seven climate-related briefs, six on Good Morning America and one on World News Tonight, which merely reported that bumblebees are "threatened by climate change" in a two-sentence piece.
Over the same time frame, NBC aired 11 segments and two briefs on climate change. Seven segments were on Today, and the other four ran on NBC Nightly News, which is anchored by Lester Holt, the moderator of the first presidential debate.
Two of the four Nightly News segments piggybacked on other news stories. On August 20, an NBC correspondent took time off from the Rio Olympics to talk with locals about deforestation. Two weeks later, on September 3, the show reported on the G-20 Economic Summit in China, where President Obama and Chinese President Xi formally committed to the Paris climate agreement. All of the individual segments were well done, but given the magnitude and urgency of climate change, the fact that NBC's premier daily news program ran only four segments on the topic over the course of nine months is incomprehensible.
CBS, whose correspondent Elaine Quijano moderated the vice presidential debate, aired the most segments and briefs of the broadcast networks -- but that's still not saying much. Nearly all of the briefs -- 14 of 15 -- and more than half of the segments -- 11 of 18 -- were on CBS This Morning or CBS Sunday Morning.
Two segments on The CBS Evening News linked climate change with extreme weather events. A July 20 segment on the heat wave broiling residents in more than two dozen states featured a National Weather Service meteorologist explaining how climate change works in simple, understandable terms. Two months later, on September 17, the show reported that the "world is on pace for the warmest year on record, breaking marks set in 2015, 2014 and 2010. But scientists say it's more than temperatures. They have connected man-made climate change to deadly heat waves, droughts, and devastating floods."
Those Evening News stories were excellent, but they were two of only five climate-related segments the show aired since the beginning of the year. 60 Minutes, meanwhile, sent a correspondent to Greenland to meet with climate scientists for a segment that aired on January 31 and again on July 31. That was it for the newsmagazine, but its competition at ABC and NBC -- 20/20 and Dateline -- avoided the issue altogether.

Millions are Watching, and They're Not Being Served
The relatively few climate-related segments that did air on ABC, CBS and NBC since January demonstrate that the networks are quite capable of covering the subject in a compelling way. The amount of attention they devoted, however, was nowhere near what it should have been given the magnitude of the problem.
Besides their scanty coverage, the networks missed some obvious opportunities to make the climate connection. For example, all of the evening newscasts reported on the devastating rains and flooding in Louisiana last August. According to Climate Nexus, the storm that triggered the flooding "was supercharged by running over a warmer ocean and through an atmosphere made wetter by global warming." No matter, according to Media Matters, none of the five NBC Nightly News segments, three World News Tonight segments, or three CBS Evening News segments on the floods cited the climate link. That's just bad reporting.
One other point to consider is when the networks aired the bulk of their climate stories and briefs. Nearly two-thirds of the segments (20 of 32) aired on one of the network morning shows, as did more than 85 percent of the briefs (21 of 24). Why is that important? Because nearly twice as many viewers watch the evening news shows.
That said, despite the fact that the legacy broadcast networks have lost ground to cable and online sources in recent years, all of their news shows still command sizable audiences. According to figures from the week of October 24, slightly more than 23 million people watched one of the three broadcast networks' evening newscasts. ABC's World News Tonight led the pack with an audience of nearly 8.19 million viewers, just edging out NBC Nightly News for the top spot. The CBS Evening News came in last with 6.79 million viewers that week.
Fortunately, to paraphrase a Nobel Prize-winning poet, you don't need a TV network to know which way the wind blows. Despite Donald Trump's well-publicized contention that climate change is a Chinese-inspired hoax, nearly three-quarters of American voters now say global warming is happening and nearly 70 percent support a carbon tax.
When the story of this past election is written, however, a glaring and mystifying fact for historians will no doubt be how little attention was paid to perhaps the most important issue of our time. And the failure of the commercial broadcast networks to adequately address climate change should be front and center in that story. Their track record covering climate change this year has been so pathetic, it arguably violates the spirit -- if not the letter -- of the federal requirement that broadcast networks serve the public interest.
Elliott Negin, a former managing editor of American Journalism Review, is a senior writer at the Union of Concerned Scientists. The broadcast network data cited in this article came from the LexisNexis database.
REAL LIFE. REAL NEWS. REAL VOICES.
Help us tell more of the stories that matter from voices that too often remain unheard.
BEFORE YOU GO