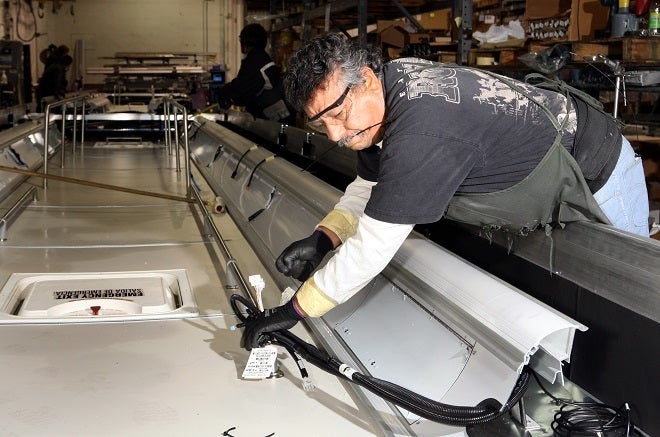 Most taxpayers want their tax dollars spent on American-made goods and services. Democrats and Republicans alike share this patriotic "fair trade" value that our government should spend our money at home – whether it's state and municipal contracts or big federal infrastructure investments. That's why Buy American laws that give preference to U.S. companies in government contracts are so popular, except with the foreign companies that want to underbid American manufacturers and the other countries that want to take jobs away through bad trade deals.
Those bad trade deals with their generous government procurement chapters have undermined the letter and spirit of our Buy American laws and undercut American workers in manufacturing and the public service sector. The U.S. is a party to the Government Procurement Agreement, for example, a 47-nation side deal to the WTO. It was the subject of a recent report by the Government Accountability Office, which revealed that foreign firms are able to bid on far more U.S. opportunities than U.S. firms are able to bid on foreign ones. Referring to that report, an administration official admitted that "the U.S. may not be getting its fair share of the global government procurement market through its free trade agreement concessions."
"We appeal to the administration and the Congress, American business and labor, workers and taxpayers to rally around Buy American."
We agree. And we hope the administration and the Congress will work together to strengthen Buy American laws and regulations. Fortunately, we have good reasons to be optimistic about dramatic bipartisan reform, especially when it comes to government procurement. Democrats in the Congress are leading the legislative way to defend and improve Buy American. Some of the early activities of the Republican in the White House indicate that he may share their goal. While we were disappointed when President Trump reneged on his commitment to insist on U.S.-made steel in the construction of the Keystone pipeline, we were heartened when he issued an executive order on Buy American.
The "Buy American and Hire American" EO could help jumpstart an investment in domestic production that would employ U.S. workers and boost the economy at the same time. It outlines federal procurement policies that focus on utilizing goods, products and materials made in this country. Most importantly, it directs federal agencies to reduce the use of waivers and exemptions that have allowed them to bypass Buy American laws up until now. We concur in AFL-CIO chief Richard Trumka's reaction to the EO, that it is a "good first step toward making Buy America provisions more effective and discouraging excessive waivers, but more needs to be done to pivot the U.S. economy toward steady wage and job growth."
Union members in manufacturing and the building trades depend on pro-U.S. trade and procurement policies and, from where we sit, the President's EO, coupled with the passage of legislative initiatives like Senator Stabenow's new bill, S 908, and Congressman Lipinski's Buy American Improvement Act, HR 904, promises good outcomes for American workers. The Democrats' approach to these issues mirrors the objectives of the renewed interest in Buy/Hire American. And our members and American taxpayers generally will benefit when federal and state procurement policies are made stronger, more transparent and less susceptible to abuse and avoidance through waivers. Accordingly, we appeal to the administration and the Congress, Democrats and Republicans, American business and labor, workers and taxpayers to rally around Buy American and commit ourselves to hire American.
Related
Popular in the Community