I had been evacuated in Houston when Hurricane Katrina hit and the levees broke. I watched CNN for days and cried for my city, New Orleans: seeing the dead bodies, watching people wading through the foul waters and hearing the screams for help from the rooftops.
But the full enormity of the tragedy didn't hit until I walked the streets of Broadmoor, my beloved New Orleans neighborhood. I recalled how my organization, the Broadmoor Improvement Association, and local seniors had planted a community garden just weeks before the flood. Little evidence now remained of that garden that we'd built with loving hands.
The floodwaters, which were up to 10 feet deep in Broadmoor, hadn't only destroyed our homes and belongings -- they had also killed sound. No birds whistling; no children's giggles and playful shouts; no neighbors yelling hellos or "Hey Miss LaToya"; not even dogs barking. Just an eerie quiet that enveloped New Orleans for mile after mile.
Broadmoor wasn't a perfect community before the levee failures. We suffered from the systemic problems of poverty -- blight, slum apartments, and a failing public school -- and the deadly scourge of violent crime. But we possessed many assets -- historic homes, a public library, and an active neighborhood association -- and the greatest attribute of all, our people. Our diverse community (low to middle income with about 68 percent African American, 25 percent white and 4 percent Hispanic) represented a microcosm of New Orleans, and if we couldn't survive and flourish, no one could.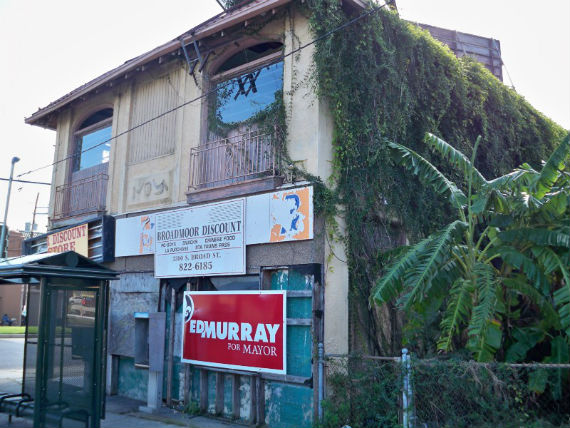 A historic building in Broadmoor destroyed by the flood.
Photo Credit: Regina La Macchia
Unfortunately, city government seemed to have other plans for Broadmoor. In early January 2006, the Bring New Orleans Back Commission put out a plan and map, which showed a green dot around Broadmoor, suggesting our neighborhood be transformed into a drainage park. Within days, our residents responded with a "Broadmoor Lives" rally, which drew more than 200 people, many of them driving in from their temporary refuges in Baton Rouge, Houston and other locales.
We would stand up to anyone who said Broadmoor wasn't coming back, and we would decide the community's destiny.
I was serving as the board president of the Broadmoor Improvement Association (BIA), and the board knew it was time to organize. We broke the bank of our small treasury and held a night meeting on the front lawn of Broadmoor resident Irwin Isaacson's home, where heated and lit tents were packed with anxious but brave residents.
The city government had said all New Orleans neighborhoods had to prove their viability in order to be part of the city's recovery plan. Displaying his uncanny optimism, resident Hal Roark, who later volunteered that night to become co-chair of the BIA planning committee, stood up and addressed the crowd.
"This is great," Hal said. "Everything that the city says a neighborhood must have in order to prove its viability, Broadmoor already has."
From that premise, we began working on Broadmoor's redevelopment plan. We established committees focused on challenges such as starting a public charter school, reopening our library, finding our displaced residents, and providing community healthcare. Dough Ahlers, a fellow from the Harvard Kennedy School of Government (HKS), brought many of his graduate students, who devoted their spring break to aiding us in developing our blueprint.
By the time the resident-led plan was completed in the spring of 2006, we had written a comprehensive document of more than 300 pages that outlined in detail how Broadmoor would not only rise again, but come back better than before.
Armed with our plan, we reached out to potential partners. Aspen Institute President & CEO Walter Isaacson -- a Broadmoor native and the son of Irwin -- was already assisting us, along with HKS. They helped make critical connections with the Shorenstein Company, Shell, the City of San Francisco, CH2M Hill, and the Carnegie Corporation of New York. It was now clear that we in Broadmoor were not alone.
To help us turn our ideas into action in Broadmoor, the diverse group of organizations decided to leverage the power of the Clinton Global Initiative, whose focus on solving formidable global problems through cross-sector partnerships offered an attractive platform for an ambitious vision such as ours. Through CGI, the partners made a bold commitment to help rebuild Broadmoor by empowering our local leadership and leveraging resources to support our redevelopment plan. Immediately, I realized that these commitment-makers not only understood our vision, but could add to it as well.
It was in June of 2006 when I grabbed a folding chair to prop open a window to the Broadmoor public library, the Rosa F. Keller Library. The flood had ravaged and destroyed the stifling hot and rotting building, but I wanted Walter Shorenstein, founder of the eponymous real estate firm, and Vartan Gregorian, president of the Carnegie Corporation of New York, to see it. With that, I went through the window and opened the doors.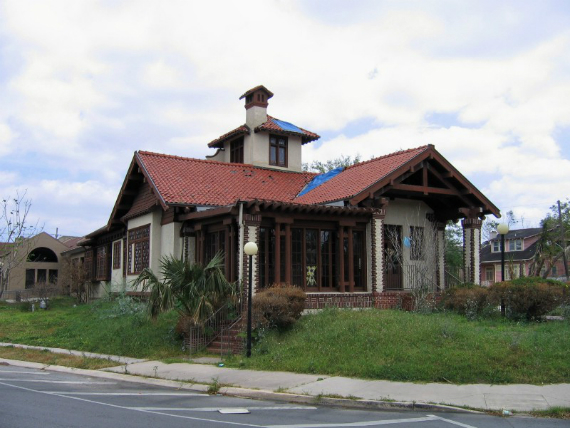 Broadmoor's Rosa F. Keller Library stands in disrepair after the flood.
Photo Credit: Maggie Carroll
Walter, who was 90 years old at the time and could barely walk, and Vartan listened and nodded as I gave them a tour. I explained how we wanted to improve and expand the library into a library/community center and how it would serve as anchor for our education corridor linked to our public charter school. Keep in mind that these were simply plans -- in some ways just dreams at this point -- as both the school and library were dilapidated, blighted and picked apart by looters.
As we left the library, the two men looked across the street at a vacant building, the former St. Mathias Catholic School. They told me that we should include it in our plans for the education corridor, because the public would outgrow the library/community center and would need more space for classes, programs and services. Even in the heavy, somber air of devastation and ruin, these men saw the future of Broadmoor, coming back and becoming better than before.
Just this month, the new Broadmoor Arts & Wellness Center, now housed in that former Catholic school, held its grand opening. Another milestone from this year was the opening of the South Broad Community Clinic.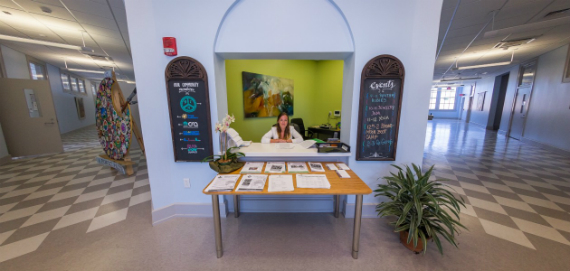 The Broadmoor Arts & Wellness Center is a symbol of the neighborhood's recovery.
Photo Credit: Adam Schultz/Clinton Foundation
We've continually looked to our redevelopment plan over the past decade, remaining steadfast in seeing it come to fruition. Thankfully, our CGI partners have as well. Although it took several years, the Rosa F. Keller Library and Community Center opened its doors in March 2012. I regretted that my friend Walter Shorenstein had not lived to see this wonderful day, but Vartan made it, and his heart-felt opening remarks came not from an outsider, but from a true community partner.
As the ribbon was cut and the doors opened, my fellow Broadmoorians quickly filled the once flood-ravaged building. I heard the excited gasps amid the low murmur of seniors who recalled the library before the levees broke. I heard children squeal with delight as they raced through halls built by perseverance, partnerships and loving hands.
The sounds of life had truly returned to Broadmoor.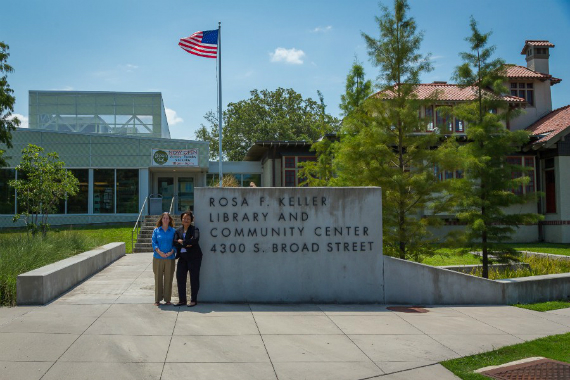 The renovated Rosa F. Keller Library and Community Center a decade after Hurricane Katrina
Photo Credit: Adam Schultz/Clinton Foundation