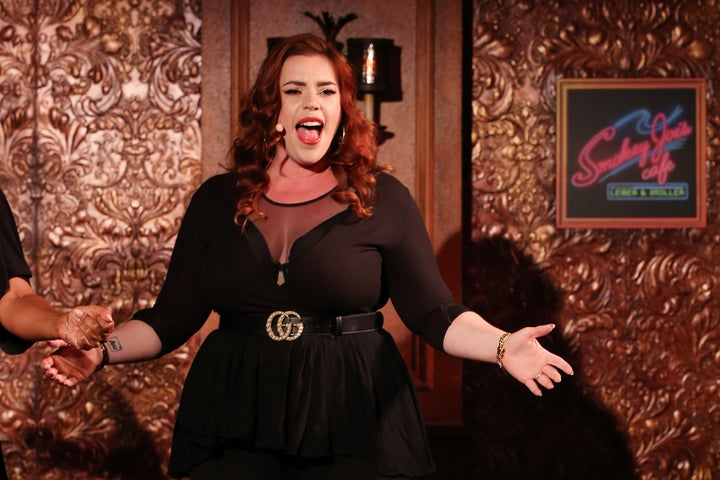 The theater community is rallying in support of an acclaimed singer-actress who was singled out in a recent New York Times review because of her size.
In a July 22 review of the off-Broadway musical revue, "Smokey Joe's Cafe: The Songs of Leiber and Stoller," writer Laura Collins-Hughes offered a critique of how Alysha Umphress had been costumed in the show.
Umphress, Collins-Hughes wrote, "is bigger than the other women onstage, and the costume designer, Alejo Vietti, doesn't seem to have known how to work with that, dressing her in an unnecessarily unflattering way."
She continued, "He does better with the skimpy, yet not overly revealing, pink fringe outfit Emma Degerstedt wears, and jiggles in, for the leering number 'Teach Me How to Shimmy.'"
On Monday, Umphress ― whose Broadway credits include "On the Town" and "American Idiot" ― responded with a lengthy note on Twitter.
Many of Umphress' Broadway colleagues echoed her sentiments, calling Collins-Hughes' review "insulting" and "embarrassingly juvenile" in its approach.
Meanwhile, the "Smokey Joe's Cafe" team also defended their star on Twitter.
Though Collins-Hughes didn't respond to Umphress directly, she did address the backlash on Twitter Monday. Her criticism, she wrote, "reflects on the designer" as opposed to the performer.
Later on Monday, Umphress thanked her fans and theater cohorts for their support.
Now playing at Stage 42 in New York, the "Smokey Joe's Cafe" revival opened July 22 to mostly positive reviews.
The original 1995 Broadway production of the show ran for more than 2,000 performances and was nominated for five Tony Awards. Featuring songs like "Jailhouse Rock" and "Love Potion #9," the cast recording won a Grammy Award for Best Musical Show Album.
Popular in the Community