By Jess Wisloski, Tom Liddy and Trevor Bach
MANHATTAN — Police and skateboarders clashed in the city Saturday as more than a hundred riders took part in an annual race in which skaters attempt to "bomb" down eight miles of Broadway.
The kick off, which starts at 12 p.m. every year at 116th Street and Broadway, is where hoardes of skaters meet up, but many were sidetracked at police barricades set up along the length of Broadway this year in an effort to curtail the illegal race, according to accounts and photos on Twitter.
The NYPD arrested or issued summonses to 38 participants, according to a spokeswoman for the department, who said "there were more summonses than arrests" but did not have an exact number. No permits were issued for the large-scale gathering.
Nearing Columbus Circle, a police net and concentrated effort halted and took several riders into custody, according to witnesses and online accounts.
In one YouTube video, a rider with a video camera, whose handle is Thomas Pagut, asks police what is going on during a mass arrest he said was at West 60th Street and Broadway. "What's this net for?" he says to police.
"What are these people getting arrested for? Skating? In the street?" he asks an officer, who says yes.
Pagut later says in the video he left his skateboard two blocks away from the police, so he could shoot footage.
An off-camera skater asks an officer, "Can I skate in the street tomorrow? Is that all right?"
And a woman Pagut interviews says her boyfriend was arrested while walking in the street carrying a skateboard. "It's legal. It's completely legal," says Pagut to passersby.
Janelle Sinclair, 18, and Juan Calderon, 19, who were hanging out in Columbus Circle following the arrests, said they saw one rider get tasered by police near the race's start, where officers were more spread out.
Sinclair said she saw the incident after officers tried to wrestle a skateboard away from the rider. The man was holding skateboard in his arms, and cops told him to let go of it, but he refused, first to one officer, but then others arrived as backup.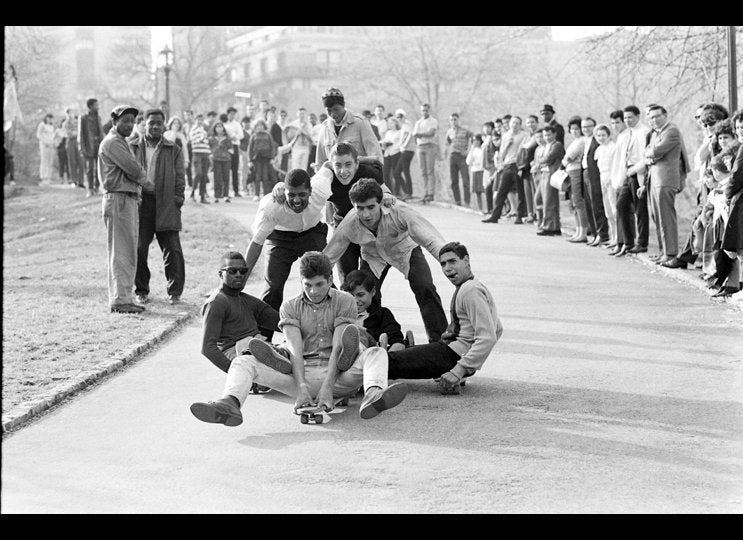 Skateboarding In 1960s NYC
Popular in the Community