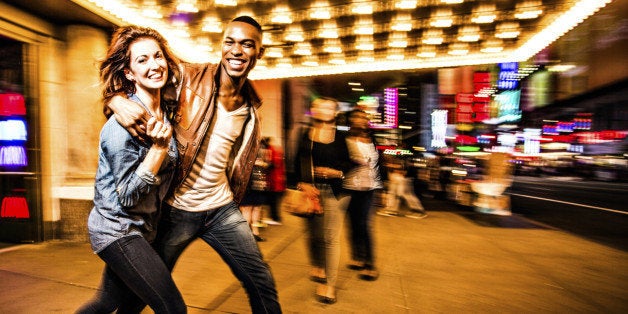 Ask an NYC millennial about the last time they went to a Broadway show and my bet is that it's been awhile. They go when Mom's in town or their friend from San Francisco is visiting. They'd go more often, but it's expensive and is too much of an orchestrated event to plan. They mean to go, but instead end up binging on Netflix, going to movies in the park or just grabbing drinks after work.
Although Broadway should be a boon of living in NYC, there's been a general sense among younger audiences that it's something people do alongside other tourist activities. And it makes sense -- until recently, going to the theater meant asking around about what was playing, finding out whether it was any good, searching the web for discount codes and scouring fragmented ticketing websites, most of which offer only a fraction of Broadway shows. One sure way to make sure you got a good deal was to stand in line in Times Square for hours to grab discounted day-of seats, but who has time for that?
It's been a process met with distrust, confusion and indifference from the generation that's grown up with instant access to the world at their fingertips. They've come to expect immediate gratification -- ordering a car through an app, meals delivered in a tap, instant access to friends all around the world via Instagram pictures and Snapchats. They also have an overwhelming number of choices for entertainment -- traditional forms as well as those on demand like Netflix, newsfeeds, quizzes and listicles -- many of them bite size options, easily consumed at a moment's notice.
Meanwhile the average Broadway theatergoer is 44 years old and producers acknowledge big challenges in drawing younger audiences. Is this generation doomed to miss out on experiencing the stories that come to life on the stages of NYC?
Interestingly, when it comes to embracing the arts, millennials are already very much on board: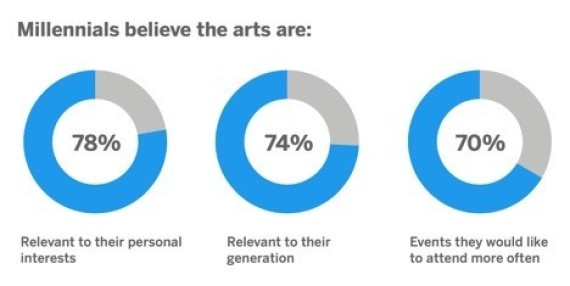 They dedicate a surprising amount of their disposable income to the arts world. According to a recent Eventbrite study around millennials and the arts, 1 in 5 millennials spent upwards of $500 on performing and visual art events in the past year, with 49 percent of all millennials citing theater as a recent excursion.
The study reported that millennials are all about the tradition and formality that comes with participating in the arts. They love dressing up, with 38 percent preferring dressy events over casual ones (with only 14 percent of boomers feeling the same), and almost half say that most arts events aren't dressy enough for their taste. And not only that -- they're even sentimental about it -- 53 percent of millennials prefer real paper tickets and 36 percent save those tickets as souvenirs.
When given the right tools, millennials are not only as artsy as they come, but also support arts awareness by spreading their fandom around via social: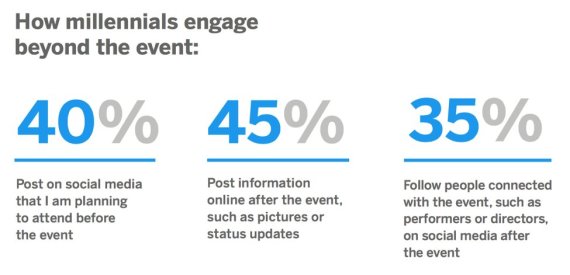 This all means that attracting younger audiences isn't a lost cause for traditional arts institutions by any means -- we just need to compete for their attention on their terms.

At TodayTix, a free mobile app that offers up the best prices on last minute theater tickets, the average user clocks in 12 years younger than the norm at age 32, squarely in the realm of the millennial generation. It's all about making the experience of getting there easier, more accessible and more enjoyable. Because we know that the 18-34 subset is more tech-focused and mobile-centric than any other age group, it's no surprise that a mobile ticketing experience makes it that much easier for Broadway to catch the attention of what is arguably today's most influential generation.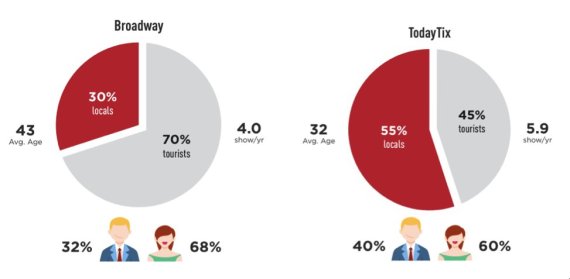 So is Broadway becoming cool again? More and more A-list Hollywood celebrities are crossing the country to star in limited-run productions, and film studios are putting more focus on their live entertainment divisions, such as Warner Brothers Theatre Ventures, Disney Theatrical Productions and Fox Stage Productions. The thrill of seeing an actor in a live moment is something that only gets more unique as screens get smaller.
Now the tech world is doing its part to make sure the answer to the question of whether Broadway is upping it's cool factor is, unequivocally, yes. We're collectively removing the obstacles that have kept younger audiences away by simplifying and streamlining the process. With the right technology now available, it's suddenly easy and tempting to head to the theater at a moment's notice.
Calling all HuffPost superfans!
Sign up for membership to become a founding member and help shape HuffPost's next chapter