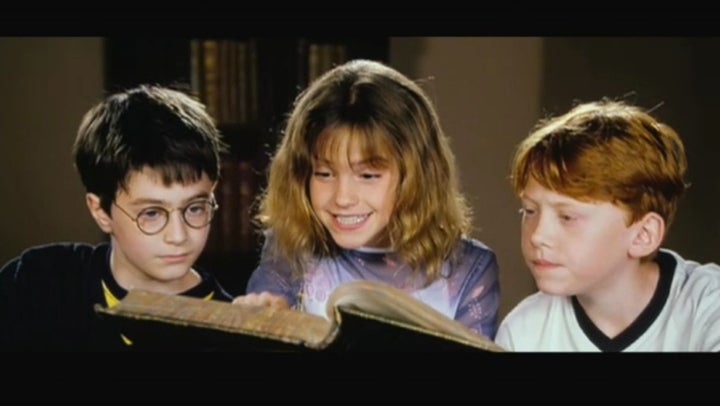 On the sixth day of the sixth month of the sixth year of the Broadway "JR" experience for NYC's middle schools, 600 children from 15 schools each performed a sample song from shows in the Broadway "JR" Collection. The children were welcomed by Master of Ceremonies Daniel Radcliffe (think Harry Potter) ... (think pandemonium!)
In his films, Harry performs wizardry. Daniel's (uh, Harry's) wizardry of the cinematic world brings beloved books to screen life, but on Monday, he bore witness to a new "magic" alchemy; viz.: schools totally lacking in arts programs were converted into fully arts-integrated schools in six years ... a short time to change their worlds (without any U.S. Department of Education support).
In New York City, a group of people from the public and private sectors work together with common purpose, resilience and tenacity. The Department of Education (responsible for one million school students in New York City), The Shubert Organization and The Shubert Foundation (whose generosity of spirit and vision served as a premiere funder and supporter for the City's Public School Arts Program) and Music Theatre International, the company I head and the conceptualizer of the Junior Program as well as the creator of the special materials geared for pre-high schoolers to "put on a show."
Additionally, show specific cross-curricula materials are provided to tie into required school subjects while still exposing the children to theatre, music, dance, visual arts. Children learn how to work collaboratively with each other and with their teachers. Their 2011 payoff this year came two times: first, when they performed for their colleagues in their own schools to standing ovations and parental tears and hugs; second, when they walked onto the magical, mystical Harry Potter-esque Great White Way viz.: Broadway and the stage of the Majestic Theatre ... surrounded by gold leaf cherubs, red velvet and crystal chandeliers. They may never again appear on Broadway, but for the rest of their lives, their parents, siblings, friends and Twitter and FaceBook buddies will all know they got to perform on Broadway! (A heady experience.)
Middle school kids are at an age considered tough to teach. But these kids energetically sang, danced and made their own magic in this magical setting. The audience heard songs from Suessical Jr., Guys and Dolls Jr., Disney's High School Musical II Jr., Disney's Aladdin Jr., Annie Jr., Once On This Island Jr. and Into The Woods Jr..
You heard shouts of: "Awesome! Amazing! OMG! Go for it!" as each school applauded respectfully for the other schools.
The entire event was smoothly choreographed by iTheatrics, a strategic partner and collaborator with MTI and the DOE which provides workshops for teachers.
How do you help kids if you can't teach teachers how to teach musical theatre and the arts? Teaching teachers who have no background in the arts how they are to teach children who also have no background in the arts is daunting! iTheatrics makes it happen.
The ArtsConnection, which has been part of the NYC private/public sector delivers young professional mentors from the field of theatre during the rehearsal and preparation process. These mentors regularly visit the schools, help the teachers, answer questions and guide teachers as they prepare for their performances at each school location. Over the course of two or three years, schools are weaned from these mentors/guides as the program becomes self-sustainable. This is the measurement of success. This means the arts have been integrated into one more school and community ... and the program has been successfully insinuated into the local community.
The children who participate in the shows and backstage grow in confidence as well as skill. Parents perceive their children in a new way and are proud. Teachers work longer and harder during the process and work in teacher pods sharing frustrations and, ultimately, sharing in the joy and satisfaction that comes from knowing they made a difference. Younger students in each school demand to see the show and subsequently they ask to perform in a school musical as well! OMG! It's happening ...
Inner-city schools of America, send your representatives to New York. Watch, learn and adapt this template because Harry Potter will tell you it does not take a magic wand to pull this off. It's just about being committed to hard work, staying the course and not being afraid to fail.
I doubt if you'll read this story in a newspaper or see it on the evening news because it isn't scandalous or tabloid-worthy. Government studies with blue chip, well-meaning, gifted and highly qualified people on panels write reports about the arts and education (specious arguments and delays). This wizardly program is: "Don't Wait For Help, Get It Done, Leave No Teacher Behind, Leave No School Behind." JUST DO IT.
Reports over the years from teachers, administrators, parents and others (more than 60,000 productions of "JR." musicals in America so far and counting) extol the value of the performing arts in the lives of their kids. Truancy rates diminish, attention spans improve, reading skills escalate and children mature. Mutuality of respect for each other emerges and communication skills improve. Enthusiasm for attending school emerges as a microcosm of a functioning society develops. Children learn about difficult subjects based on the content of the musicals. For example: The New Deal, The Great Depression, FDR, Herbert Hoover, Hoovervilles, Orphanages, child abuse, substance abuse -- all from one little show called Annie Jr. And they learn, not from a lecture but rather through being immersed in experiential learning. This is education. This is for a better America.
They sang to the assembled audience: "Children will listen."*
Perhaps America should now listen to the children!
Calling all HuffPost superfans!
Sign up for membership to become a founding member and help shape HuffPost's next chapter