It's Friday night. 8 p.m. After scanning Facebook for last minute status updates from friends and scrolling through a nearly endless number of tweets, it's time to figure out what to do around New York City. My iPhone lights up with an alert message. A friend has just checked in on Foursquare at the rooftop bar at the Metropolitan Museum of Art. Another alert. Someone else is at a Sara Silverman book signing at the Barnes and Noble in Union Square. Alert. Party at the Hotel on Rivington. Alert. Drinks at Mason Dixon.

So many friendly recommendations. But, wait a minute. I'm a theatre reporter. Why haven't I seen an alert telling me someone is seeing La Cage aux Folles or Hair? After all, Broadway has just experienced an onslaught of show openings and the Tony Awards are coming up. Yet, none of my Foursquare friends are checking in to a show tonight, which is the case mostly every night.

Since this year's South By Southwest festival, it seems like every news outlet has been latching onto Foursquare, a social networking tool that hipsters in New York City have been playing with their friends since it debuted in March of last year. A person could hardly consider themselves digital insiders, up until now, unless they were checking in to a location around town that was swarming with other in-the-know individuals.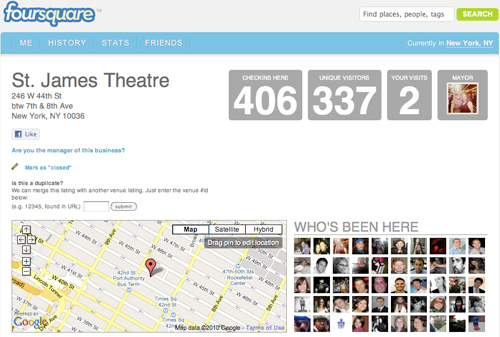 There are Foursquare badges for checking in to a venue with photo booths ("photogenic"), being a frequent gym user ("gym rat"), and eating at 20 different pizza places ("pizzaiolo"). Bravo, Zagat, and the New York Times have all joined forces with the social networking company, awarding their own special badges to select users. Yet, at the time of writing this article, there is no Broadway badge.

Broadway marketers have finally harnessed the power of Facebook. A Twitter campaign for last season's musical Next to Normal was so successful that it earned a Webby Award nomination. Now, with Foursquare gaining so much buzz, it is time or Broadway's 21st century Mad Men to boldly go where the internet's trendsetters are now playing, location-based applications.

"In this next year, there will be a lot of movement on this notion of connecting with people based on where they are," said Damian Bazadona, president of Situation Interactive, the digital marketing agency behind the Next to Normal Twitter campaign. "To me, the opportunity is that moment when someone walks in or out of a venue, when they are in their high, to capture their high. Foursquare provides that opportunity."

That opportunity comes in the form of more than one million Foursquare users, a number that recently increased by nearly 25,000 users over a single weekend, according to a tweet sent out by the company. As users continue checking in to venues around the city, conversations amongst their social networks now include recommendations for restaurants, bars and movies, a trend that both local and national companies are beginning to harness.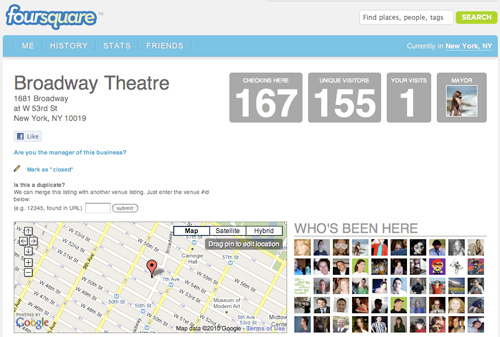 Foursquare rolled out a business dashboard last month, a new aspect to their service allowing venue owners to track activity involving their businesses. Once someone has been verified by the service as a venue's purveyor, they are given access to real-time venue statistics, including information about the most recent and frequent visitors, peak check-in times, gender breakdown of customers and which users send their Foursquare check-in information to their Twitter and Facebook feeds -- a digital word of mouth.

And word of mouth is something marketing agencies are eager to track and ultimately control, especially with it accounting for 20 to 50 percent of all purchasing decisions, according to a new study by McKinsey & Company, a leading global consulting firm. In an attempt to measure word-of-mouth effectiveness, the research found that a message from the elite group of influencers -- eight to ten percent of consumers fall into this category -- is four times more powerful in swaying a recipient's purchasing decision.

"It is kind of like a badge of honor for a brand to have someone say where they are, basically giving you an endorsement," said Bazadona. "If someone goes to look for a show, they are going to look at consumer reviews."

Knowing how to properly market to theatregoers on Twitter and Facebook requires an understanding of social networking etiquette -- nothing is worse than reading one-way conversations about a product. However, when it comes to Foursquare, it requires little more than showing up to the game.

"What's so excellent about Foursquare is that all a show really has to do is get on it," said Jim Glaub, of Art Meets Commerce, a theatrical advertising agency that runs campaigns for such Broadway shows as Rock of Ages and A Little Night Music. Glaub first noticed Foursquare a couple months ago, and quickly realized that users were slowly beginning to connect it to Broadway theatres. "Only a couple people had checked in. So, one of the things we decided to do was put the shows we represented on there as actual venues. So, for Promises, Promises, we created the venue Promises, Promises Broadway Theatre."
Now comes the test. Will theatregoers, a demographic traditionally skewing older than the twenty- and thirty-something crowd predominately using Foursquare, Gowalla and the like, adopt the idea of involving Broadway in their social conversations? A quick glance at Broadway venues on Foursquare on a recent Saturday night showed a handful of people checked in to various theatres.
"I'm proud, and also a bit embarrassed, to say that I was the mayor, for a week or so, of the St. James [Theatre] after American Idiot started previews," said Allison Broder, a 24-year-old theatregoer and social networking user.
Despite Broder's willingness to check-in to a Broadway theatre on Foursquare, she voices a concern that advertising and marketing firms should pay attention to. "There is nothing to really accomplish through checking in to venues, but it can help connect you to people who also love theatre."
Beyond providing theatre enthusiasts an opportunity to connect with their own kind, why not create a greater incentive? If The Roxy, a concert venue in Los Angeles, can offer a free CD to anyone showing the merchandise booth that they checked in to the venue on Foursquare, Broadway can certainly offer similar promotions. After all, a Foursquare check-in can result in a tweet, or Facebook update, which helps create a word of mouth campaign.
Another feature of Foursquare is the push notification system, the latest way companies like the Wall Street Journal, the History Channel and VH1 are informing users about nearby venues or points of interest. They are adding to the conversation. Check-in to the Richard Rodgers Theatre, for instance, and a push notification might recommend another Broadway show.
"I think this is the most exciting time to be on Broadway," said Bazadona. "If you look at our client list, the biggest shows are working with us. They are really trying to accept [online marketing] and embrace it."
Broadway has the opportunity to get cutting edge. It's time to start playing Foursquare.

Popular in the Community