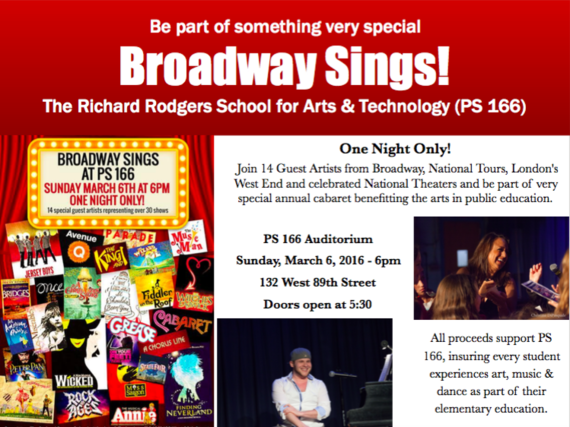 Musical theater is undisputedly the underlying charge that electrifies and energizes the bright lights of Broadway and New York City's Times Square.
Head uptown or downtown and Broadway takes on a more personal character, represented by a neighbor in your building, friends down the street or a fellow parent at your kids school, who's work and personal lives are rich with the artistry, talent, craft and business of musical theater. The Broadway story becomes more real as the lives of theater professionals intertwine with those of their more conventional neighbors.
Take the Upper West Side for example. where tucked between Columbus and Amsterdam resides PS 166, The Richard Rodgers School of Arts & Technology. The 118 year old elementary school, with it's grand gothic facade, has nurtured notables as medical researcher such as Jonas Salk, famous writers such as J.D. Salinger, and musical theater, as recognized by it's name-sake alumnus, the most celebrated American-composer Richard Rodgers. Broadway plays a special role in this micro-manhattan community, where piano playing and singing can still be heard wafting from open windows when strolling down treelined blocks. It is not taken for granted by locals, but celebrated with nods of recognition at the local diner, and more notably in an annual concert, appropriately titled, Broadway Sings at the Richard Rodgers School (PS166).
Broadway Sings at the Richard Rodgers School is without question a secret Upper West Side tradition, with roots going back way before the school was renamed in honor of Rodgers in 2003. Every spring musical theater actors and musicians who's credits span Broadway, Off-Broadway, National Tours, London's West End, join together in a cabaret style show is crafted with New York families and a multi-generational audience in mind.
"I am always overwhelmed by the generosity of the musical theater artists who perform." shared Marc Lovci, past actor himself who is now produces Broadway Sings in support of the school his children now attend. "Some performers are neighbors or have kids who attended the Richard Rodgers School. Some performers are drawn to the idea of performing on the same little stage Richard Rodgers himself performed as a youth from 1911-14. And always we have guests artists like Fabi, Edward and Scott, who are rushing in directly from the stage door of their Sunday Broadway matinee."
Lovci refers to 10 year old Fabi Aguirre, currently on Broadway playing young Gloria Estefan in, "On your Feet!", Sweden born Edward Baker-Duly, who may be recognized as Terence Margadale from the third series of Downton Abbey, now in the Lincoln Center production of The King And I, And Broadway veteran Scott Willis currently playing Monsieur Baurel in the Tony award winning American In Paris.
16 guest artists representing over 30 Broadway Shows, and countless National Tours, London's West End and Leading regional theaters will take the stage providing a blend of songs and personal interest stories for West side locals, aspiring young performers, and kids who may have yet to stepped foot in their first Broadway theater.
So, if experiencing musical theater as a local is more your style, perhaps it's worth a visit to the Upper West Side of Manhattan, where Broadway actors call home.
Broadway Sings!
The Richard Rodgers School (PS 166)
Sunday, March 6, 2016 - 6pm
132 West 89th Street
Will Call opens at 5:00pm. Doors open at 5:30pm
100% of proceeds support arts in education at The Richard Rodgers School PS166
tickets available at: HTTP://166BROADWAYSINGS.COM/
ADULTS: $30 / CHILDREN: $15 / PREMIUM: $75
Producer: Marc Lovci
Musical Director: Will Shular
Technical Direction provided by Jes Levine of Ars Nova
Guest Artists to perform include: Ephie Aardema, Fabi Aguirre, Edward Baker-Duly, Gillian Berkowitz, Christian Dell'Edera, Brandon Ellis, Aaron C. Finley, Elliott Greer, F. Michael Haynie, Julia Mosby, Erin Leigh Peck, Geena Quintos, Dana Rowe, Will Shuler, Jamison Stern, Scott Willis.
Calling all HuffPost superfans!
Sign up for membership to become a founding member and help shape HuffPost's next chapter