Sunday night is the one night each week that Broadway actors have free. After a week of performances, including two-show days over the weekend, Monday is typically an actor's day off. But rather than rest or relax, a group of stars gathered at a local nightclub to raise money for reproductive rights at "Broadway Acts for Women." The evening, featuring karaoke and comedy performances, raises money for A is For, a reproductive rights advocacy organization.
It was a festive, but also bittersweet evening at New York's 54 Below. Just a few days prior, the House of Representatives had voted to repeal and replace the Affordable Care Act with the drastically different American Health Care. A controversial and widely opposed bill, the AHCA would, among other changes, declare pregnancy a pre-existing condition.
"Broadway Acts for Women" featured appearances and performances by a group of Tony nominees and winners, including Cecily Strong, Martha Plimpton, Brian D'arcy James, Michael Cerveris, Keith Carradine, Ariana Debose, Noah Galvin, Rebecca Luker and Michael Xavier.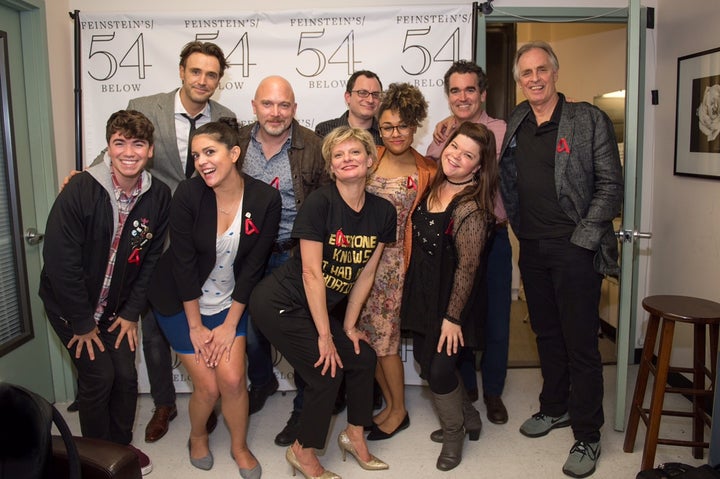 Plimpton has served on the board of advocates for Planned Parenthood for many years and is the founder of A is For. And, following the election of President Donald Trump and the vote on the AHCA, the actress and activist is more driven than ever.
"Reproductive rights are under threat — seriously endangered," she said before the performance. "In 90 percent of counties in the United States, there is no abortion provider. And so access to comprehensive safe respectful care for women is dwindling at a rate that is really alarming and very dangerous to women's lives. And it's fueled by this extreme hatred of female power and female agency and female sexuality — any sexuality that doesn't conform to a sort of old-timey white cisgender male '50s concept. These people in this administration and our government right now are absolutely terrifying. It's our obligation to resist them at every turn."
When asked about the vote on the AHCA and its impact on women's health, Plimpton said without pausing, "It's insane and sadistic and abusive, and it tells 52 percent of the population that they might as well not exist unless they're going to be popping out babies and people watching The Handmaid's Tale recently are going, 'You know what? It's not that far off.'"
The night before the concert, Saturday Night Live had aired a skit satirizing The Handmaid's Tale featuring Strong, who was hosting the concert at 54 Below. Strong has been devoted to Planned Parenthood for years, having worked as a receptionist at the corporate office for Planned Parenthood Illinois.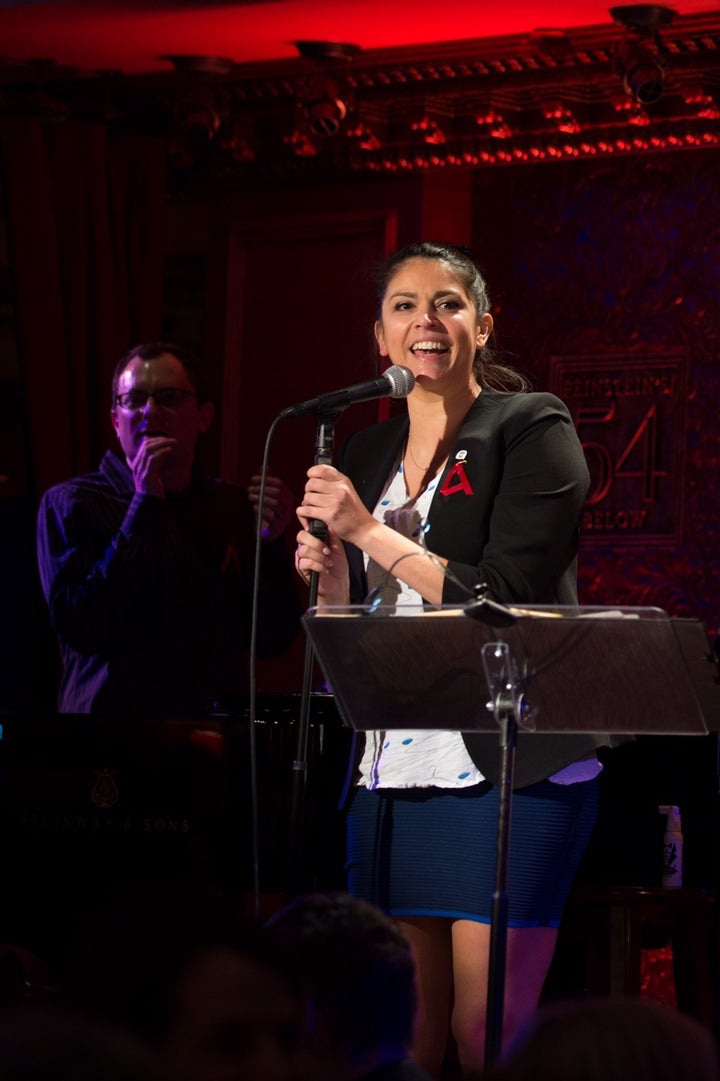 Strong shared her concerns about the ACHA's financial impact. "It's always lower-income women are the first to take the hit whenever there's any big spending bill, anything passed. It's not surprising, and it's always a group that needs to be protected."
Carradine emphasized the need for respect and privacy regarding reproductive health, saying, "I think it's an incredibly personal choice and it's one of life's very tough choices to make, but I don't think any of us has a right to tell anyone else what the morality is in it. I think it's an incredibly personal thing. I am here to support a woman's right to choose and for abortion to remain legal and safe in this country."
The state of the country, and its deep divisions, are a concern to Rebecca Luker, who said, "I'm still in shock that Trump could win this election. All I can hope is his policies will convince people that he isn't who they thought he was, he wasn't the one to vote for. He's taking away women's rights right and left. In the meantime, we just keep doing what we've always been doing and make people understand that we are for their rights. Keep fighting the good fight."
The evening's performances included both '90s pop songs and classic rock, among other musical numbers. When asked what song they would each sing to opponents of Planned Parenthood, the stars' choices varied between Plimpton's selection of "F*ck You" by CeeLo Green, Carradine's pick of "All You Need is Love" and Luker's option "I am Woman, Hear Me Roar."
When asked about her selection, Strong said without pausing, "They don't deserve my voice."
Popular in the Community