"The Prom" joins a long list of Broadway musicals including "Grease" and "Dear Evan Hansen" in portraying the humor and horrors of high school. While the show isn't the first to mine the teenage experience for song-and-dance numbers, it couldn't feel more topical amid America's current political divide.
Opening Nov. 15 at New York's Longacre Theatre, "The Prom" follows Emma (played by Caitlin Kinnunen), a lesbian high school student who is banned from bringing her closeted girlfriend, Alyssa Greene (Isabelle McCalla), to the prom in Edgewater, Indiana. Things start looking up for Emma, however, when news of the school dance debacle catches the attention of four down-on-their-luck Broadway stars (Christopher Sieber, Brooks Ashmanskas, Beth Leavel and Angie Schworer). The out-of-work performers travel to conservative Edgewater to rally on Emma's behalf, but see the case as an opportunity to boost their own showbiz relevance under the guise of philanthropy. (Watch a clip of Kinnunen performing "Dance With You" above.) 
"The Prom" features music and lyrics by Chad Beguelin and Matthew Sklar, and is directed and choreographed by Casey Nicholaw, whose credits include "The Book of Mormon" and the stage adaptation of Disney's "Aladdin." Beguelin co-wrote the show's book with Bob Martin, and the two have said they were inspired by a number of real-life incidents in which queer teens were forbidden from attending dances and other school functions with same-sex dates.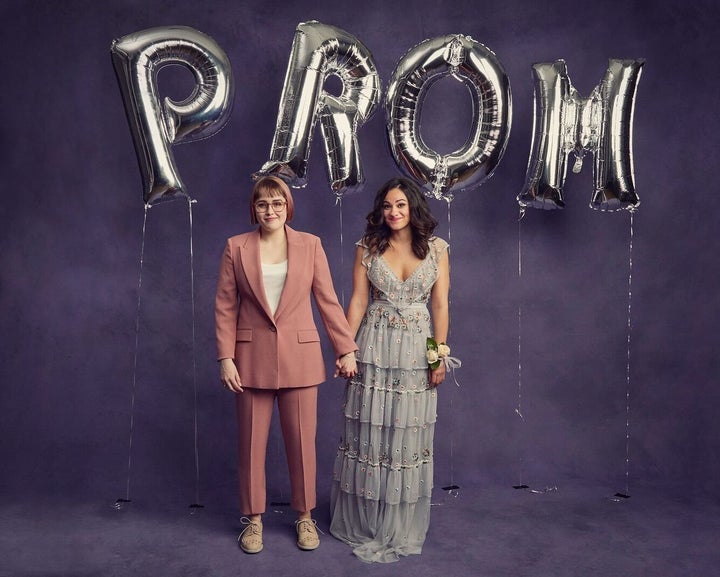 The comedy's undeniable heart, however, is Kinnunen. The Camano Island, Washington, native first auditioned for the creative team in 2014, two years before the show premiered at Atlanta's Alliance Theatre, and calls it her "most exciting and nerve-wracking" project to date.
At 26, Kinnunen is no theatrical novice, having starred in the Broadway productions of "Spring Awakening" and "The Bridges of Madison County," along with numerous regional shows. She initially tried out for the part of Alyssa ― at the time, the creative team was calling the show "The Untitled Prom Project" ― but before long, found herself better suited for Emma.
"They were like, 'Hey, you're not really a cheerleader. How about you read for this role instead?' I didn't really have any knowledge of what the role was, but they liked me in it," she told HuffPost. "It wasn't until I showed up for the first rehearsal that I was like, 'Oh, this is what this is. This is amazing.'"
The Atlanta production of "The Prom" opened in 2016 to favorable reviews. Variety praised the show as "loopy, loving and joyous," while the Atlanta Journal-Constitution called it a "crowd-pleasing spectacle with a well-intentioned message" and "delightful good fun."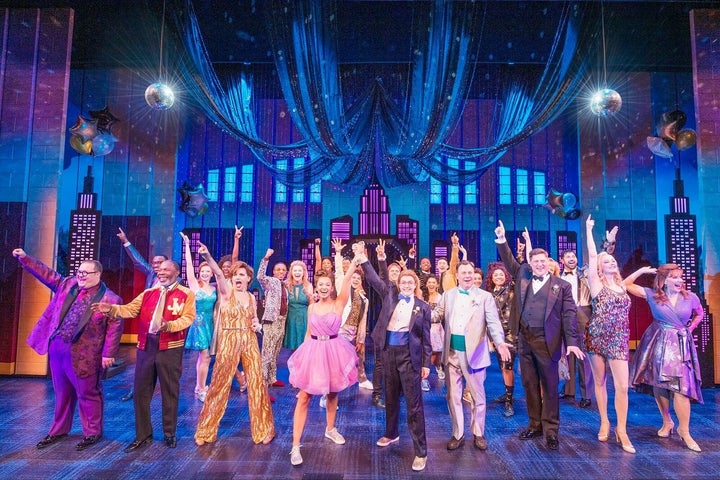 The success of the show meant producers began plotting a move to Broadway almost immediately. But like many of her castmates, Kinnunen questioned whether a story about a lesbian teen's struggle would continue to resonate as audiences became more accustomed to marriage equality and other LGBTQ social advances. That year, however, brought the election of President Donald Trump, whose administration has worked to roll back rights for the LGBTQ community.
"It was a fascinating process, because it went through waves of, 'Is this show still relevant?' We didn't know if we could still do it," she said. "And then, it sadly was, 'No, we can still do it. This is still happening.' Especially in 2018, with all that's going on in the world, it's more relevant now than it ever has been."
"I think it's really good because it doesn't beat you over the head with its message," she continued. "It has a gentle way of bringing up the conversation of acceptance, and we're able to open doors to that conversation with comedy, music and levity instead of saying, 'These are serious issues. We must talk about them now.'"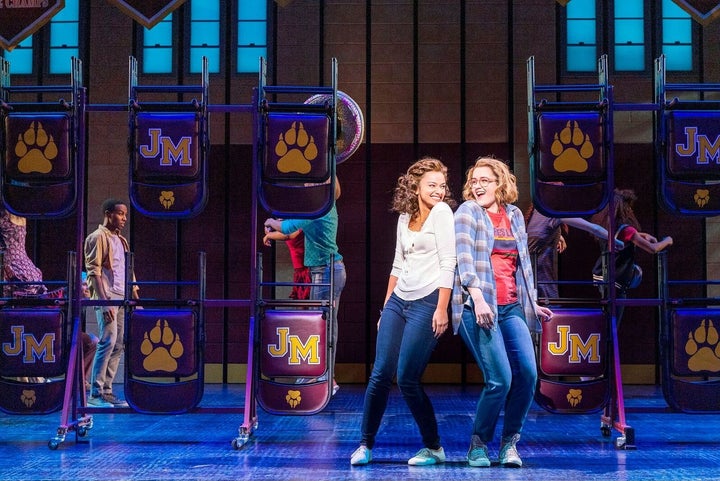 Unlike Emma, Kinnunen doesn't identify as LGBTQ in real life, but she nonetheless says she felt like an outcast during her adolescent years. When she was 8, she was diagnosed with Type 1 diabetes, which required her to be home-schooled. Collectively, she said, those experiences "forced me to grow up really quickly." 
"I was always the home-schooled girl who did theater ― no one was like, 'Oh, yeah, she sounds cool,'" she added. "I'm definitely not comparing that to the struggles that the LGBTQ community faces. But I think I've been able to tap into that with Emma ― that she always feels like an outsider."
Thus far, Kinnunen said she's been overwhelmed by the response "The Prom" has garnered, particularly from younger viewers who "think it's amazing to see themselves onstage in this character. It's heartbreaking, because these kids go through so much on a day-to-day basis that no one should ever have to go through."
As to how "The Prom" will affect her work moving forward, she said she sees the show as "the next step in my journey of telling meaningful stories onstage."
"I try to focus really on meaningful pieces, and pieces that have a message to tell," she noted. "I feel a great responsibility to do that with grace."
Calling all HuffPost superfans!
Sign up for membership to become a founding member and help shape HuffPost's next chapter
BEFORE YOU GO