As Eden Espinosa recalls, it was early 2015 when Disney Television Animation initially reached out. Asking this Broadway star if she'd be interested in voicing a character for a new series that the Mouse was maybe going to produce. A show that – at that time, anyway – had a deliberately vague title: "Project T."
"So they sent me the audition material," this 39 year-old performer recalled during a recent phone interview. "And as I read the breakdown on the character they wanted me to voice, it said that she was 19 years-old or something like that. So I went into my little home studio to record the audition material that they'd sent me. And to make my voice sound younger, I deliberately pitched it up a little."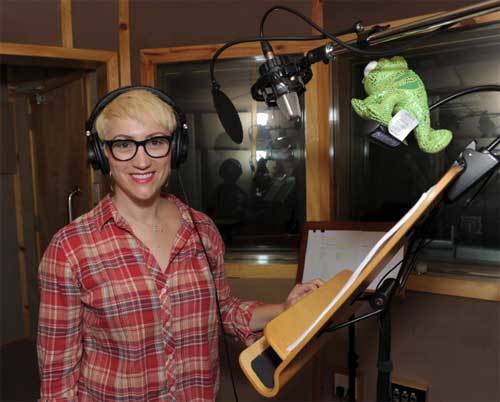 So Espinosa sends in her audition tape. And Disney Television Animation must have liked what they heard. For a few weeks later, Eden found herself in a recording studio in New York City doing a callback.
"Now the producers of 'Project T' were still out in California. So we were talking via Skype. And before we formally got with this callback audition started, they gave me some notes. With the chief note being 'We don't want you sounding too much like our lead actress,' " Eden continued. "And to make sure that I knew what to steer clear of, they then played me a little of this lead actress' voice. Which I immediately recognized as Mandy Moore."
But even then Espinosa didn't put 2 + 2 together. She just assumed that Disney Television Animation was planning on using Moore – who'd previously voiced Mara for Disney XD's "TRON: Uprising" as well as the title character on Disney Junior's "Sheriff Callie's Wild West" – for some other project. It never occurred to Eden that Mickey might be looking to have Mandy reprise the role of Rapunzel for a brand-new animated series that would then continue the tale which Walt Disney Animation Studios had begun with their November 2010 release, Tangled.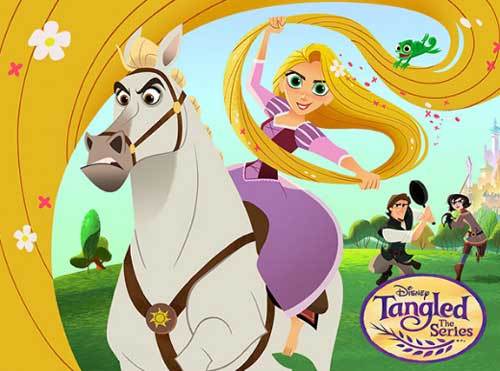 "I just thought 'Maybe they're doing something new and Mandy's doing voicework for that too," Espinosa said.
But "Project T" – AKA "Tangled: The Series" -- was definitely something that Mouse House management wanted to pursue. Not only that, but the series creator for Disney Channel wanted to Eden to voice Rapunzel's daring handmaiden and confidante, Cassandra.
Which would obviously be a nice gig for any working actress to land, right? But you'd think that – for someone like Espinosa (who's been acclaimed for her portrayal of Elphaba in the Broadway, Los Angeles and San Francisco productions of "Wicked." Not to mention playing Maureen in the closing company of "Rent") – voicing a character for a new animated series wouldn't be all that big a deal. Especially since Eden has already done this sort of work, what with originating the voice of Sasha Caylo on Adult Swim's "Titan Maximum" back in 2009.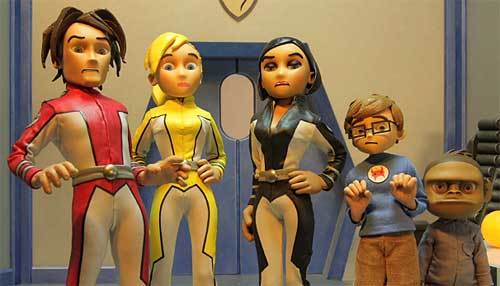 That said, you have to understand that Espinosa grew up in Orange County, California in the shadow of a certain theme park. Not only that, but her uncle was a Kid of the Kingdom who – after he finished performing at Disneyland Park – would then take the very young Eden backstage.
"Growing up, Disney was a very big deal to myself and my family. In fact, my very first job – which I landed when I was 17 – was performing as a Christmas caroler in Disneyland 'Christmas Fantasy' parade back in 1995. I was so proud when I got that gig," Espinosa remembered.
And Disneyland's Entertainment Department obviously saw a lot of potential in this Southern Californian. Which is why – just three years later – Eden was one of the featured performers in "Animazement." Which was this live stage show that was presented 5 – 6 times daily in the Fantasyland Theater where Espinosa then got to sing 'Just Around the River Bend' from Disney's Pocahontas.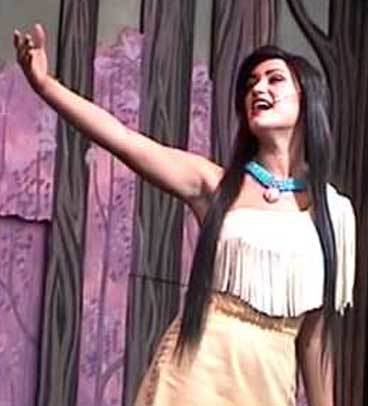 "The experience I got while performing at Disneyland was invaluable. Doing five or six half-hour-long stage shows -- sometimes outdoors in cold, rainy weather … That was like vocal boot camp for me. It made me into the performer that I am today," Eden enthused.
And Walt Disney Creative Entertainment (i.e., the arm of The Walt Disney Company that produces shows for its Parks & Resorts) obviously takes great pride in having played a part in the launch of Espinosa's career. Which is why – when the Happiest Place on Earth was looking for a vocalist for "Magical: Disney's New Nighttime Spectacular of Magical Celebrations" – they immediately reached out to Eden.
"Which was like a dream come true for me, because – when I was growing up with family working at Disneyland – all I ever wanted to be was the voice in the sky for the park's fireworks show," Espinosa continued. "And now to be asked to originate a voice for a new character on a Disney cartoon … Well, that's really another dream come true for me."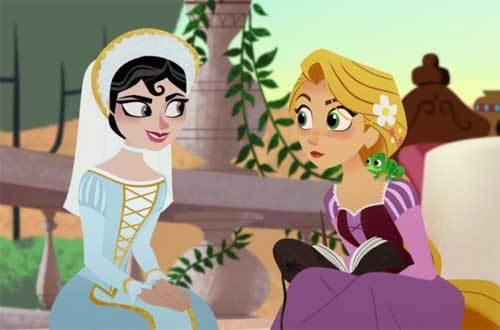 So what's it been like voicing Cassandra for Disney's "Tangled: The Series" ? Eden says that she's been enjoying the collaborative nature of the process.
"What's especially cool about working on a brand-new character like this is that you then play a really big role in determining the way that they speak, what their sense of humor is like and everything," Espinosa said. "And what's been particularly great is that – when I've made a face in the booth while recording a certain line of dialogue – having the directors then say 'Oh my God. That expression. I'm making a note to the animators that that face has to be included in the show.' "
So now that "Tangled: The Series" has been airing on Disney Channel for a few weeks (This new Disney Television Animation production officially premiered on March 10th. But Disney Channel execs had such confidence in this show that – actually prior to its premiere – it was renewed for a second season) … What aspect of "Project T" is Eden most looking forward to now? Watching Cassandra, the character that she helped create, take on a life of her own outside of the show.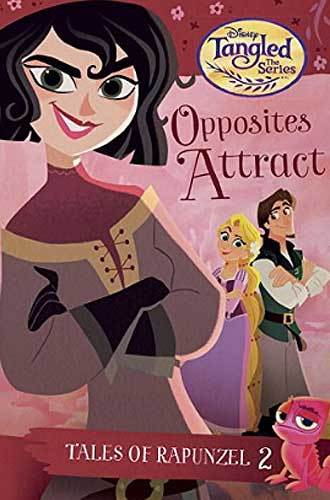 "I just hope that people have been enjoying this character on 'Tangled: The Series.' Because I've been having an absolute blast voicing Cassandra," Espinosa concluded.
And just so you know: Eden Espinosa isn't the only Broadway veteran that Disney Television Animation had tapped to do voicework on "Tangled: The Series." Because on "The Return of Strongbow" (i.e., the episode that airs tonight on Disney Channel at 7:30 p.m. ET/PT) who voices the character that tries to lure Eugene back into his thieving ways but James Monroe Iglehart? The talented performer who won a Tony Award for playing the Genie in the Broadway production of Disney "Aladdin: The Hit Broadway Musical."
Support HuffPost
The Stakes Have Never Been Higher
Related
Popular in the Community