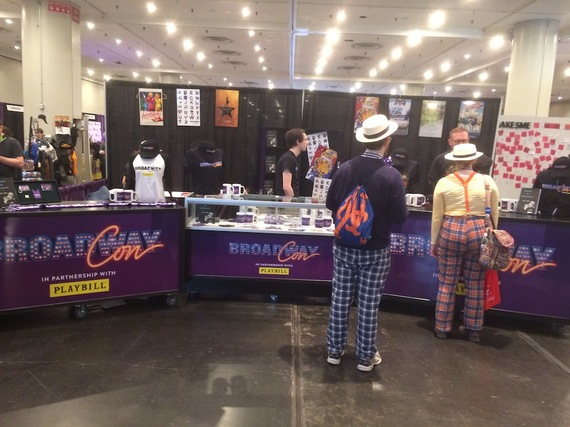 By Megan Wrappe, ZEALnyc Contributing Writer, February 13, 2017
When BroadwayCon, the theatre community's version of Comic Con, began as an idea to bring theatre fans together for one weekend, no one could have imagined just how big it would become. While last year's premiere BroadwayCon was a success, an unfortunate blizzard deterred some fans from the festivities. This year though, there was no keeping the fans away!
The second edition of BroadwayCon kicked off bright and early at 9:00 a.m. on Friday, January 27 at New York City's Javits Center and ran until 7:00 p.m. Sunday, January 29. In between the opening and closing ceremonies, thousands of theatre fans were treated to a plethora of workshops, panel discussions, sing-alongs, fan meetups, and autograph sessions with their favorite stars. And with so much activity, fans unknowingly created their own bubble where the events of the outside world couldn't touch them.
The amazing thing about BroadwayCon is its ability to bring so many people together under the same roof. Fans certainly made up the majority of attendees, but for the number of well known actors, such as Anthony Rapp, Joel Grey, Chita Rivera, and the cast of Hamilton in the room, they were just as excited to be there as everyone else. Veteran actors and fans alike mingled together all weekend and happily shared their own theatre nerdiness with each other.
"I did BroadwayCon last year and I've also done a GleeCon in London which was my first taste of something like this, and it was super fun" said actor Telly Leung who is currently starring in Broadway's In Transit. "I never hesitate to say that Rent is my favorite show that I've done. It made me love theatre and to do that show is a theatre nerd's dream come true, It's like if you're dressed up as Elphaba and then you get to meet Elphaba, it's amazing."
In addition to fans having access to be up close and personal with their favorite stars, BroadwayCon is also a fantastic opportunity to discuss the ins and outs of theatre and where it's heading in the future. There were panels on everything from stage management, to women playwrights, being 'out' on Brodway, marketing a show correctly, preserving theatre on film, and so many others. There wasn't a single topic in the theatre world that wasn't discussed, and many walked away from the weekend feeling they had found a home in the theatre community.
"BroadwayCon is something that has needed to exist for a long time," said J. Quinton Johnson, Jordan Fisher and Michael Luwoye from Hamilton. "Everyone here, including those of us in the Hamilton cast, are huge fans of this community so it's awesome to be in a room full of that energy."
During a weekend when there was so much political upheaval around the world, BroadwayCon became a safe space for expression, acceptance, and communication, no matter who you are. The majority of attendees didn't want the weekend to end and were sad to leave their new friends they had made within the little bubble of theatre bliss they had created.
BroadwayCon's co-founder Melissa Anelli gave voice to the sentiments many of the participants had felt and experienced over the course of the weekend:
"We recognize that this weekend has been a welcomed escape from the all too harsh reality of the world outside it. We cannot restrict the empowerment we feel after a weekend like this to only those who are privileged enough to be a part of it. The theatre community is not one event, one moment, or one weekend--its spirit is ever-growing. We here onstage are asking you as one to take what you felt this weekend with you. If you leave here and are met with hatred, intolerance, oppression, and bigotry from people who want to build walls, take away rights and tear down spirits, please remember what it was like this weekend--the times that you felt impassioned, enlightened, welcomed, informed, safe, included, happy, encouraged, accepted, and loved."
All photos courtesy of ZEALnyc.
____________________________
Megan Wrappe, a Contributing Writer for ZEALnyc, writes on theater and other cultural events.
Calling all HuffPost superfans!
Sign up for membership to become a founding member and help shape HuffPost's next chapter