Eclipsed, that striking depiction, as fictional drama, of women in crisis - Liberian women to be specific - closed last night after its 15-week Broadway run.
But not before dedicating its 117th Golden Theater performance to saving the lives of Liberian women in reality. That life-saving work is being carried out on the ground by The Women: Global Cancer Initiative (TheWomen.org) whose main international program is testing for and treating female cancers in Liberia, and also sexually-transmitted diseases.
As anticipated in a column I wrote last week, Liberia's Minister of Health and Social Welfare, Dr Berenice Dahn, ended up spending her last night of a whistle-stop United States tour in the Eclipsed audience. Along with her were workers and supporters of TheWomen.org. The non-profit's donors were each contributing $2,500 to its vital mission.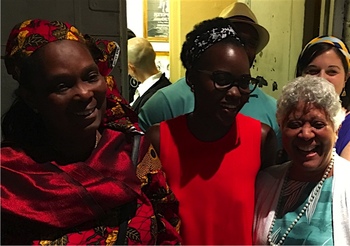 After the performance, the all-female cast met with both Minister Dahn (left) and the Initiative supporters. Joining them was Dr Ann Marie Beddoe (right), co-founder of the non-profit and Director of Global Women's Health at New York's Mount Sinai Hospital.
The players included Lupita Nyong'o (center), distinguished by being an Oscar winner, and Saycon Sengbloh, distinguished by being the only cast-member with Liberian parentage. (Those who know, though, say all the Liberian accents on stage were convincing replicas of the real thing.)
Liberia's all-too-real civil war - once seemingly endless, and killing a quarter of a million people - was the violent context for actress/playwright Danai Gurira's stirring text. That ruinous conflict did finally end twelve years ago, thanks in no small part to determined organizing by "Women for Peace" networks - also depicted in the play). But post-war recovery has inevitably been hobbled by the Ebola epidemic that killed nearly 5,000 Liberians (with a similar death-toll shared between two neighbors, Sierra Leone and Guinea). Each country's health infrastructure is inevitably in desperate need of help.
With a population of nearly four million people, Liberia has been reckoned to have only 50 doctors and about 5,000 full-time or part-time health-workers. That's a prospective patient-load of about 80,000 patients for each single doctor.
Health Minister Dahn told me: "We are of course extremely grateful to Dr Beddoe and her professional and volunteer teams for all their work, especially with cervical cancer at a recently-installed chemotherapy center in the Hope for Women Hospital in Paynesville, outside of our capital. And we've also been helped enormously by their treatment of that terribly problematic childbirth outcome, fistula - at JFK [the capital Monrovia's biggest hospital]."
The Women.org has already ensured cancer and STD screening for over a thousand women, conducted by local health-workers whom the project has trained. The hope is for many more thousands to be screened and treatment made available for all who need it.
Read more of David Tereshchuk's media industry insights at his online column, "The Media Beat", with accompanying video and audio. Listen also to "The Media Beat" podcasts on demand from Connecticut's NPR station WHDD - and at iTunes.
Calling all HuffPost superfans!
Sign up for membership to become a founding member and help shape HuffPost's next chapter