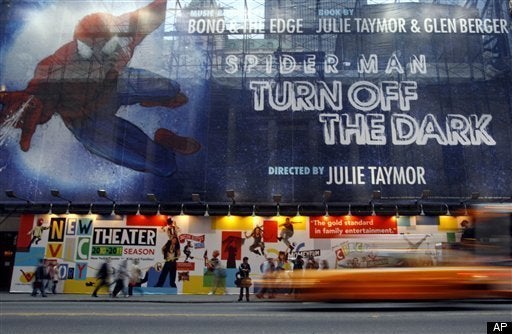 Broadway is mired in tradition. Much of these traditions are based on gentlemen's agreements that have been in place since before anyone reading this was born. For instance, there are no reviews prior to opening night because of an informal agreement between the press and the Broadway League (which is comprised of theater owners and operators, producers, presenters and general managers). In light of the Spider-Man debacle, I have been wondering if this tradition -- which has continued even as its supporting traditions have dissipated -- will be forever destroyed and, more importantly, whether the way we do things now is somewhat fraudulent.
Years ago there used to be cheap previews. When the show was done being modified, critics came and the price shot up. Those two things -- critics and cost -- were tied to each other. At some point (most people place that point in the 1980s, the decade of greed), low-price previews stopped. Yet Broadway held tight to the idea that critics should still not be able to come until a show was "frozen" -- patrons could pay full price, but, during the preview period, the show was just not up to critical standards.
Because of Spider-Man, there has been much discussion of the preview process. Two things make Spider-Man a good target: first, the producer is a complete outsider; second, that producer is behaving badly. In an insider industry like theater, outsiders are always looked upon with suspicion. Jeffrey Seller would not have chastised Broadway vet Jeffrey Richards in the New York Times, but he can attack Spider-Man producer/Broadway newbie Michael Cohl. And it doesn't help that Cohl is making incorrect choices. Compare Spider-Man to Tarzan, Broadway's last flying musical. For months, the Tarzan team rehearsed all the flying effects in Brooklyn so they could insure the show would run smoothly. Disney also announced a reduced preview schedule, which allowed time to fix things that were broken outside the view of a paying audience. If Spider-Man had done something similar, they would be getting less flack now. Instead, they are milking the audience during this entire extended period. (Note that Spider-Man did only do about six performances per week in its first month of performances, but, we're long past that.)
The main issue to me in this is consumer protection. In the industry, we know what previews mean. I understand that if I attend a show two weeks after it starts it very well might be a mess. But I doubt the majority of people get that. They look at similar ticket prices for previewing and open shows and assume a similar product. Broadway has done a very bad job at communicating the fact that a previewing show and an open show are often different beings. To prove my suspicions, I went outside of Spider-Man this weekend and asked people if they believed they were seeing a finished package; even with all of Spider-Man's negative publicity, most I spoke to in the audience thought the show was done.
Jujamcyn Theaters President Jordan Roth said low-priced previews would not solve the confusion, as cost information alone would not automatically communicate that the show is possibly not finished. "It's all about being clear and thorough and giving the customer full information to make an informed decision," he said. Roth added that saying all previews should be lower-priced is difficult, as it assumes that preview performances are necessarily of lower value (and there are those who enjoy seeing a work-in-progress) and, additionally, we live in a world of dynamic pricing, so lower price would be hard to define.
Roth does raise valid points. It's not just about ticket price, and I cannot say that returning to old school low-price previews would be feasible in this century. What I am saying is there needs to be something done. The definition of what a preview is needs to be conveyed in ads and by ticket sellers. The Broadway League is failing its consumers. This needs to be remedied. If people want to spend $150 for an unfinished product, that's great, but they need to know what they are buying. Sure, Spider-Man itself has now, after pressure from the city's consumer affairs department, clearly indicated on its website that the show is in previews. But that doesn't solve the basic problem.
I know someone who went to the box office and asked to exchange her Spider-Man tickets for a time, post-opening, when the show would hopefully be perfected. She was turned down. A spokesperson for the show said that was an error and anyone who wanted an exchange because of the delay would be able to receive one. That's something.
The other portion of this equation is of course traditional critic behavior. Lest anyone think that Spider-Man is the first to bring critics to the theater early -- that is not true. Producers have always pushed openings and critics have often threatened to come. Beatlemania delayed so many times that even The Broadway League does not have official opening date on file for it. In 1983, New York Times critic Frank Rich reviewed Merlin in its eighth week of previews, which was still two weeks before its oft-delayed official opening actually occurred. So, this circus is not a new one. But the idea of a delayed critical response has been on shaky ground since the internet age took off. I feel like perhaps Spider-Man is the behemoth who has unbalanced the seesaw. Maybe the teeter-totter can return to its usual give-and-take functioning after Julie Taymor gets off, but, if not, it's going to change producers' quid pro quo arrangement with the press. We'll have to wait and see on that front.
Overall, part of me just wishes the Spider-Man team would issue a statement allowing critics to come and yet making clear they are continuing to work on the show. I've never understood the idea that you stop working on a show at a certain point -- as far as I am concerned, if there are things that need to be fixed, you should be able to fix them, pre or post opening. Perhaps the actors union would disagree with me, but that's how I feel.

Calling all HuffPost superfans!
Sign up for membership to become a founding member and help shape HuffPost's next chapter