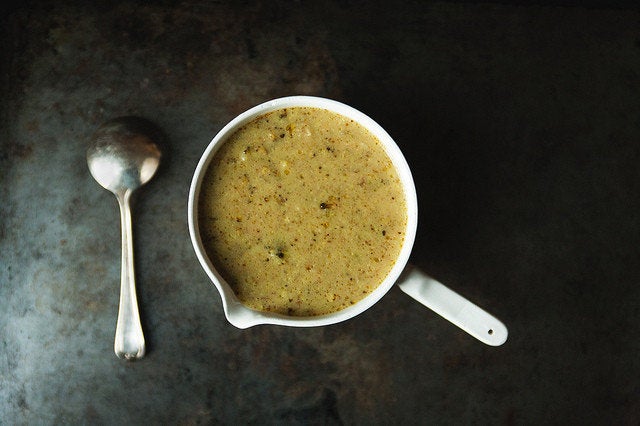 Today: Merrill finds dinner inspiration on a sign at a local coffee shop, and does them one better.
My mother has a line she pulls out whenever she eats something she likes and gets excited about trying to recreate at home. She says: "Okay, it's time to diagnose, and reproduce!"
The apple doesn't fall far from the tree. Over the years, I have diagnosed and reproduced countless dishes myself -- everything from salads to crostini to lobster pasta. Recently, I found myself one degree of separation further from the original dish than usual. On a walk through our neighborhood, I ducked into a coffee shop to grab a cappuccino and saw this scrawled on a small chalkboard: "Soup of the Day: Broccoli, Lemon and Parmesan." Wow, I thought. That sounds delicious. I didn't have time to taste it (they said they needed to reheat the soup, and I had an impatient eight-month-old and husband waiting for me outside), but that didn't stop me from making my own version at home that night.
Not content to appropriate just the entire concept for the soup, I decided to make the base for the soup by modifying this recipe for slow-cooked broccoli with garlic and anchovies. (Incidentally, this is my new go-to technique for pretty much all vegetables, as it's great for babies just learning to eat solid food.) I left out the anchovies and chilis because I didn't have them on hand. Once the broccoli was soft and velvety, I added some chicken stock and simmered the soup for barely five minutes. I pureed half the liquid, keeping the rest chunky, and stirred in generous handfuls of grated Parmesan and enough lemon juice so that you could really taste it.
I've made this soup several times now, and it never fails to please. Try adding a couple of anchovies and chilis if you like -- they add some pizzazz. And don't forget hunks of crusty bread to sop up the last swirls of soup.
2 pounds broccoli, trimmed and cut into florets
2 fat cloves garlic, peeled and smashed
Salt and freshly ground pepper
4 cups homemade or low sodium chicken stock