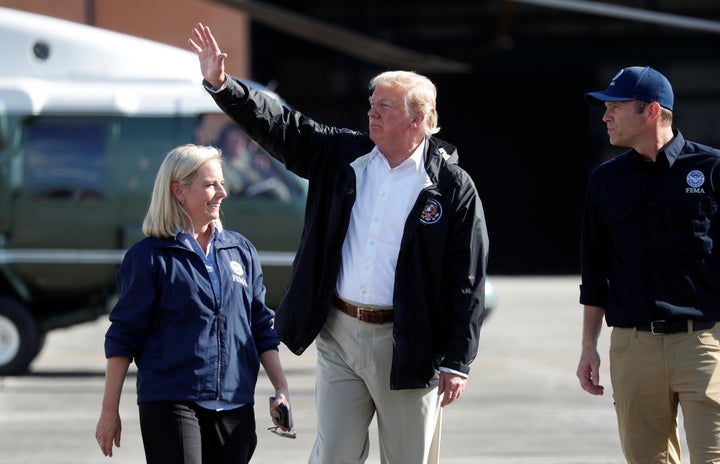 Long, a career disaster response official, has had a long-simmering feud with his boss, Homeland Security Secretary Kirstjen Nielsen, that began last year. The two had reportedly agreed to table their frustrations on Sunday as the Trump administration rushed to address damage from Florence. But just a day later, the Department of Homeland Security referred Long's use of government vehicles to federal investigators for a possible criminal probe, a move that left the FEMA chief feeling "betrayed," three sources familiar with his thinking told the Post.
Long was reportedly on the verge of quitting when FEMA personnel persuaded him to stay. HuffPost has reached out to the agency for comment.
FEMA officials are currently deployed throughout the Carolinas to address rampant flooding and widespread damage left by Florence, and President Donald Trump was in the region Wednesday to survey affected towns. Officials have moved quickly in an attempt to clean up the image of U.S. emergency response efforts a year after Hurricane Maria, which caused nearly 3,000 deaths in Puerto Rico.
Long is widely respected within the agency, but he is facing a potential investigation over his use of government vehicles to travel between Washington and his family's home in Hickory, North Carolina. Long has rejected the accusations, saying last week that "doing something unethical is not in my DNA" and that he planned to fully cooperate with the investigation. The Post noted that he has yet to see the DHS inspector general's findings and has not hired a lawyer.
Tension with Nielsen arose last year after the DHS chief grew angry that Long didn't attend morning meetings with agency staff, the Post reported, and it has since ballooned over his direct relationship to the president, which the Post described as a "competing chain of command." Nielsen has reportedly been attempting to replace him, efforts that Long has been resisting.
Long offered the newspaper a terse statement on Wednesday, saying that he and Nielsen "understand what needs to be done" and that they would "continue to work together."
The No. 2 position at FEMA has remained unfilled for more than two years, and it's unclear who would serve as acting administrator were Long to resign.
Calling all HuffPost superfans!
Sign up for membership to become a founding member and help shape HuffPost's next chapter