Members of Congress are joining a growing chorus of people demanding the removal of the judge who handed down a six-month jail sentence to a former Stanford University student who sexually assaulted an unconscious woman.
Over 1 million people signed a petition on Change.org asking the California legislature to start impeachment proceedings for Aaron Persky, the judge in the case. Meanwhile, more than 1 million people have signed separate petitions circulated by UltraViolet and MoveOn.org to ask the California Commission on Judicial Performance to remove Persky from the bench. Organizers spoke with with sexual assault survivors in San Francisco on Friday afternoon.
"I think he should resign," Speier said. She added, however, that it's "a decision for the voters of Santa Clara County to make."
Rep. Ted Poe (R) from Texas, a former prosecutor and judge, also called for Persky to leave.
"My personal opinion is the judge should be removed from the bench," Poe told HuffPost in an interview. "But the people of California can make that decision."
The uproar began after Persky issued a six-month jail sentence with three years probation after he was found guilty of sexual assault, when prosecutors had requested six years in state prison. Public outrage mounted when a statement made by the victim circulated, and court records released showed Turner's father had referred to the assault as "20 minutes of action."
In determining the sentence, Persky said, "A prison sentence would have a severe impact on him." He went on to cite Turner's clean criminal record and a belief that the former Stanford student would not commit another assault as additional reasons for the lenient sentence
Many of the letters submitted to Judge Persky by supporters of Turner, and by the convicted sex offender himself, arguing for leniency, said that he would never have committed the crime if he hadn't been drinking. But Poe countered, "Alcohol makes it worse -- it doesn't mitigate it, it makes it worse."
"Car thieves get more than 6 months in jail and this is a crime against a person," Poe said. "The judge was wrong on this."
The activists are taking different routes to get Persky off the bench.
A recall effort would require 20 percent of the voters in Santa Clara County's fall election to sign a petition, so the work couldn't be done in earnest until 2017. Complaints to the California Commission on Judicial Performance is asking that the agency find Persky engaged in misconduct, while petitions for the California legislature start impeachment proceedings for him.
Maria Ruiz, the author behind the Change.org petition that has topped 1 million signatures, told HuffPost she is also contacting members of the California Assembly to push for a vote to remove Persky. Another petition asking people to submit complaints to the Commission on Judicial Performance in California has more than 93,000 signatures.
The commission should remove Persky to "send a clear signal that rape apologists will never be tolerated as part of the criminal justice system," Nita Chaudhary, co-founder of the women's advocacy group UltraViolet, said in a statement.
To garner support from Stanford parents and alumni, UltraViolet will also run a full page ad in the Stanford student newspaper's June 10th graduation issue.
The design that will be used in the ad can be seen below: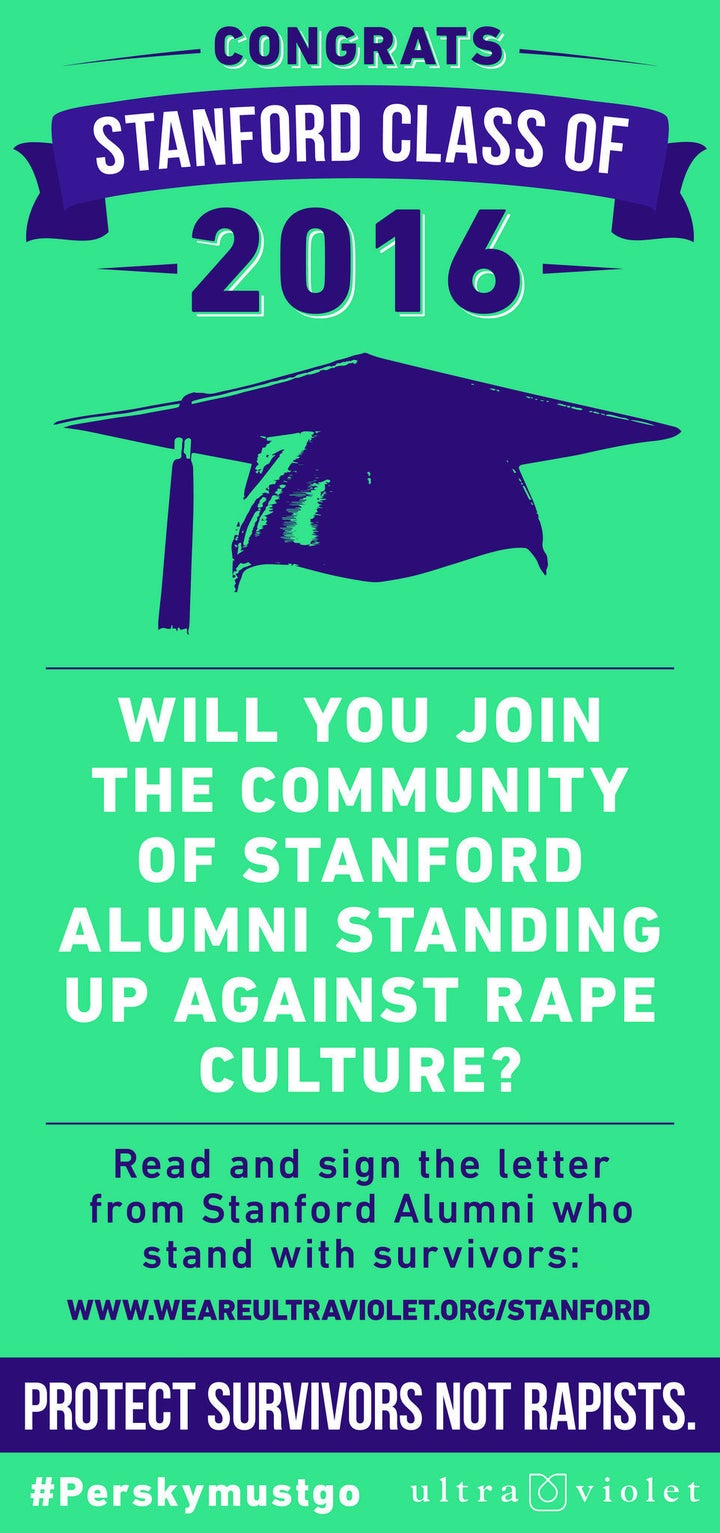 Persky has not commented on the case since he issued the sentence last week.
_______
Tyler Kingkade is a national reporter, focusing on higher education and sexual violence, and is based in New York. You can reach him at tyler.kingkade@huffingtonpost.com, or find him on Twitter: @tylerkingkade.
Related Coverage:
Popular in the Community