A lawyer for convicted rapist Brock Turner attempted to overturn one of the former Stanford University swimmer's assault convictions during an appellate court hearing in San Jose, California, on Tuesday.
Attorney Eric Multhaup argued to three appellate court justices that his client only wanted "outercourse" ― sexual contact while fully clothed, he explained ― not intercourse, The Mercury News of San Jose reported. Multhaup told the justices that Turner never intended to rape the woman, who was identified only as "Emily Doe" throughout the trial.
Turner filed an appeal to California's 6th District Court of Appeal in December after being convicted in March 2016 of three felony charges: assault with intent to commit rape of an intoxicated woman, sexually penetrating an intoxicated person with a foreign object and sexually penetrating an unconscious person with a foreign object. At the time, his lawyers argued that the trial was "a detailed and lengthy set of lies."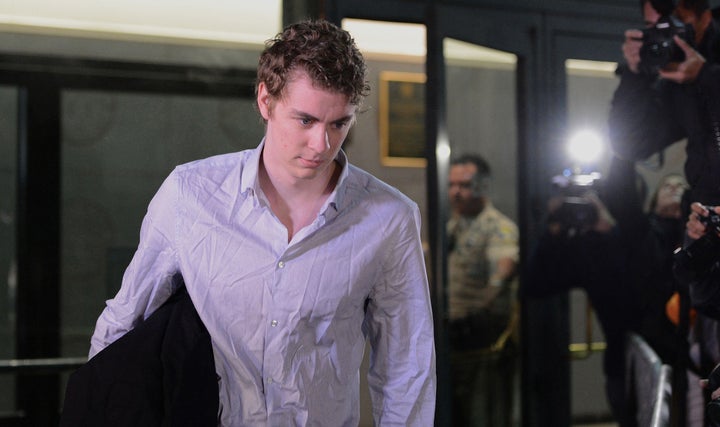 Now, Multhaup is trying to specifically overturn the felony charge of attempted rape. Mercury News reported that the panel of justices "appeared skeptical of [Multhaup's] argument."
"I absolutely don't understand what you are talking about. ... We are not in a position to say [of the jury], you should have gone a different way," Justice Franklin D. Elia said.
Another justice asked Multhaup if he was arguing the jury "made unreasonable inferences."
"Yes!" Multhaup said, according to the Mercury News. "They filled in the blanks."
Assistant Attorney General Alisha Carlile said that Multhaup presented a "far-fetched version of events."
The three justices have 90 days to discuss Multhaup's appeal argument and issue a ruling. Turner, who returned home to live with his parents in Ohio after being released from jail, was not present in court on Tuesday.
Turner made international news in 2016 after he was convicted of sexually assaulting an unconscious and intoxicated woman behind a dumpster. The former swimmer was arrested in January 2015 after two graduate students saw him "thrusting his hips atop an unconscious woman lying on the ground" behind a dumpster near an on-campus fraternity party.
This story has been updated to include more details about Turner's convictions and his lawyer's argument in court.
Popular in the Community