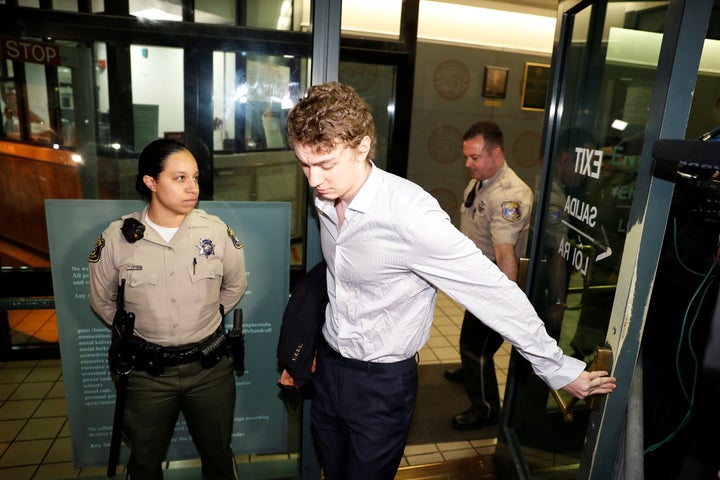 Brock Turner, the former Stanford University student convicted of sexually assaulting an unconscious woman behind a dumpster, was released from jail early Friday after serving half his term.
Photos on social media show the 21-year-old leaving Santa Clara County Jail with his head down as he's swarmed by media. The Associated Press reports that he left in a white SUV, and plans to travel to his native Ohio to live with his parents.
There, he'll have to register as a sex offender for life and undergo three years of supervised probation.
Turner served only three months of a lenient six-month sentence, which was reduced due to "automatically applied credits" for good behavior before he was even locked up. Convicts in county jail often serve half their sentences for good behavior in California.
He was initially charged with sexual assault and penetration of an unconscious person ― not rape ― because although he digitally penetrated the victim, he did not have intercourse with her. State law does not classify the act as rape.
On that morning, all that I was told was that I had been found behind a dumpster, potentially penetrated by a stranger, and that I should get retested for HIV because results don't always show up immediately. But for now, I should go home and get back to my normal life. Imagine stepping back into the world with only that information.
Her emotional statement wouldn't be enough to result in longer jail time, and the nation reacted to what was widely viewed as a failure of justice.
AP reports that Turner's neighbors will receive postcards from the sheriff in Xenia, Ohio, declaring that a convicted sex offender will be moving nearby.
Turner will be required to check in with the local sheriff's office in person every three months, confirm that he's still living with his parents and undergo random screening from deputies without warning. He's also banned from parks, schools and other places where children may gather.
Calling all HuffPost superfans!
Sign up for membership to become a founding member and help shape HuffPost's next chapter