Brody Jenner's mom Linda Thompson apparently has no ill will for her son's ex, Kaitlynn Carter, who was seen making out with Miley Cyrus over the weekend.
The 69-year-old responded to an Instagram comment of Carter's, saying she loves her and "always will."
Earlier this week, Thompson appeared to like a few comments on Instagram about Carter's relationship with Jenner. After that inevitably started some internet drama, Thompson decided to clear the air.
On Wednesday, she shared an image that read: "Please don't judge people. You don't know what it took someone to get out of bed, look and feel presentable as possible and face the day. You never truly know the daily struggles of others."
Thompson captioned the post by writing: "The only people we have the right to judge are our own selves…how we react & respond to life's vicissitudes, disappointments, failures & successes. May we strive to do so with grace, humility, temperance, understanding, compassion, kindness, forgiveness & love. If we simply begin with self improvement, humanity could benefit vastly."
But the real story was in the comments section.
Carter commented on Thompson's post simply saying, "EXACTLY." In response, Thompson replied with a heart emoji and wrote: "And for the record honey, the only 'shade' I throw is my own shadow walking away from drama. You know I love you. I always have & always will."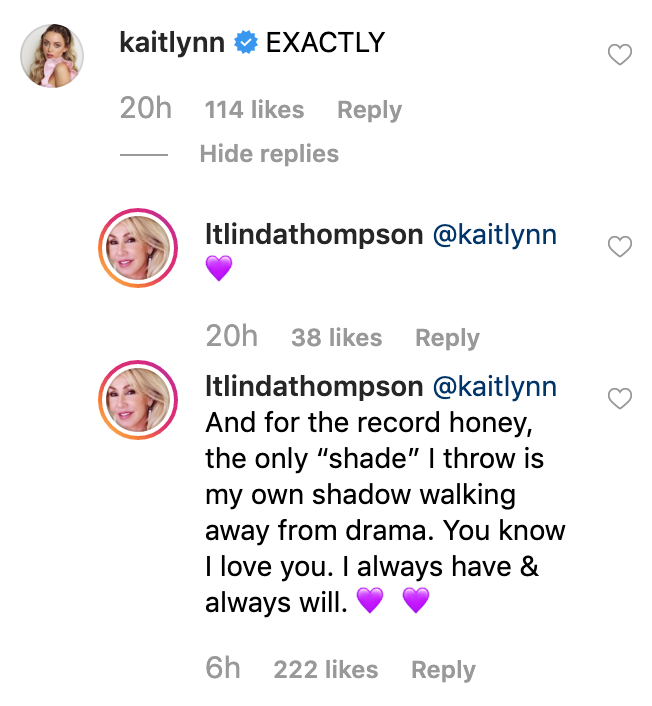 This social media chatter comes on the heels of Carter being spotted on vacation in Lake Como, Italy, with Cyrus and Cyrus' sister. Cyrus and Carter were packing on the PDA at the Il Sereno hotel. Onlookers said they were "not trying to hide it at all."
Much like his mother, Jenner hasn't shied away from posting on Instagram amid the drama. He even commented on an image of Carter and Cyrus on Carter's Instagram, saying "Hot girl summer" and "Pics of Liam and I holding hands on the beach" are coming soon.
Not missing a beat, Cyrus sounded off on Jenner and wrote back: "@brodyjenner go take a nap in your truck and cool off #HotGirlSummer," alongside two dancing girl emojis.