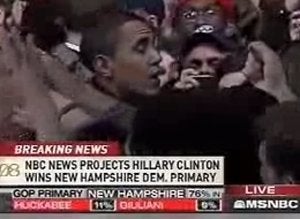 Talking with Tom Brokaw, Chris Matthews lamented the fact that the pollsters and pundits got it all wrong. Brokaw suggested that the results today should cause the media to reevaluate its desire to "stampede the process," and he cautioned the media to "wait for the voters to make their judgment":
BROKAW: You know what I think we're going to have to do?
BROKAW: Wait for the voters to make their judgment.
MATTHEWS: Well what do we do then in the days before the ballot? We must stay home, I guess.
BROKAW: No, no we don't stay home. There are reasons to analyze what they're saying. We know from how the people voted today, what moved them to vote. You can take a look at that. There are a lot of issues that have not been fully explored during all this.
But we don't have to get in the business of making judgments before the polls have closed. And trying to stampede in effect the process.
Look, I'm not just picking on us, it's part of the culture in which we live these days. I think that the people out there are going to begin to make judgments about us if we don't begin to temper that temptation to constantly try to get ahead of what the voters are deciding, in many cases, as we learned in New Hampshire when they went into the polling booth today or in the last three days. They were making decisions very late.
Calling all HuffPost superfans!
Sign up for membership to become a founding member and help shape HuffPost's next chapter
Read more on Thinkprogress.org