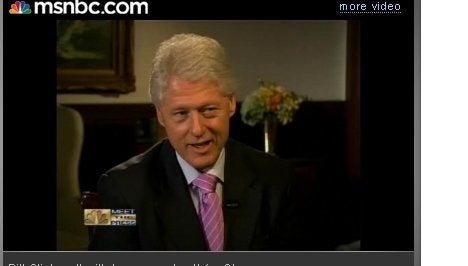 Some Democrats who are growing wary with what they see as Bill Clinton's tepid support for Barack Obama weren't likely relieved by the former president's appearance this Sunday on Meet the Press.
Clinton offered some praise for the man hoping to fill his former chair in the Oval Office, but much of it was admiration for Obama's political acumen and not his character. "I know he saw and imagined the way this thing could develop this political year and this economic situation, in a way that has left him in a position of leadership he is now," Clinton said.
At one point, host Tom Brokaw asked, "Would you use the same words for [Obama] that you have used for Senator McCain, that you admire him and that you think he's a great man?"
Clinton seemed caught off-guard and responded, "Well, I don't -- look, I had my first conversation with him in my entire life in Harlem," a reference to a lunch the two had in mid-September. Clinton followed by stating that he "certainly admire[s]" Obama, but that while the Illinois Democrat has "unlimited potential," he could only achieve greatness in time.
At one point in the interview, Clinton acknowledged that it was his wife, Hillary, who "told me to go help [Obama]." And while Bill Clinton criticized John McCain for representing a brand of politics that he disagreed with, he offered a far more adulatory take on the Arizona Republican's personality traits.
"Most people would have been broken by what he been through, or we would have been happy just to give him an atta boy and medal and let him wander through life," said Clinton. "I think his greatness is that he keeps trying to come back to service without ever asking people to cut him any slack or feel sorry for him or any of that stuff because he was a P.O.W."
Clinton's relationship with Obama has been a topic of much angst and conversation within Democratic circles. After a bitter-primary battle in which Obama defined the 1990s as a period of excessive partisanship (albeit economic growth) and Clinton's standing within African American communities stumbled, it was not surprising that the two figures would have issues with reconciliation. The former president's speech at the Democratic Convention in Denver seemed to remedy the frostiness. But this past week - as much media attention has been heaped on Clinton's Global Initiative - Clinton has, in some ways, reverted back to form: offering more tepid support for the Democratic ticket and showing a strong willingness to compliment McCain and his running mate, Sarah Palin.
Indeed, somewhat remarkably, on Meet the Press, Clinton spoke up the Alaska Governor even as (or perhaps unaware of) conservatives themselves are beginning to abandon ship.
"Most of these people that are undecided they like John McCain and they kind of like her, what they know of her," he said. "And if they're going to move off of her or dislike her it is going to be because they think she is too conservative or too traditionally Republican or some issues that are very important to our future."
Popular in the Community