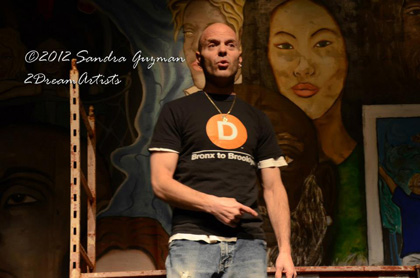 Actor-playwright Rock Wilk performing Broke Wide Open
Some people workshop shows in theaters or classes. Others use writers groups or showcases. Musician-poet turned playwright Rock Wilk used the City of New York.
Perhaps you haven't heard of Rock Wilk's journey from musician, to slam poet, to actor/playwright. Perhaps you haven't heard of his new play Broke Wide Open, which started as an album and evolved into a full-fledged theater production. Perhaps you haven't heard of a good one man show. That's because often, one-man shows are unending monologues. Rock Wilk's work is a play, with vision, structure, and development.
The road of Broke Wide Open from album, to poetry, to Off-Broadway play produced by Rain Pryor (daughter of comedian Richard Pryor and herself an actress) is one of evolution and hard work. First conceived six years ago as music, the story of one man's search for both identity and his birth mother spilled over into performance art.
"It's been an evolving process," said Mr. Wilk in interview with producer Ms. Pryor last week. The story even continues to evolve: the play didn't have an official ending until it started its Off-Broadway run at the 45th Street Theater, October 6.
Perhaps the winding road the play took had to do with the fact that previously, Mr. Wilk had never acted. When he started to write Broke Wide Open, and realized it would have to be performed, he knew he would have to get used to acting in front of an audience. To prepare he began frequenting poetry clubs, narrating his script and other works at places such as Nuyorican Poets Cafe and The Bowery Poetry Club.
Most of all, he performed in front of New York City itself.
"I would perform in parks, subways, and sidewalks," Mr. Wilk explained. "I would practice in front of people, sometimes up to groups of 30 or more. I would ask for their feedback, and I would take it into account as I wrote the script."
Once the play was in its final stages, he had a short run at P.S. 122. But for Mr. Wilk, that performance didn't feel quite right.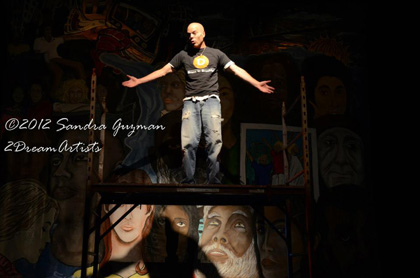 Production Still From Broke Wide Open
"I had a full fledge production and everything over at P.S. , but it wasn't what I wanted it to be," he said. "So I stripped it down and took it on the road, performing at different venues, mostly art galleries. Whenever I was in a different city, I'd still also work on it in parks and city streets."
Before coming to Off-Broadway, he was even able to take it abroad to England, performing at the Camden Fringe Festival. He arrived right in the middle of the 2011 Camden riots.
"It was crazy, man," he remembered.
I got off, not knowing where I was going, and I was in the middle of all the riots. Finally some guy helped me out and showed me where to go. We had to go via side streets, through people's backyards. And that first night or so, we had like one person in the audience. But once things calmed down, we had packed houses.
After returning from the festival, he wanted to continue with the play. That's when Ms. Pryor became involved.
"We met on the set of a film. Our trailers were right next to each other," said Ms. Pryor. "One day he asked me to look at something he was working on. I did, and I was blown away. Most one man shows suck, but this was something different."
"Play," corrected Mr. Wilk. "Not one-man show."
"Right, play," Ms. Pryor agreed.
Even though she already had plenty on her plate, performing in her own Off-Broadway play, Fried Chicken and Latkes, in addition to helming the Artistic Directorship of The Strand Theater in Baltimore, and "being a mother," (as she put it wryly), she approached the challenge with enthusiasm and a strong belief in Rock's story.
From the start, the two planned to take the show Off-Broadway. After adding director Stephen Bishop Seely (who, according to Mr. Wilk was always there in an "unofficial" capacity), they turned to funding. Initial start-up money was raised by a Kickstarter campaign labeled 500 Names, where each person donated in the name of someone. The number and people who donated, and continue to, has astounded Rock, and has gone beyond five hundred.
"These were people who believed in it, and me, and they had all these stories behind the names," he said. "It was when that started happening that I was like, wow. This goes way beyond me."
When Broke Wide Open finally premiered Off-Broadway, the house was packed. The show was such a success that the 45th Street Theater has extended its initial run through to February.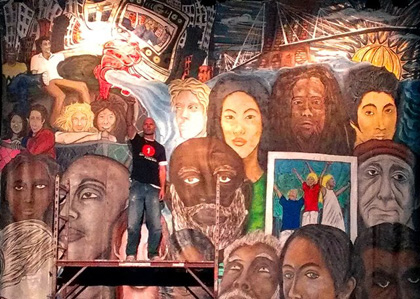 Mr. Wilk Performing Broke Wide Open Against Backdrop by Artists Jason Sisino and Lee Alston
A mix of music, poetry and prose, the action of the play takes place on a bare stage. The only set is a large mural backdrop of New York by two artists (who also happen to be brothers and Mr. Wilk's friends), Jason Sisino and Lee Alston. The only "prop" is an old piece of scaffolding, the brainchild of his director and purchased by Rock on Craigslist.
More than anything, this play is a story of New York. Born in New York, and raised by his adoptive parents in Brooklyn, Rock Wilk has always been a city boy. New York is integral to his being: it's in his words, his writing, his thoughts, the way he walks, talks, even breathes. As the play relates, every time he tries to transplant, it's a disaster.
It's fitting then, that a beat up piece of scaffolding is Mr. Wilk's partner as he spins his tale. With an electrifying stage presence and a grace that escapes many a seasoned Broadway performer, he tells of his life search for identity and home simply and eloquently. Like the piece of scaffolding he pushes, climbs on, and spins, he builds his life up only to have it tumble back down. Then he simply picks up the pieces and builds again, each time searching, hoping, and experiencing life with a resilient bravura.
Every-changing, every-building, ever-reaching. That's scaffolding. That's New York. That's Rock Wilk in Broke Wide Open.
For more information on the show and Rock Wilk, you can visit the website www.brokewideopen.com. Tickets for the show may also be purchased via the website.
REAL LIFE. REAL NEWS. REAL VOICES.
Help us tell more of the stories that matter from voices that too often remain unheard.