There's more than one type of cowboy. The U.S. sure has some hardcore types –- with hats like John Wayne's, rodeos, ranches, and a rural toughness. But "Brokeback Mountain," the story by Annie Proulx, which Ang Lee turned into an Oscar-winning movie, is coming to the Teatro Real in Madrid, Spain as an opera -- adding a another layer to the saga that's dense, erotic, and tragic. It's a story of forbidden love that goes way beyond props.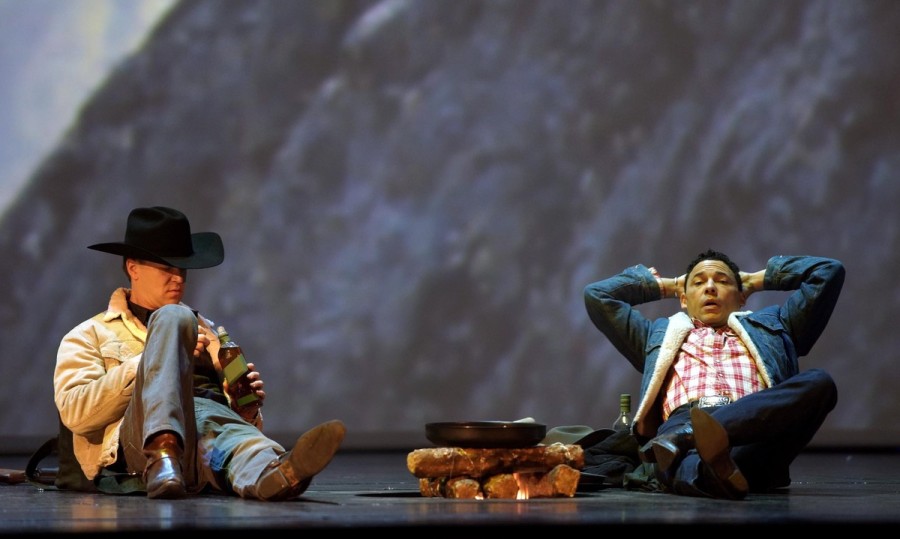 Javier del Real
At least that's what Proulx thinks (she also authored the libretto, which was put to music by the composer Charles Wuorinen). Both spoke with HuffPost Spain after one of the last rehearsals of the show, a production that must reckon with the popular film that preceded it. "It was never my intention to create an icon for or a celebration of what it means to be gay," said the writer. That interpretation, which she recognizes as "respectable," is a cowboy of a different stripe.
The piece is in rotation with "Tristan und Isolde," by Richard Wagner, and it seems to be the last big project from Gerard Mortier, who was director of the theater until this season. The story centers around Ennis Del Mar and Jack Twist, two young men who meet in the summer of 1963 while working as shepherds on Brokeback Mountain in Wyoming. In the deep solitude of the mountains, there are scenes of sex and an ineffable love that are never put into words but deeply impact the lives of both characters and lead to two decades of secret meetings.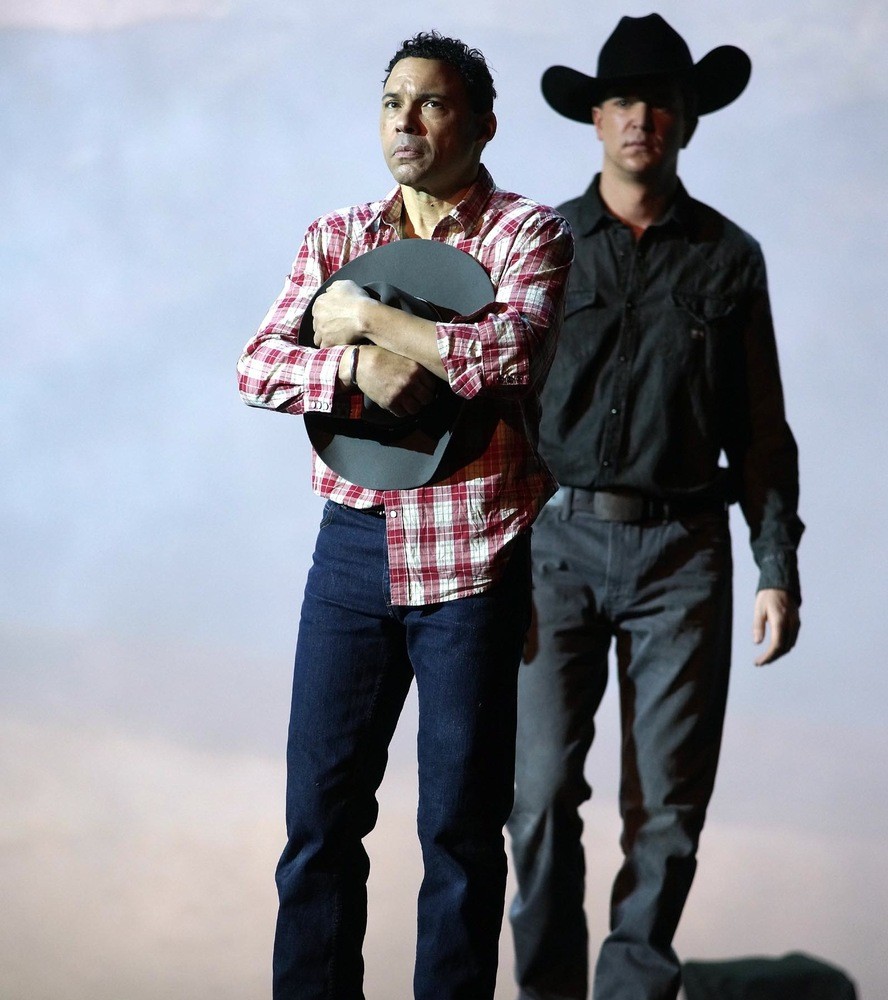 Javier del Real
Here's what Proulx and Wuorinen had to say about "Brokeback Mountain" the opera:
What does the opera bring to this story? The shadow of Ang Lee must be very long.

Annie Proulx: The story is still the same. The presentation is different in every way. It's a different dimension, adding a new layer to something that does not itself change. It's as if we were to pile on shadows, one on top of another. We'd end up with something denser, deeper, darker. For people who've read the story and seen the movie, this will bring a new layer of emotion and intensity.

It's a story about gay love, but also a story about impossible love. Which were you thinking about more –- the possibility of making an opera about gay relationships in our modern era or the pains of love, which is a constant in literature and opera?

AP: Consider what we talked about regarding layers that increase density. That brings the work closer to the category of mythos, and it's there that the story lives, that's what makes it strong. It's been there for many centuries and it will continue to be there for a long time. It exists because it's old. The fact that it's also modern doesn't matter. It has no age, because it's always been with us.

CW: The eternal problem, the inability to realize who one really is and to take the necessary steps in one's own interest to reach his or her goals… that's all familiar, right? All told, the fact that it's a topic that hasn't previously been widely dealt with means, for us, that it's not boring. There have always been impossible loves, because of class, arranged marriages, and other reasons. Although the situation is changing quickly, what we deal with here is something that can still mean the death penalty in many places, either officially or more discretely. In terms of opera, we usually resort to doing things from two hundred years ago that garner little interest today. That's why, for us, this is sort of comparable to what motivated composers and authors two or three thousand years ago.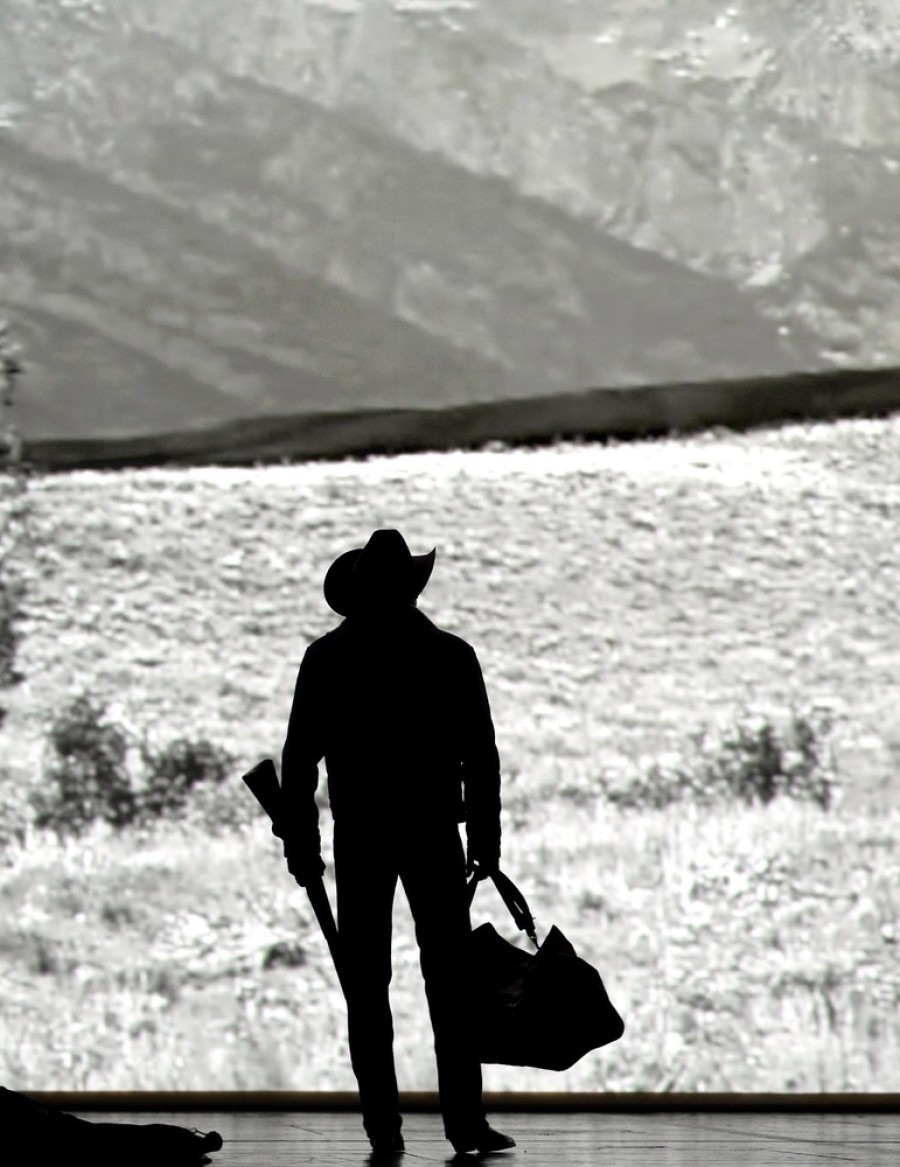 Not a lot of theaters show operas by composers who are still alive. And those from "two or three hundred years ago" were not always appreciated in their times. The "Brokeback Mountain" that Mortier began to dream of in New York, where he was about to be appointed to head the recently shuttered City Opera, is now confronting the same problems that prevented the Belgian director from assuming his intended post in New York.
In Madrid's Teatro Real, as in other theaters, there are two types of audiences: those who look for groundbreaking work and the more traditional operagoer who is comfortable with the classics and who, for the time being, is still exerting a decisive influence at the box office. It seems clear that the success of "Brokeback" the movie -- and, in this case, the current upswing in LGBT rights -- will help some of those people get over their resistance to listening to contemporary music.
Does the opera benefit from having become iconic in the gay community?

AP: It's not a banner piece. It was never my intention to create an icon for or a celebration of what it means to be gay. Those who have interpreted it that way and it's their choice, a respectable one, but, regardless, that wasn't the point. I wrote a series of stories about life in Wyoming in the past 150 years. That's a part of it.

CW: I'm not a political or ideological composer. But if, as a consequence of this work, society becomes more tolerant, that's good by me. As Annie said, this isn't an advertisement for a cause.

The character of Ennis Del Mar evolves a lot. He says he's not gay and that he loves his wife, but he ends up regretting not accepting his true self. How do you show that in an opera?

CW: His presence in the dialogue increases. At first he basically says nothing. He shakes his head or yells. After a while he starts talking, but as the story goes on, and as he gets older, the closer he comes to recognition, the more he starts singing in a melodramatic way, like he's never done before.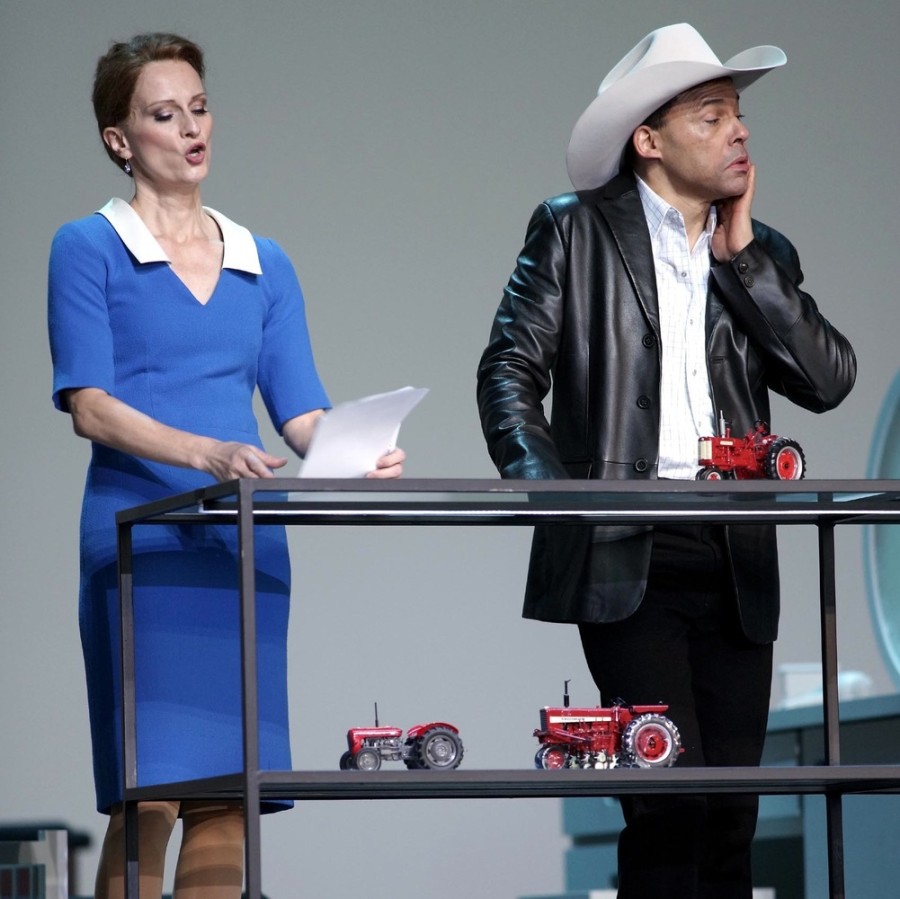 Javier del Real
That's where this opera ends. Jack Twist dies without Del Mar having dared to take that step, to confront social norms and share his life with the person he loves. In the scene, designed by Ivan van Hove, an innovative Belgian on the European theater scene, it all comes down to the presence, absolute and alone. Of one wounded and resentful character, who ends up proclaiming his eternal love with an "I swear."
In the past people have complained that in the movie, they didn't understand the implications of this vow. How is the opera different?

AP: There are a lot of people who also didn't understand what the "I swear…" meant in the story, and they interpret it in various ways. The opera format allows Del Mar's personal understanding and recognition to grow, which means that his oath can be more clearly expressed; it's more beautiful and emotional.
Wuorinen (whose last opera was an adaptation of a Salman Rushdie novel) has composed a score that enhances the intensity of the moment. Despite having opted for contemporary music, the author, who was trained in the dodecaphonist tradition, has created a score that's appropriate for ears less accustomed to such sounds. He continuously checks the sound, moving around the theater in sneakers at 75 years old (Proulx is 78).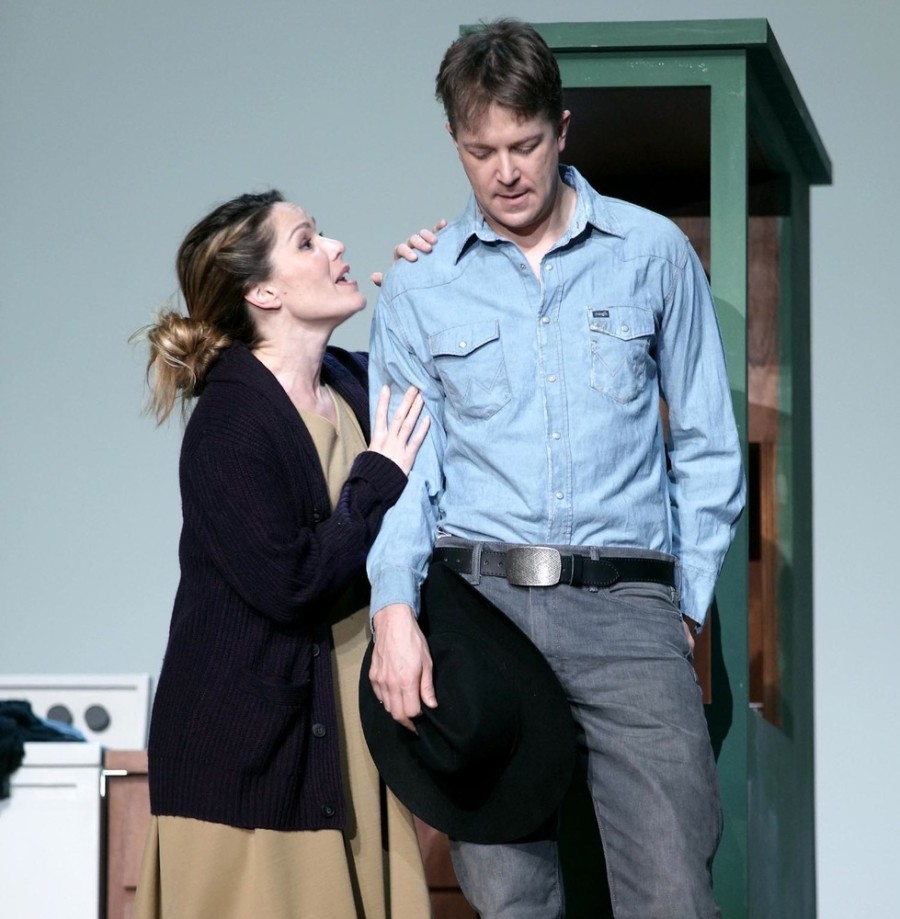 Javier del Real
The athletic protagonists are the bass-baritone Daniel Okulitch (Ennis Del Mar, played by Heath Ledger on the big screen) and the tenor Tom Randle (Jack Twist, played in the movie by Jake Gyllenhaal), who work with musical director Titus Engel. A large screen behind them projects images of the mountains and, in overlay, images of the turbulent family homes of the two lovers, who eventually get married to other people and have children.
The only person who is not in Madrid is Mortier himself, who is suffering from pancreatic cancer. Mortier was very much involved in the project, and his health problems forced the official premiere to be delayed. According to the theater, this piece will be his last big project of the season. It remains to be seen if it will garner popular approval. For now, there is a heavy presence of the international press and theater directors from across Europe have already booked their tickets.
To Annie Proulx, such external happenings seem to matter little.
Are you pleased with the result?

AP: It's tremendous. It's enormous. "Pleased" isn't the word I would use. It's new, it's emotional, it's hard, it's painful. There are other adjectives that I don't care to mention, they don't matter.

Are you afraid that the audience will come to the theater with preconceived notions?

AP: Darling, that's their problem.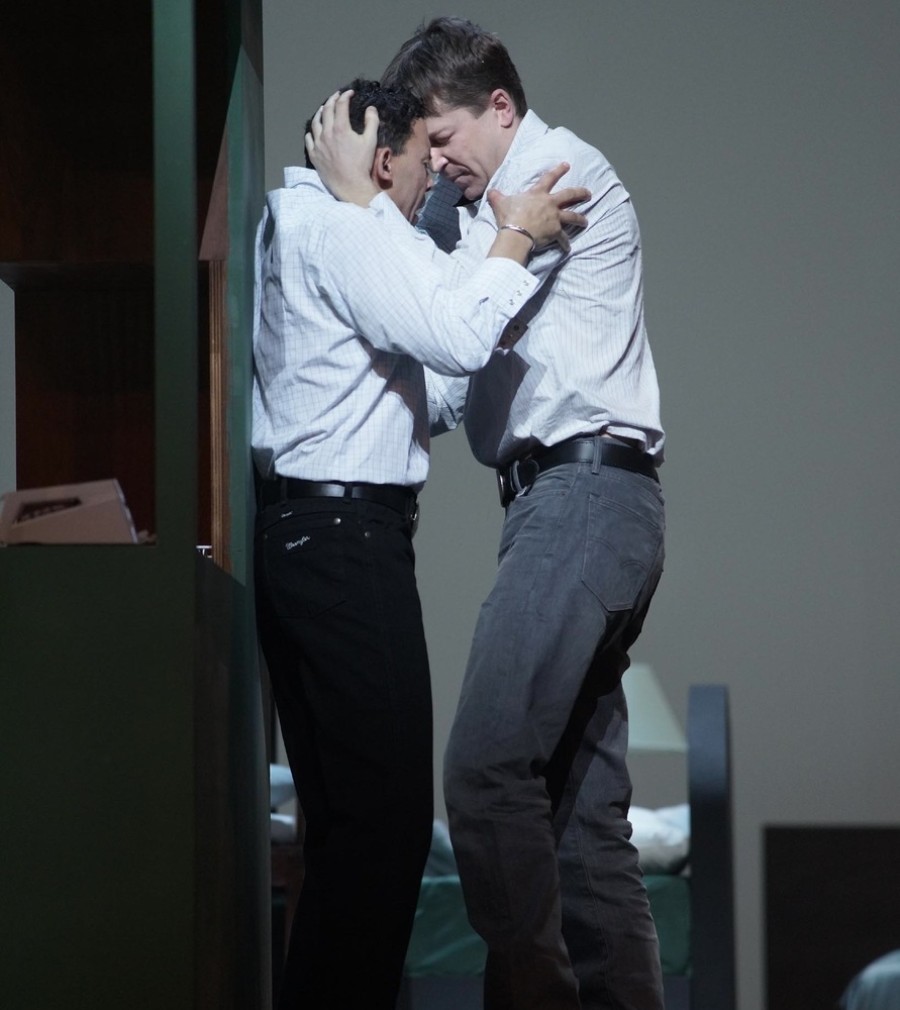 Javier del Real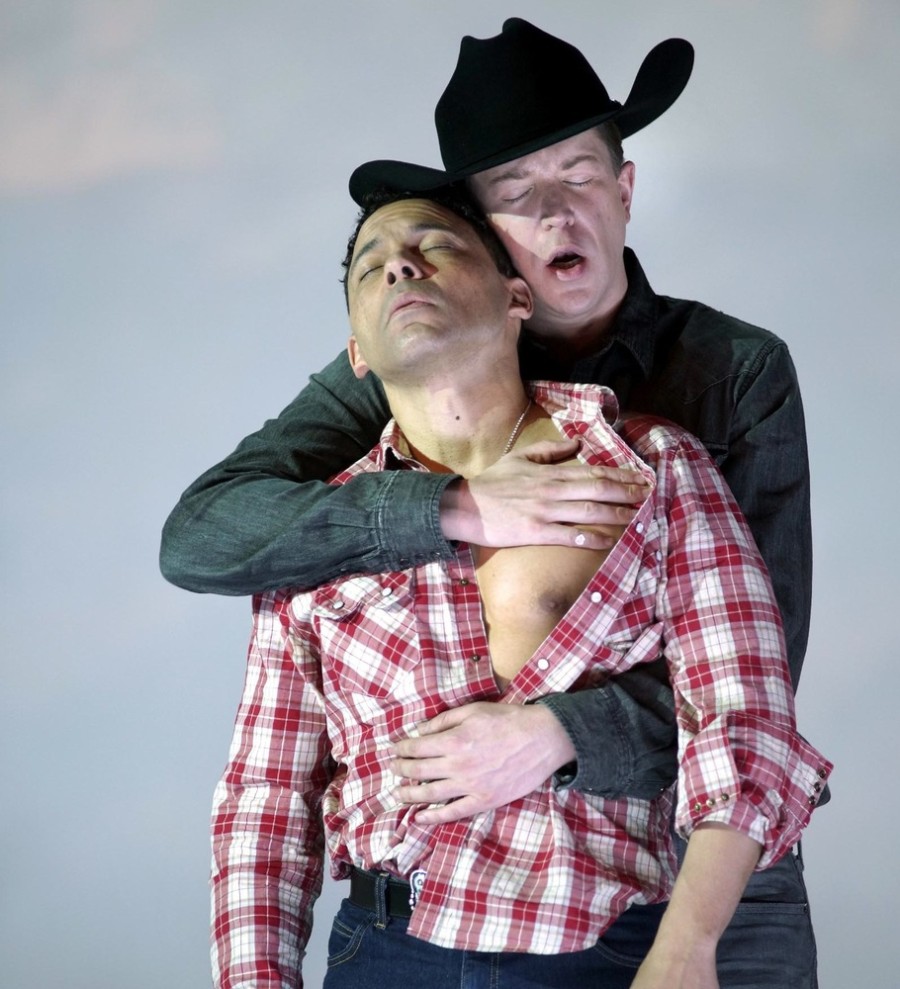 Javier del Real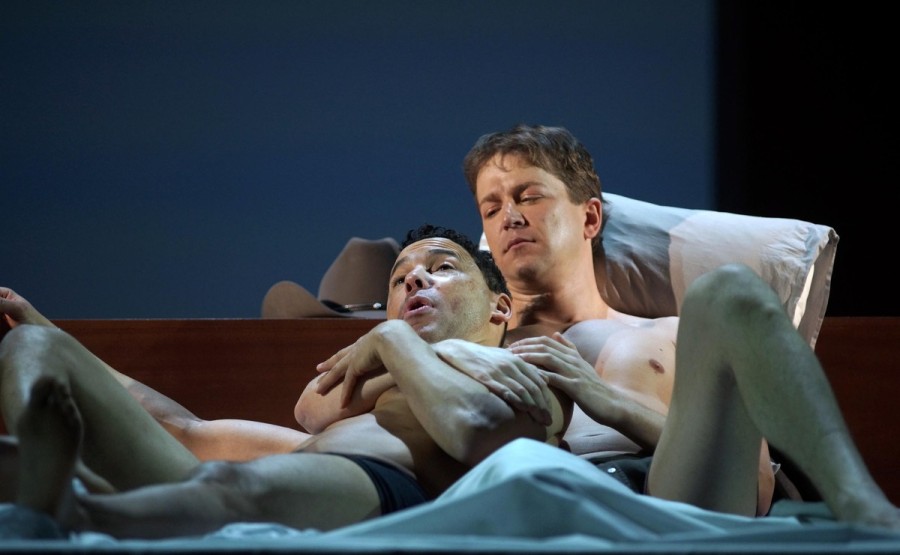 Javier del Real
Popular in the Community