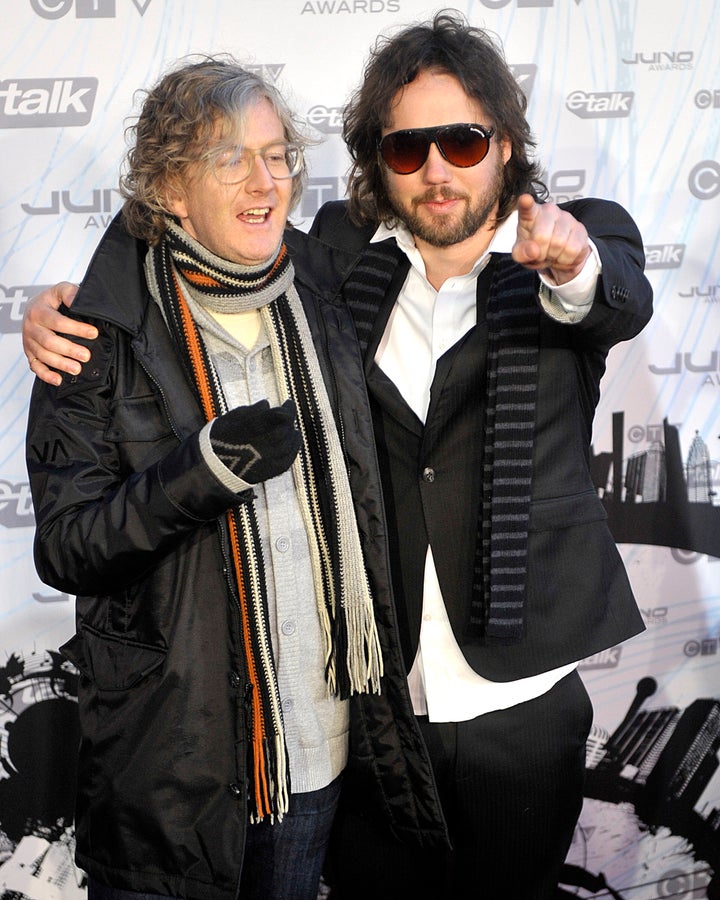 SAN FRANCISCO -- Broken Social Scene have been called a lot of things -- Canadian supergroup, rock collective, family, alt-pioneers, "guitar-maelstrom" -- but ask Kevin Drew, lead singer and founding member, and he'll say it's best to simply call them a "band."
"The 'collective' thing I'd always gone with, because that's what people called us," Drew said in an interview. "But look: we've always been a band, and we built this thing together."
Drew was speaking on a beautiful Saturday afternoon from backstage at the Hardly Strictly Bluegrass Festival in San Francisco's Golden Gate Park. Hundreds of thousands of fans bunched together under a hot October sun, where Broken Social Scene was set to play one of its last two North American shows before embarking on an indefinite hiatus.
The band, of course, has said similar things before, ultimately reuniting each time. Drew told Pitchfork last month that he felt like the "boy who cried wolf," since he'd talked of the band breaking up so often over the years. Drew said he'd never been good at ending things, and anyway the band always had too much unfinished business.
One can imagine the number of issues that might arise in a band that, since 2001, has been home to as few as three and as many as 19 other musicians who have joined together for four sprawling, guitar-driven albums and a handful of other EPs and B-side collections. Their music has always navigated a mix of familiar chords and wide-ranging instrumental crests and troughs, an aggressive wall of sound giving way to a quiet, plunking banjo or a distant trombone.
Though a previous 'extended hiatus' left some members of the band at odds with one another, they reunited for 2010's critically acclaimed and aptly titled, Forgiveness Rock Record, which may now stand as their final LP. Songs like "World Sick," "Sentimental X's," and "All for All" ("Off and on it's what we want / What we want is off and on") seemed unabashedly to reference one another.
Part of what made the Toronto-based band so unique is that each member always had other projects on the way. Its members have gone on to form such celebrated indie acts as Stars, Apostle of Hustle, Metric and Do Make Say Think. Both Drew and Brendan Canning, another founding member, have released acclaimed solo albums of their own. Over the years, they've become like the Judd Apatow crew of the indie rock set.
And then there's Leslie Feist, whose songs have been featured in endless films, commercials and TV shows, whose last album sold a million copies worldwide. She has become a veritable international star, immortalized even on "Sesame Street.". "Everyone always wanted to do a lot of other things -- other bands, records, projects -- but I've never wanted to do too many other things at once," Drew explained. "I think we all have respect for each other, but we also know our place in the band now."
Drew insists that this time, the break is all for the best. And they're probably not coming back any time soon.
"This is the healthiest thing we can do," he said, as "House" star Hugh Laurie, who was playing a set before Broken Social Scene, popped out of one of the other tents and a group of women began to scream. "There's no bad blood, no problems, everyone is at peace. We've had a lot of inter-relationships, some have worked, some haven't. But we all loved what we were doing. And I think we were always fair."
As Kris Kristofferson and Merle Haggard began their set on an opposite stage, David Drew, a white-haired man with a finely trimmed beard and a sun hat, approaches us. He's Kevin's father and has served as the band's pro bono business manager for the past seven years. Turns out, this rock family extends to include real family members, too.
I ask him what it's been like, organizing the affairs of almost 20 musicians at any given time.
"It's like wrangling cats," he says. Not dogs. "Dogs would actually listen."
A few minutes later, a 10-piece incarnation of Broken Social Scene took the sunlit Towers of Gold stage, a crowd of nearly 100,000 spread out before them, as they plowed through a good chunk of their catalogue from the past decade. "So take me down, down through this / Kill the common law that missed / This is the blood I love to share," Drew crooned.
Later that night, they played a three-hour, 25-song set at the Fillmore, and Modest Mouse's Isaac Brock made a guest appearance, joking that this would be the "first annual Broken Social Scene last show ever." They closed out their second encore with "It's All Gonna Break," the soaring, epic closer from their 2005 self-titled album.
"I don't want to dilute what we've done," Drew said. "But I'd like to find other ways of telling the story of our band."
If you're in South America, or feel inclined to take a vacation there, you can still catch Broken Social scene in November. Click here for tour dates.
Related
Popular in the Community