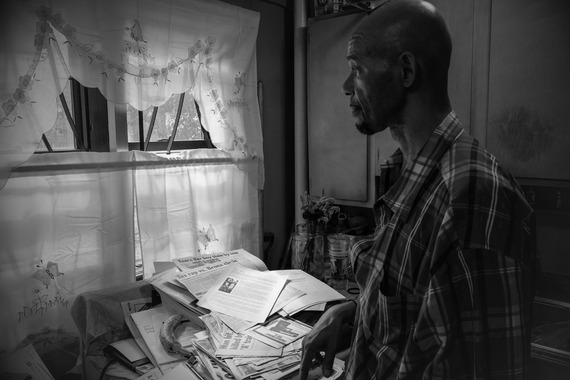 Twenty years after his son was fatally shot by a police officer, Nicholas Heyward Sr stares out the kitchen window of his Brooklyn apartment, one hand distractedly placed on a stack of newspaper clippings related to the death of then-13-year-old Nicholas N. Heyward Jr, an honors student who loved to play basketball.
In a New York Times article dated September 29, 1994, days after the shooting, is a black and white photograph of Nicholas Jr's toy gun that Officer Brian George claimed he mistook for a real firearm.
"Why didn't [the New York Times] put it in color so the public could see that what my son was carrying didn't look anything like a real weapon?" Nicholas Sr points out. "When [Nicholas Jr] was killed, the media blamed the toy gun for his death, not the officer."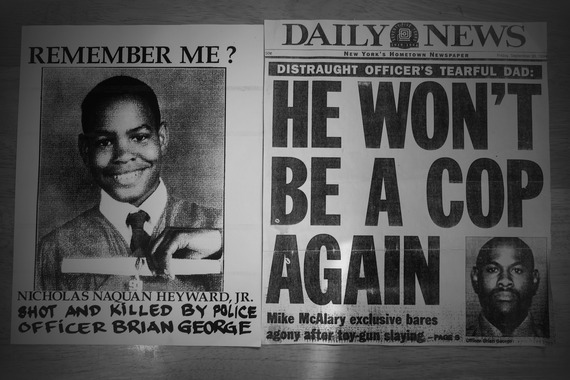 A Daily News article from the same month features a picture of the cop who shot Nicholas Jr, accompanied by the headline: "Distraught Officer's Tearful Dad: He Won't Be A Cop Again." But Officer George was only transferred to a different unit in the New York Police Department, and two decades later Nicholas Sr has found no closure.
His days are spent appealing to elected officials, running a community youth foundation in his son's memory, and mobilizing activists for the October 22 Coalition to Stop Police Brutality.
Nicholas Sr said he is harassed by the police for continuing to speak out about his son, and has been arrested numerous times for allegedly not having his dog on a leash (a recent New York Daily News analysis found that summonses for failure to have a dog license or leash showed racial disparity). His younger son, Quentin, was also targeted by the NYPD, arrested on charges of armed robbery more than a decade after his older brother's death.
"They charged him with armed robbery knowing good and well he was with his mother in Queens at the time of the incident," said Nicholas Sr. "When the school principal and teachers heard about it, they all came out and supported Quentin cause they knew it was impossible. He had to go back and forth to court for over a year fighting that case."
Nicholas Sr believes the problem goes beyond individual racist officers. "I think there's a culture inside the police department that allows this to happen," he said. "The system itself is racist."
Nicholas Sr protested against the mayor's appointment of Police Commissioner William Bratton, who returned to the NYPD after some time away as Los Angeles Police Department Chief. In his letter representing other concerned parents and families, Nicholas Sr wrote, "We are all outraged over Mayor-elect De Blasio's choice of William Bratton for police commissioner and furious with Al Sharpton for allowing Bratton to speak at the National Action Network, knowing Bratton is not for the good of the black community."
When the appointment was officially announced, Bratton said he had "learned a lot," stating, "I think they assured [de Blasio] that the relationship with me, working for them, was one of collegiality, collaboration and also recognizing that I report to the mayor. I'm not the mayor."
But he has not learned, according to Artyom Matusov, former New York City Council policy analyst who worked mostly under former Council Speaker Christine Quinn.
"All they've done is stopped calling it stop-and-frisk, and stopped filling out paperwork. Now they call it broken windows," said Matusov. "I was known for being good with data, so at one point, [Quinn] asked me to do an analysis on stop-and-frisk using NYPD statistics."
Matusov raised questions after seeing some of the data presented at a September city council hearing on NYPD training held in light of Eric Garner's death, where commissioner Bratton made opening remarks calling the NYPD a "model of restraint," and said that the department did not use force. The commissioner also claimed that only 1.9 percent of arrests in 2014 had "reportable" uses of force.
Concerned about what he perceived to be a lie to the council, Matusov reached out through the media the next day, providing his own data analysis contradicting Bratton's testimony, and asking the commissioner to define force. NYPD Deputy Chief Kim Royster responded that force was defined as "use of a firearm, to the use of the baton, the use of O.C. Spray and the use of hands-on physical force beyond what is necessary to effect an arrest."
Matusov then came out in a radio interview challenging the commissioner to answer a more simple question: yes or no -- does Eric Garner count towards that 1.9 percent?
"If he does, then they're admitting that something criminal happened," said Matusov. "He explained to us what that 1.9 percent was -- none of which was used in this instance -- so all it can be is excessive force to make an arrest, which they have not acknowledged happened even though the city medical examiner ruled it a homicide. If he doesn't, then Bratton would be admitting that he didn't include a killing in his statistic about force."
By the end of that week, the legislative director told Matusov that they no longer needed his services. Matusov is now suing for the council for firing him without cause.
"It's a first amendment case," said Matusov. "He went into a public hearing. Anyone could have said what I said. All the data I was using was public, stop and frisk data was public, his charts were public -- so what procedure do I have to follow to call out public information?"
Nicholas Sr, who testified at the hearing, noted,
People from the press don't be asking the right questions. They were throwing little rabbit punches at this guy. Only one person asked about the broken windows theory targeting the poor minority, dancers in the subway, stuff like that. Bratton was saying it brings down the crime rate. After the council finished questioning him, everyone left, including the media. We testified to two council people and no media.
Matusov clarifies that on his W-2, it says he works for the city. "If I worked in the private sector, it would not violate my First Amendment right, the way that the law is being implemented and interpreted now," said Matusov. "The government can't send police after us for going to a political rally, but a private corporation can fire us for it -- for engaging in anything, for tweeting. Can we really say that's freedom of speech, freedom of assembly?"
When Matusov texted his friend Wiley Norvell, one of Mayor de Blasio's deputy press secretaries, concerned that the commissioner could also be lying to the mayor, he was disappointed with the curt response -- "ignorance is bliss." When citizens file complaints against the NYPD to its oversight board, they often receive a similarly dismissive reaction.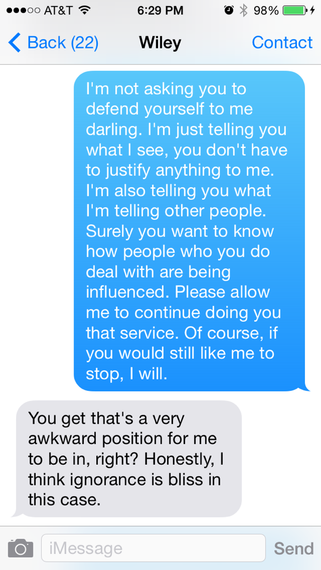 Nicholas Sr filed his first complaint to the Civilian Complaint Review Board when his son was falsely arrested. 12-year-old Nicholas Jr and his father were watching police officers chase some boys around their housing community, when one of the officers walked over to them. "He grabbed my son, pulled out a gun and pointed it at him," said Nicholas Sr. "I said what are you doing -- that's my son. He pointed the gun at me, told me to shut up and mind my business."
Nicholas Jr was handcuffed and taken to the police station, released an hour later. "An officer came down with him and apologized, saying he wasn't the one they were looking for," Nicholas Sr recalled. "My son was ready to run out of there. I asked him what happened and he started crying, saying they put him in a lineup. He kept telling them that he didn't do anything, and one of the officers said, 'Shut up or I'll take this taser gun, stick it up your butt and pull the trigger'. Then he said the officer told him that he wouldn't live to be fifteen."
Two days later, Nicholas Sr filed the complaint. It was October 1993. Six years later, the CCRB sent him a letter with a brief statement that they found the officer's actions to be "lawful and proper." The letter only added insult and hurt to what happened barely a year after the false arrest, as the officer's cruel but "lawful and proper" words of prophecy were fulfilled.
At the end of the day, the buck stops with the mayor, who is caught in the middle between his "two cities."
"He is trying to cut the baby in half, and there's no way, because they are extreme positions," said Matusov. "One is we need to be more aggressive in neighborhoods where there's crime, which translates into black and Hispanic neighborhoods -- the other is the [affected] communities."
Bratton's explanation that the racially disparate statistics only reflect the neighborhoods with crime was contradicted by an analysis of broken windows enforcement in the city which found that minorities were even more likely to be targeted in low-crime predominantly white neighborhoods, rather than in communities where the broken windows actually are. The commissioner has not responded to Matusov's question about whether Eric Garner counts towards the 1.9 percent of 'reportable' force used by the NYPD.
"They're not disputing the data, they're keeping silent, hoping this goes away and people stop asking questions -- which is why I am being as proactive as I am, because the only way they can win and get away with this is if people let them," said Matusov.
Nicholas Sr is in tears whenever he hears of a new incident.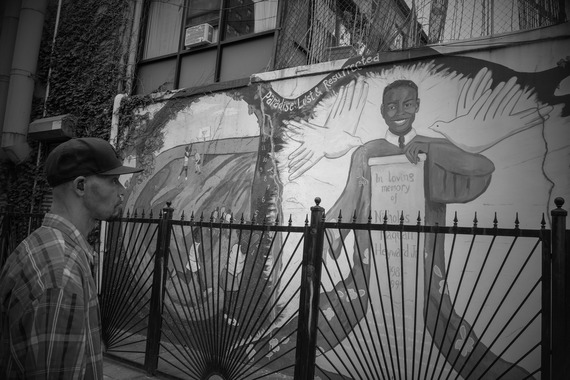 "Some people say time heals wounds but it gets worse for me," said Nicholas Sr. "I just can't understand. Elected officials are supposed to be standing up and supporting the people. Why aren't they doing that? I don't know how much longer they think people are going to continue to accept this. It's not like this is something that just started happening, this has been happening a very long time."
Calling all HuffPost superfans!
Sign up for membership to become a founding member and help shape HuffPost's next chapter