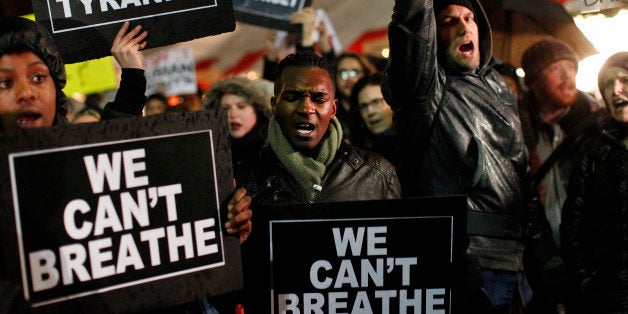 NEW YORK -- About 20 protesters laid down on the sidewalk in silence Thursday afternoon outside the Greenwich Village Chelsea Chamber of Commerce.
After roughly 20 minutes, a few protesters started to sing softly, "I still hear my brother saying 'I can't breathe!' Now I'm in the struggle saying, 'I can't leave.'"
The rest of the protesters joined in.
"We're calling out the violence of the racist police, and we ain't gonna stop -- [clap, clap] -- until the people are free. We ain't gonna stop -- [clap, clap] -- until the people are free!"
Everyone then stood up, chanting "I can't breathe!" 11 times, the same number of times Eric Garner uttered those words before he died in police custody this summer on Staten Island.
"We're out here to protest the ludicrous fact of having an award called 'Safe Cities, Safe Streets' when Eric Garner and Akai Gurley are being killed by the cops," said protester Sumumba Sobukwe, referring to two black men who were killed by NYPD officers this year. "People are still being harassed, people are still being stopped and frisked."
Bratton's NYPD has faced intensified criticism after an officer killed Garner this summer by putting him in a chokehold, a tactic that the department has banned. Much of the debate about the NYPD and police departments across the country has focused on police brutality. But increasingly, activists in New York City are concentrating their energies on what they believe is the real root of the problem: the city's embrace of "broken windows" policing.
Under the broken windows strategy, police officers aggressively target low-level crime as a way of deterring more serious crime. It's a policing approach that has come under heightened scrutiny since NYPD officer Daniel Pantaleo killed the 43-year-old Garner during an arrest for selling untaxed cigarettes -- a classic example of a broken windows enforcement.
Many at Thursday's protest called for Bratton to be fired over his embrace of broken windows.
"Broken windows! Broken lives!" the protesters chanted. The chant has been heard frequently at numerous protests since last week, when a grand jury on Staten Island declined to indict Pantaleo in Garner's death.
In fact, Bratton never showed up to the awards ceremony at all. Protester Josmar Trujillo suggested that the commissioner was "afraid to face the community."
A call to the GVCCC confirmed that Bratton had been scheduled to speak, but that due to a scheduling conflict, he had sent Chief of Department James O'Neill in his place.
Bratton first embraced broken windows during his initial stint as commissioner in the 1990s under then-Mayor Rudy Giuliani. Many have credited the strategy for the city's plummeting crime rate.
Critics note, however, that cities without broken windows enforcement have also experienced dramatic drops in crime, and that the strategy disproportionately affects blacks and Latinos.
A New York Daily News report from earlier this year found that between 2001 and 2013, the NYPD issued over 7 million summonses for petty infractions, like riding a bike on the sidewalk or drinking in the street. Eighty-one percent of the people issued summonses were black or Latino, the report said.
Thursday's protest was at least the third demonstration this week that was aimed specifically at broken windows policing. On Wednesday night, a group of protesters gathered outside the Manhattan Institute, a conservative think tank where Bratton worked with scholar George Kelling to develop the policing theory some 20 years ago. Earlier that day, another group gathered on the steps of City Hall to call on Vanessa Gibson, chair of the New York City Council's Public Safety Committee, to hold a hearing on broken windows.
Over the past week, many disparate groups have organized protests across the city against the Garner decision. Most of these groups have demanded an end to broken windows.
"Mayor de Blasio should end broken windows, and other discriminatory and abusive policing practices," reads one of the 11 demands that a coalition of activists made this week to local, state, and federal lawmakers.
Those activists, who are organizing under the name "This Stops Today," also demanded that "the Department of Justice should launch an investigation into broken windows policing and the use of force policies and practices of the NYPD."
While Bratton and his boss, Mayor Bill de Blasio, have been steadfast in their support of broken windows enforcement, more than a few City Council members have started to voice opposition.
On Monday, a large group of council members marched out of City Hall while chanting "I can't breathe." Council member Rory Lancman told The Huffington Post that the demonstration was the beginning of an oversight process that will reform "every aspect of police and community relations in the city, from the broken windows strategy to interactions between police and young men and of color, to how these cases are handled in the courts."
At the same time, a number of different activist groups have formed the "Coalition to End Broken Windows." Trujillo, who attended Thursday's protest at the GVCCC, belongs to the group New Yorkers Against Bratton. He said that the new coalition plans to follow Bratton wherever he goes, as part of what the group is calling the "Breaking Bratton's Windows" tour.
Popular in the Community