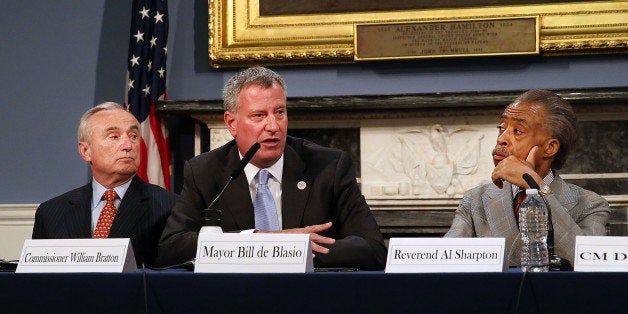 Keeshan Harley is only 19 years old, but he says he's been stopped by New York City police more than 100 times. Last year, cops apprehended him for riding his bike on the sidewalk in Bedford-Stuyvesant, Brooklyn.
"I was handcuffed and threatened by undercover officers for riding my bike on the sidewalk for a mere three minutes as a bus passed to avoid being hit," he told reporters outside City Hall on Thursday. "They never produced badges but proceeded to try and intimidate me."
Experiences like that, Harley said, make him understand how Eric Garner must have felt when cops tried to arrest him for allegedly selling untaxed cigarettes two weeks ago in Staten Island. A video shows the 43-year-old father yelling at the cops for harassing him, before one officer, Daniel Pantaleo, puts Garner into a chokehold, throwing him to the ground. Garner, who can be heard screaming "I can't breathe!" numerous times, later died.
Harley was among a group of activists and lawmakers who gathered Thursday to call for the city to prosecute the officers involved in Garner's death. Many of the attendees were also deeply critical of a policing theory put into practice by New York City Police Department Commissioner William Bratton. The "Broken Windows" philosophy holds that targeting low-level offenses helps to curb more serious crime.
"We need a very hard look at the aggressive enforcement of low-level offenses, whether that's selling loose cigarettes, playing your music too loud on the subway, or having your bag next to you, or whether that's having a marijuana cigarette in your pocket," City Council member Brad Lander told reporters at the rally Thursday. This type of enforcement, he said, disproportionately affects men of color -- like Harley and Garner -- and can have terrible collateral consequences.
While Lander stopped short of explicitly calling out Broken Windows, other lawmakers didn't.
"The death of Eric Garner was preventable," Council member Antonio Reynoso said in a statement Thursday. "It was a tragic example of how Broken Windows policing targets low-income people and people of color with aggressive tactics for minor infractions." Assembly member Karim Camara and City Council member Jumaane Williams also released statements referencing Broken Windows by name.
For years, Broken Windows was credited with reducing the crime rate in cities across the country, including New York, Philadelphia and Seattle. Critics, however, say there's no data to support that claim, and that the strategy unfairly targets minorities. At Thursday's event, one protester held a sign that read, "Broken Windows=Broken Lives."
This time last year, many of these same protesters and lawmakers called on then-Mayor Michael Bloomberg to put an end to the NYPD's excessive use of stop and frisk, a tactic where police stop people on the street and often search them. During Bloomberg's 12 years as mayor, the NYPD stopped hundreds of thousands of New Yorkers, the vast majority of whom were black or Latino.
"I think a lot of what was upsetting people about stop and frisk was really about Broken Windows, but we didn't have the language," Alex Vitale, a sociology professor at Brooklyn College, told HuffPost on Thursday. The death of Eric Garner changed that, he said. Now, people know about Broken Windows and are angry.
The tension over the policing philosophy has put Mayor Bill de Blasio in an awkward position. De Blasio campaigned on the idea that he would reform the NYPD, namely by reining in the department's use of stop and frisk. He selected Bill Bratton as his police commissioner in December with a promise to not only end the use of stop and frisk, but also to usher in a new era of police-community relations.
Bratton, however, championed Broken Windows policing during his first stint as New York's police commissioner in the 1990s. And over the past seven months, it's become evident that he's still a big proponent of the philosophy.
The NYPD has made 97,487 misdemeanor arrests during de Blasio's first five months as mayor, Gothamist reported on Thursday. That's slightly more than the number of misdemeanor arrests during the first five months of 2013, Bloomberg's final year in office. Eighty-six percent of those arrested for misdemeanors in the first five months of this year were black or Latino, about the same percentage as under Bloomberg, according to Gothamist, which looked at New York State Division of Criminal Justice Services data.
And despite De Blasio's promises to reform the department, the mayor earlier this week defended Broken Windows. "I can understand why any New Yorker may say, that's not such a big offense," he said at a press conference Monday. "But a violation of the law is a violation of the law."
While protesters rallied outside City Hall Thursday, de Blasio was inside hosting a "Roundtable on Police-Community Relations." He was introduced by his Community Affairs Commissioner Marco Carrion as "our mayor, the man who put an end to stop and frisk." The mayor sat in between Bratton and the Rev. Al Sharpton, who's called for the cops involved in Eric Garner's death to be prosecuted.
"Given the data that we are seeing in terms of these Broken Window kind of operations, it's disproportionate in the black and Latino communities," Sharpton said at the meeting, according to The New York Observer. He then turned towards de Blasio.
"If Dante wasn't your son, he would be a candidate for a chokehold," he said, referring to the mayor's 17-year-old son, who is half-black.
As Captial New York's Azi Paybarah noted, neither de Blasio nor Bratton mentioned Broken Windows by name during Thursday's roundtable. Bratton, however, did say that the department "has been deficient, in my perspective, in the training it gives to its officers" when it comes to enforcing low-level offenses. Cops, he said, need to know "they have a wide range of discretion to work with: 'move along,' summons, admonishment, potential and, if resistance is met, the use of force."
De Blasio has endorsed the idea of better training for cops. But some groups, like the New York Civil Liberties Union, have argued that until Broken Windows is abandoned, real change within the NYPD is not possible. As the Eric Garner saga continues to unfold, it's unclear if de Blasio and Bratton would be open to the kind of systemic changes to the NYPD that these advocates are calling for.
"It's time to end Broken Windows and put the police department's priorities where they ought to be: on violent crime. No New Yorker should be the collateral damage of these misguided, zero-tolerance, Broken Windows policies that target our communities of color and alienate people from the police," Donna Lieberman, the executive director of the NYCLU, said Thursday at the rally.
Lander was careful Thursday to praise de Blasio for his work to rein in stop and frisk, but added that it was time for the city to take a "serious, hard look" at what's being enforced by police, and what should be enforced. This fall, he said, the council could consider a "range of legislation," including a series of bills to be introduced by Council member Rory Lancman.
For two mothers whose sons were killed in altercations with the NYPD, however, what's most important is that the officers involved in Eric Garner's death be brought to justice.
"Neither the problem nor the solution to systemic police brutality is simply new training, as Commissioner Bratton has indicated and we heard after the deaths of our sons and so many other New Yorkers," Constance Malcolm, the mother of Ramarley Graham, and Iris Baez, the mother of Anthony Baez, said in a joint statement Thursday. "It is the lack of true accountability that has allowed officers to continue to abuse, and too often kill, New Yorkers without fear of real consequences."

Before You Go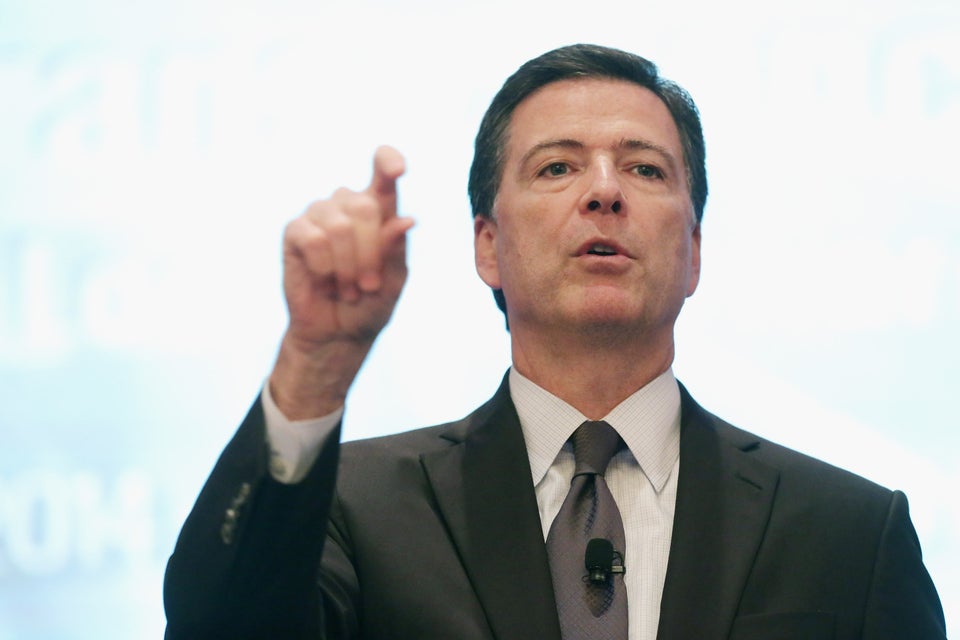 FBI Directors Through The Years
Popular in the Community