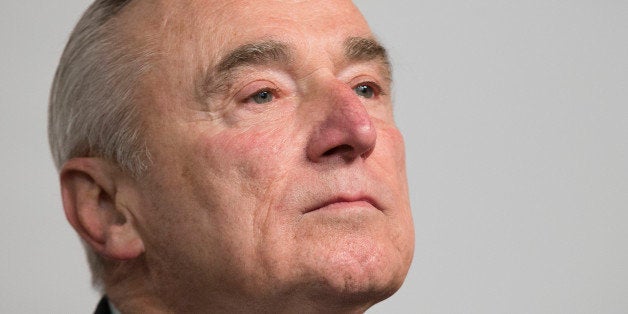 New York City Police Commissioner Bill Bratton delivered a full-throated defense of "broken windows" policing Wednesday morning, but said the police department is reviewing how it enforces low-level offenses.
"In the '60s, '70s, and '80s, we as a country, and a police profession, drifted away from the emphasis on prevention and focused most of our time on trying to respond to the growing crime and disorder problems," Bratton told a swanky crowd of businesspeople at the Crain's Business Breakfast Forum inside Manhattan's Roosevelt Hotel.
Bratton invoked the specter of what many refer to as New York City's "bad old days," when the murder rate was high and squeegee men ran amok. "I remember what this city looked like in 1990 versus what this city looks like today," he said. "It's something we all need to celebrate rather than demonize or tear down."
It wasn't until he championed broken windows policing during his first stint as commissioner in the mid-1990s, Bratton argued, that New York made its comeback.
Broken windows is a strategy that has cops aggressively enforce lesser, quality-of-life offenses as a means of deterring more serious crime. The commissioner's embrace of broken windows has come under fire this summer, with many arguing that it disproportionately affects the city's minorities. Many academics have also cast doubt over Bratton's claim that broken windows is in fact responsible for the plummeting crime rates of the past decade in New York and other American cities.
"There are certain criminologists, academics who I focus my attention and support on, versus the vast majority who I do not, because they just don't get it, to be quite frank with you," Bratton said to the business-friendly crowd, who paid $1,250 a table to hear him speak on Wednesday. The comment seemed to take aim at the likes of Brooklyn College sociology professor Alex Vitale, who is among many in the academic world who have pointed out that many cities that never employed broken windows -- Montreal, San Diego and Chicago, to name a few -- also had their crime rates plummet in recent years.
Bratton would not comment on Eric Garner -- the unarmed black man who died in July after an NYPD officer put him into a banned chokehold during an arrest for allegedly selling untaxed cigarettes, a classic broken windows offense. That case, he said, is now the purview of Staten Island district attorney. Bratton also pointed to his recent announcement that officers will be retrained in the use of force and how to de-escalate situations with uncooperative suspects.
The commissioner brushed aside advocacy groups' claims that the 400,000 arrests the NYPD makes annually are excessive. In 1995, when the crime and murder rates were higher, there were just 285,000 arrests.
"There's about 4,000 of those arrests that are the controversy that's been brewing out there, that's been generated in the media with some of the advocacy groups. God forbid, the NYPD is so oppressive in its enforcement," Bratton said. "The vast majority of those cases are domestic violence."
Bratton also insisted that NYPD arrests a disproportionate number of minorities because there's more crime happening in minority neighborhoods. Broken windows, he argued, is "unlike stop and frisk, where officers acted on suspicion that a person was about to commit a crime." With broken windows, Bratton said, the officer believes that the person has already committed the crime.
The NYPD, Bratton said, has been conducting a study of its enforcement of low-level crimes, and mapping where 911 and 311 calls they receive are coming from."It's like a doctor looking at an X-ray," Bratton said, explaining how a majority of those calls came from poorer, minority neighborhoods. (A New York Daily News analysis published Tuesday showed that minorities are still more likely to get ticketed by police in low-crime, primarily white neighborhoods.)
"So the idea is, from a policing standpoint, to put police resources into those areas to try and bring to them at least a level of security to raise their families. And by making it more secure, do what we've done in the rest of the city -- where you'll come in and invest, where you will commit to areas of the city that years ago people thought you would've been crazy," Bratton told the crowd.
"Who'd thought Williamsburg would be a place where people would go to?" Bratton added. "My wife and I had dinner there the other night, and we doubled the average age."
Before You Go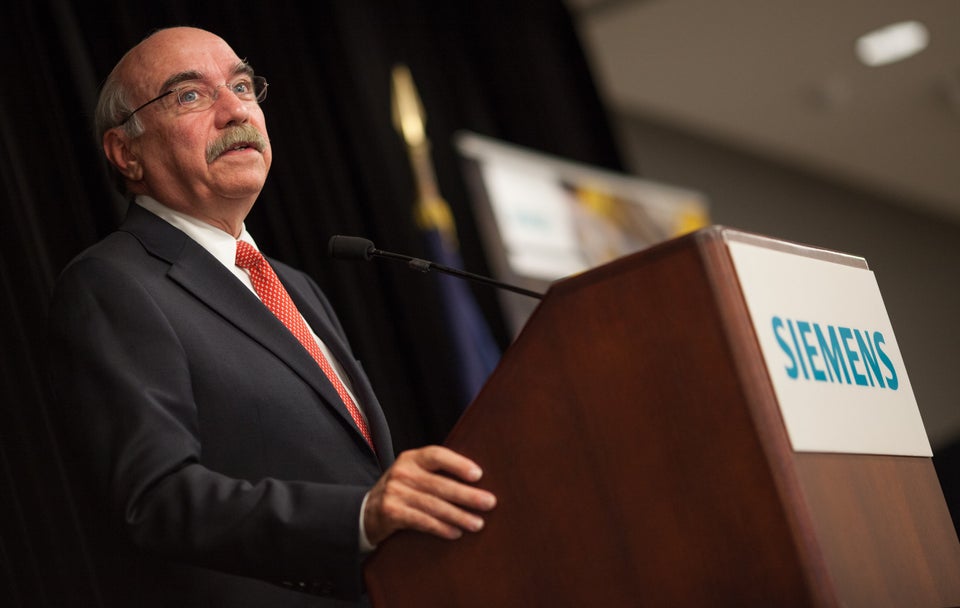 Mayors Of America's Largest Cities