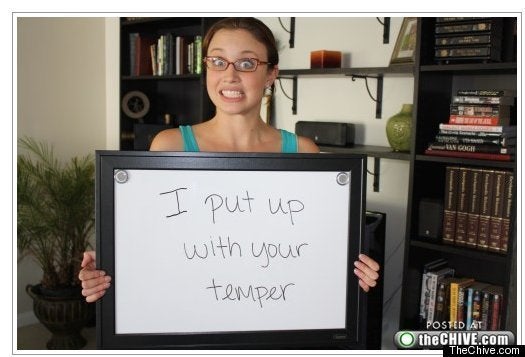 UPDATE 2: So-- was Jenny fake? Afraid so. In a followup post on theChive.com, "Jenny" revealed that she was an LA-based actress named Elyse Porterfield, and hired by theChive.com to produce the comedy site's latest viral hoax. Not a bad way to drive traffic.
In the same entry, co-founder John Resig encourages readers to check back with the site for updates on how Porterfield is "as smart as she is sexy."
PREVIOUSLY: We've heard of some pretty crazy ways to quit your job , but one woman's use of a tell-all dry erase board takes the cake.
"Jenny the Assistant" quit her job yesterday by sending a company-wide email with photos of her resignation letter written in a series of hilarious dry erase board posts, which are chronicled in full at the Chive. (Hat tip to Dealbreaker)
Check out all the photos at the Chive, but here's the short version:
"Jenny," an assistant to a broker named Spencer, said she had put up with his bad breath and temper for two years because she wanted to be a broker. But she decided to quit when she heard her boss call her a "HOPA" on the phone.
In the photo essay, she goes on to disclose Spencer's use of his time, which she discovered by tapping into a loathed monitoring system he had set up: four hours a week of Scottrade, and 19.7 hours a week of Farmville. No wonder why she wanted to be a broker.
Check back with the Chive for updates on Jenny's last name, for which it is working its contacts, it claims.
Popular in the Community