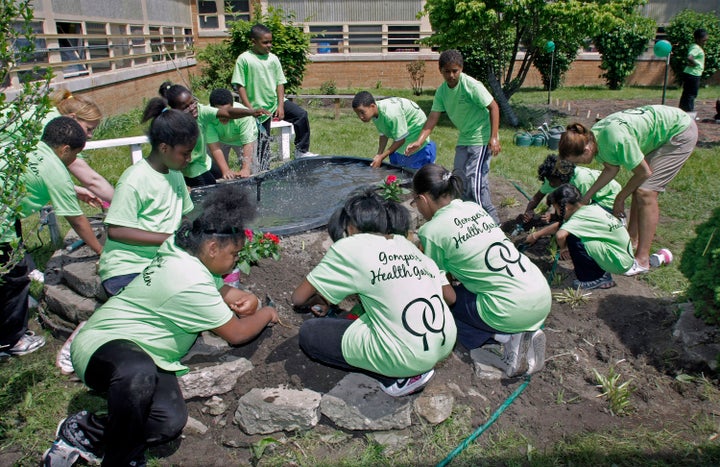 NEW YORK -- When the Bronx Academy of Letters opened in 2006, its aging building was part school and part machine shop.
"We're a school that wasn't even supposed to be here," said Principal Anna Hall, 35, who began as the school's first teacher.
The South Bronx is the poorest congressional district in the United States. It is also a "food desert." Until the Western Beef supermarket opened across the street from the Bronx Academy of Letters two years ago, there was nowhere in a five mile radius to buy fresh produce except for overpriced and aging bodegas. Further, the South Bronx boasts some of the highest obesity and diabetes rates in the nation.
"I had students that would start the day with a Pepsi, Doritos and a Snickers bar for breakfast," said middle school English teacher Anthony Galardi, 26. He added, "If this child has diabetes at age 26, everything just becomes that much harder."
When Amy Applegate, 38, took over as a health and gym teacher three years ago, she brought a new approach to her subject matter she hoped would grab kids through hands-on experience.
Growing up in rural Arizona, she brought an agricultural touch to urban education. Following the Seed to Plate education model, in which students are able to grow the foods they eat and follow the plant life cycle in their science and health curriculum, she began pitching the idea of starting a school garden.
In January, the school received grow lights donated by Slow Food, a non-profit focused on undercutting fast food dependence. A picture on Hall's iPhone shows an overgrown planter that sat in her office. "Teachers volunteered kids to water the plants, and every day, goofy, squirrely kids that acted up in class would come in and do their job because it was important, something depended on them," she said.
Then a group of Middlebury College students began volunteering at the Bronx Academy of Letters in May, spearheading the summer garden club weekday afternoons. Jacob Udell, Janet Rodrigues and Kenny Williams, all 21, hail from Manhattan, Brooklyn and the Bronx respectively. The three city kids transplanted in rural Vermont felt compelled to bring the farm back to New York, and started looking for a school where they could build a garden.
"Back then, it seemed so romantic," Udell said.
After amassing over $12,000 in grants and fundraising, the students were put in touch with the Bronx Academy of Letters through a staff member's Middlebury connection.
"The Middlebury students have been so helpful," Galardi said, "I teach summer school five hours a day, then I have to coach basketball. These are kids who don't necessarily have somewhere else to go in the summer months -- and on the streets at this age is when the trouble starts. It's a real service to our students."
With their funding, the Middlebury students increased the garden's scale, buying plastic planters for the Bronx students to use, purchasing lumber to build wooden one's the students could paint -- even establishing a compost system.
The garden has transformed the patio space at the school's gated southwest corner, adding a splash of green to the urban sprawl of brick, rusting metal and asphalt. A square of planters encircles the replanted dirt patch where a dead tree once stood. Rows of zucchini, cucumber, eggplant, collard greens and flowers fill out the rest.
Williams painted over one planter where a student has written in large diagonal letters: "Zaddy in da house."
"Well," he said, "it's good to know they feel like it's their garden."
It's a school-wide sentiment. The middle schoolers grew salsa: one class grew tomatoes, another grew peppers and a third grew onions. Cafeteria workers pick produce for lunch, following the Grow To Learn NYC's "Garden to School Cafe" initiative, and security guards admire the plants on their breaks.
Galardi recounts an early casualty, a "stolen" red, ripe tomato that disappeared without explanation. He said, "I just told the kids, 'Whoever took it was hungrier than we were.' "
The communal feel reflects the garden's design. Williams points out the various fences, the barred windows, and the sense of enclosure so prevalent only a block from city housing developments. "We wanted to make sure it didn't feel like a caged area," he said.
A poem by Destiny, a 10-year-old student, is painted on an orange planter in blue letters: "The greatest gift to us all, a garden to share, bearing fruit and growth. Friends and family create a wall of connections."
CORRECTION: A previous version of this story incorrectly named Kenny Williams as Kenny Blackshear. While Ben Blackshear is a Middlebury student who works on the initiative, he was not at the summer garden club at the time of interview.
REAL LIFE. REAL NEWS. REAL VOICES.
Help us tell more of the stories that matter from voices that too often remain unheard.