"It's great to see our youth have a day ON...not a DAY OFF! Happy MLK Day!" said Bronx Borough President Ruben Diaz, Jr. "By painting the community center that they share with senior citizens, they prove that Dr. King's legacy is strong!" This was addressed to the 30 Publicolor volunteers offering a Day of Service while transforming with vibrant colors the main lobby and cafeteria of the Bronx Community Center.
Publicolor's Founder, Ruth Lande Shuman, encouraged by the spirit of the volunteers, said, "It was an honor and a joy for us at Publicolor to spend MLK Day painting alongside fathers and sons at the Bronx River Community Center, and then to have Council Member Ruben Diaz stop by! Our students were thrilled!!"
The project was a collaboration between Publicolor, Bronx Fathers Taking Action, Bronx Youth Corp, Acacia Network, FAIM Inc., CASW, and Bronx River Tenants Association.
In the spirit of Dr. King's legacy, you, too, can give back to your community by volunteering with Publicolor every Saturday from January 21 to March 11. You'll paint alongside Publicolor's students, staff, and mentors. Individuals can volunteer at NYCares.org. School groups, corporation, and not-for-profits should contactMs. Catherine Stein at Catherine@publicolor.org.
Upcoming locations include: Jill Chaifetz Transfer School (Bronx), PS/MS 206 Jose Celso Barbosa (Manhattan), and Lyons Community School (Brooklyn). 
Please arrive at the school no later than 9:45 A.M. Organizers will pair all volunteers with Publicolor students. This is a golden opportunity for both volunteers and students to engage in an unforgettable and unique dialogue that Publicolor views as informal mentoring. Pause for a healthy, nutritious lunch around 12 P.M., and resume painting until 3 P.M.
What you need to know about volunteering: 
What about lunch?
Publicolor will provide lunch. However, in order to help defray the cost of lunch, they ask that the volunteers donate $12 per person the Monday before you are scheduled to volunteer.

Can I bring my kids?
Publicolor loves children, but because their work is so technical they prefer that the children you bring be 12 years or older and chaperoned by you while they paint.
What do I wear?
Please wear clothes and shoes you don't mind getting paint on. Publicolor uses odor-free latex paint that will wash out of your hair and skin but not out of your clothes. Publicolor will provide gloves for painting upon request.
About Publicolor: Publicolor fights poverty by aggressively addressing the alarming dropout rate and low levels of educational attainment and youth employment in New York City. They do this by engaging high-risk, low-income students, ages 12-24, in a multi-year continuum of design-based programs to encourage academic achievement, college preparation, job readiness, and community service. Their unique applied learning approach uses design as a vehicle to engage and inspire low-performing students in struggling middle and high schools, empowering them to achieve success in school, college, career, and life.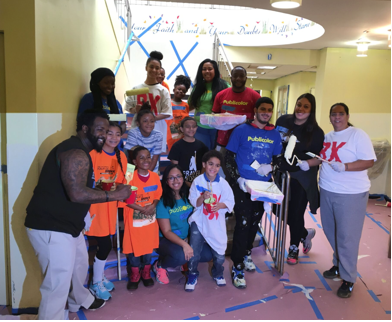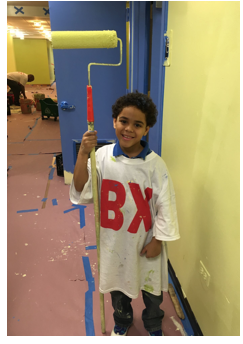 Calling all HuffPost superfans!
Sign up for membership to become a founding member and help shape HuffPost's next chapter