This is the first blog in my series, The Pulse of Africa talking with Global Africans working in Africa and across the Diaspora. It takes an inside view on Africa's progress, issues on arts and culture, technology and opportunities in this decade.
Early this month, artist Brett Cook sent me an amazing email that added pep and sunshine to my sluggish Brooklyn Monday morning. I say this because Mondays are generally my day off. And very few things pep me up these days, though I am excited about Spring bringing warm weather to New York.
The news: Brett Cook would be working with Women and Youth Art Foundation (WYART) in Lagos and Ibadan. This brought a great big smile to my Nigerian face. The email was about smARTpower, an initiative of the U.S. Department of State that pairs American artists with their counterparts abroad. As a New Yorker who knows that Bronx has the most number of Africans in this city; I was pleased. And the fact that the Bronx Museum of Art was the partner with the State department made me even more excited about this news. It is absolutely brilliant.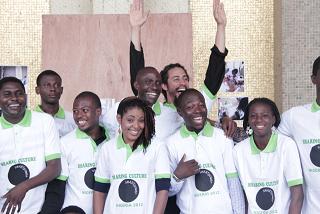 Brett Cook with the group in Nigeria
According to Ron Kavanaugh who I reached out to at the Museum, smARTpower is "an international program launched by the US State Department and is being administered by the Bronx Museum." The Bronx Museum of the Arts is sending 17 artists to 15 countries to engage in what the director, Holly Block calls "people-to-people diplomacy." I grew up in Nigeria with an American mother who introduced me to art classes very early and Nigerian artists, so I celebrate art and not war is the weapon to change the global dialogue. Block herself spent two weeks travelling in Africa.
As I looked at the artists selected, I was pleased with the selection. See more information here. Smart indeed, the artists, along with their destinations and partner organizations:
Duke Riley of Brooklyn, New York - Shanghai, China
Partner Organization: Arthub Asia
Chris "Daze" Ellis of New York, New York - Quito, Ecuador
Partner Organization: Cero Inspiración
Arturo Lindsay of Atlanta, Georgia - Cairo, Egypt
Partner Organization: Medrar/Nagla Samir
Rochelle Feinstein of New York, New York - Accra, Ghana
Partner Organization: Foundation for Contemporary Art
Caroline Woolard of Brooklyn, New York - New Delhi, India
Partner Organization: KHOJ
Miguel Luciano of Brooklyn, New York - Nairobi and Dadaab Province, Kenya
Partner Organization: Kuona Trust
Samuel Gould of Minneapolis, Minnesota - Pristina, Kosovo
Partner Organization: Stacion Center for Contemporary Art
Think Tank (comprised of Christopher Robbins, John Ewing, and Maria del Carmen Montoya) of Little Neck, New York; Roxbury, Massachusetts; and Corvallis, Oregon - Beirut, Lebanon
Partner Organization: Arab Image Foundation
Pepón Osorio of Philadelphia, Pennsylvania - Kathmandu, Nepal
Partner Organization: Kathmandu Contemporary Arts Centre
Brett Cook of Berkeley, California - Lagos, Nigeria
Partner Organization: Wy Art Foundation
Art Jones of Bronx, New York - Karachi, Pakistan
Partner Organization: Vasl
Mary Mattingly of New York, New York - Manila, The Philippines
Partner Organization: Green Papaya Art Projects
Xaviera Simmons of Brooklyn, New York - Columbo, Sri Lanka
Partner Organization: Theertha International Artists Collective.
Kabir Carter of Brooklyn, New York - Istanbul, Turkey
Partner Organization: PiSt///Interdisciplinary Project Space
Seth Augustine and Rachel Shachar of Los Angeles, California - Caracas, Venezuela
Partner Organization: Centro Cultural Chacao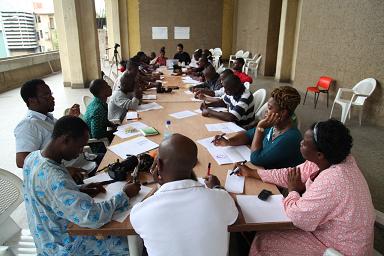 Then I looked at the cities in Africa where some of the artists would be going:Accra, Ghana; Lagos and Ibadan in Nigeria; Nairobi, Kenya and Cairo, Egypt. Definitely worth the $1 million dollars that the Department of State will be spending. Yes, the US government is spending on money on American artists. It is simple: "smARTpower builds on Secretary of State Hillary Rodham Clinton's vision of "smart power diplomacy," which embraces the use of a full range of diplomatic tools -- in this case the visual arts -- to bring people together and foster greater understanding", according to the press release.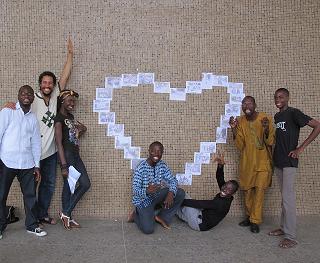 I returned to read the rest of Brett Cook's email and looked for more details. He will be facilitating a series of multi-faceted workshops for collaborative creations of artifacts, celebrations, public installations, and digital documentation to foster new connections and build community.
According to him, "this opportunity to live and learn with people on the other side of the planet is an extraordinary honor, a priceless gift of radical transformation". I respect his humble statement, "I hope to work with skill and wisdom, and look forward to the collaborative creation of some wonderful objects, ideas, and new ways of being."
Cook is a fascinating artist who I have watched from far because of his community participatory way of working and his use of ethnography. His work reminds me of the notion of an African village and it will be interesting to see what he will create as part of this collaboration. His project entitled, Sharing Culture and Collaboration, will take place in 2 cities in Nigeria: Lagos and Ibadan. He is scheduled to be there for about two weeks.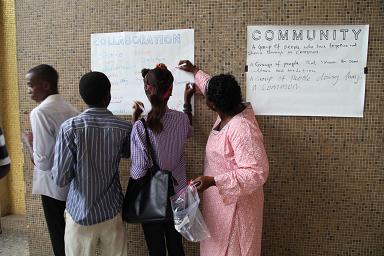 APRIL 12, 11am dialogue at Omenka Gallery, Lagos
APRIL 14-18, 10am-2pm Collaborative Workshop at the Department of Creative Arts, University of Lagos
APRIL 18 Celebration in the Botanical Gardens at the Department of Creative Arts, University of Lagos
APRIL 20, 1pm Dialogue at the Institute of African Studies, University of Ibadan, Nigeria
APRIL 23-27, 11am-1pm Collaborative Workshop at All Saints College, Ibadan, Nigeria
All Photos courtesy of Brett Cook.
Popular in the Community