Bronx School Justice Coalition Makes Significant Inroads in Reducing Punitive School Discipline in the Bronx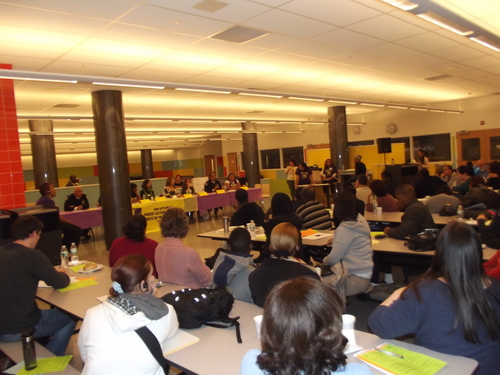 Bronx, NY -- On Saturday, November 16th, members of the Bronx School Justice coalition held a public report back on a year's worth of work to reduce punitive disciplinary measures in Bronx public schools. Instead they are advocating for the use of restorative justice practices and positive disciplinary alternatives in schools. Nearly 120 community members joined parents, students, local elect eds and key officials in the New York City Department of Education (DOE) and New York Police Department's School Safety Division for the event.
Since last June, sizeable reductions in school policing have been experienced in the Bronx. There were 4,163 fewer suspensions in the borough, a decline of nearly 24 percent when compared to the 2011-2012 school year. School arrests in the Bronx were cut by more than half, with a total decline of 56 percent, and summonses issued to Bronx students to appear in court also went down by 49.4 percent. These declines follow increased trainings of Bronx school staff and NYPD School Safety Agents in positive disciplinary alternatives, including workshops for over 630 School Safety Agents that were facilitated by students and parents, with the support of local advocacy organizations, The Children's Defense Fund and The Bronx Defenders.
Though the declines in school arrests, suspensions, and summonses are quite notable in just one year of work, there was consensus amongst the panelists that the work is still in progress. Despite halving the total number of summonses issued to Bronx students, more than half of all summonses issued to New York City students in the last year continue to hail from the Bronx. The majority of these summonses -- 59 percent -- are for disorderly conduct, a low-level infraction. The racial disparities in school arrests and suspensions have also only declined by 5 percent, with 90 percent of all school arrests involving black and latino youth.
Michelle Reyes, a parent leader with the New Settlement Parent Action Committee shared her thoughts on these numbers:
"How do we break the barrier and develop policies where black and latino students feel a sense of self-worth, respect for each other and receive an uninterrupted education with the dignity that they rightfully deserve? While the reductions in school policing are a step in the right direction, we need to remember reducing numbers in and of itself is not the end-all answer. Unless there are restorative policies in place, there is nothing to stop these numbers from increasing again."
Esperanza Vazques, a fellow leader with the Parent Action Committee agrees. Through an interpreter, she spoke on Saturday about how "Two years ago, 95 percent of all New York City school arrests involved black and latino youth. I want a future where 95 percent of black and latino youth have the opportunity to study in positive school environments, graduate, and head to college."
Reyes has specific solutions in mind. She believes "there needs to be some kind of accountability that school administrators should have about bringing in real interventions. We need to invest in people to work as full-time restorative justice coordinators because they will provide options for how disciplinary incidents can be handled by getting to the root of the problem instead of moving to suspensions or arrests."
Saturday's event opened with a panel featuring the diverse stakeholders participating in the coalition. They had an opportunity to reflect on the work from their unique vantage point, and offer thoughts on how they saw their efforts developing over the coming year. Panelist and New Settlement Parent Action Committee leader Ronnette Summers reflected on how her experiences with her nephew, a student with special needs who was repeatedly suspended, personally connected her to the mission of transforming school discipline and closing the school-to-prison pipeline. In her testimony, she revealed how late it was before her nephew's challenges with reading were identified as a trigger of his classroom misbehavior.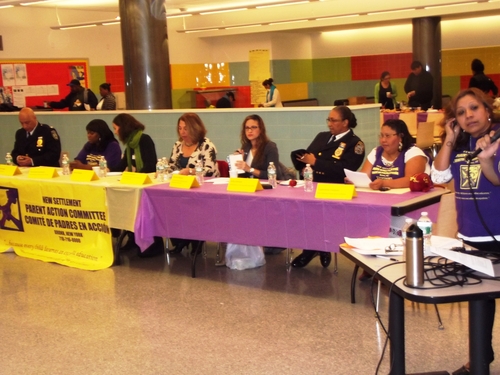 From left to right: Vincent Sica, NYPD School Safety Deputy Director of Field Operations for the Bronx and Manhattan; Ronnette Summers, Parent leader with the New Settlement Parent Action Committee; Jaime Koppel, educational advocate; Elayna Konstan, New York City Department of Education Chief Executive Officer for the Office of Safety and Youth Development; Bonnie Massey, Social worker and Restorative Justice coordinator at Bronx International High School; Kelly Johnson, Deputy Director of the NYPD School Safety Division Training Unit; and Esperanza Vazquez, Parent leader with the New Settlement Parent Action Committee. [Chris Pagan, student leader at Youth on the Move was also a panelist but not featured in this photo].
Following the panel testimonials, a question and answer period from the audience, and words of support from City Councilwoman Vanessa Gibson, participants went to one of four workshops: "Collaborating with All School Stakeholders" "Understanding the Discipline Code" *Community Engagement on Safety Transfers" and "The Practice of Restorative Justice," where a restorative circle process was modeled. The workshops were jointly facilitated by community members, officials from the DOE and NYPD, and a social worker -- people who might traditionally be seen at opposing ends of the aisle instead collaborating on the facilitation of dialogue on how to promote positive disciplinary approaches to supporting students.
The event closed with a compilation of recommendations from each group, including greater measures of community accountability on school safety, more extensive training for school personnel on meeting the needs of their school populations, and greater transparency of school safety policies and data for community members. These recommendations will be revisited by the Bronx School Justice Coalition and be integrated into the group's vision statement for their work.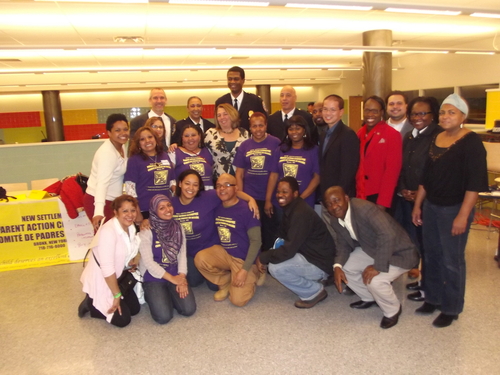 Ronnette Summers reflects on the experience on working with the Bronx School Justice coalition:
"I feel like what we have created here is unique! Usually when you have School Safety agents, students, parents, the Department of Education, teachers, social workers, lawyers and advocates meeting, it's usually not so good; it's a complaining session or the blame game. Everyone has an opinion but no one is really listening. There's usually one meeting, it ends there. No real changes to anything. But what we have managed to do here is come together and form a true collaboration to brainstorm ideas and try to come up with solutions. I feel like we have done a lot this year, and we know there is a lot more work to be done as we continue to work on making sure that every child that attends NYC public schools has a rewarding experience in a safe and supportive environment. An environment where consequences are not punitive, but learning experiences, and where children know that the adults in the building are there for them. I want to make sure that my other 1.1 million children who attend New York City public schools know we hear you, we support you, and we're working together towards change."
Participating organizations in the Bronx School Justice Public Report Back include The New Settlement Parent Action Committee (PAC) in partnership with the Bronx Borough President's Office, City Councilwoman Vanessa Gibson, City Councilman Fernando Cabrera, the Dignity in Schools Campaign-NY, Youth on the Move, Youth Ministries for Peace and Justice (YMPJ), The Children's Defense Fund, Legal Services NYC- Bronx, The Bronx Defenders, The Legal Aid Society, the NYC Department of Education, and the NYPD School Safety Division
Dinu Ahmed is a community organizer with the New Settlement Parent Action Committee.
Photos were taken by Fitzroy Christian.
Support HuffPost
The Stakes Have Never Been Higher
Related
Popular in the Community