When Iris Regn invited me to the opening of a truly thrilling exhibition, BROODWORK: It's About Time at the Otis Ben Malz Gallery on April 30 (through June 11), she wrote: "We think (Iris Anna Regn and Rebecca Niederlander are the presenters) the topics in the show are right up your alley -- taking on the convergence of practice and family as an impetus to produce great work; grappling with Time and all its implications on creative practice..." I was intrigued.
In our telephone chat Iris suggested that I bring my kids. "Well, one is presently at Pratt, and the younger one usually has her own weekend schedule that might not fit with mine," was my reply. Iris insisted that it would be helpful to get a teenager's input. Thus, I extended the invitation to Nastasya who agreed to accompany me. In fact, she drove and brought her camera; she is the one who took the photographs for this blog.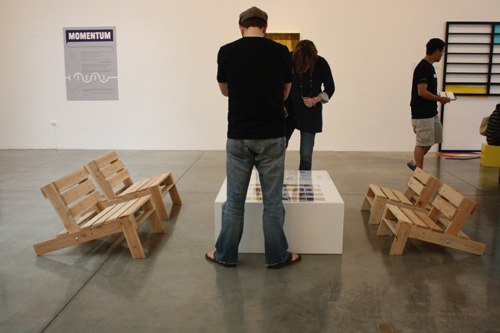 Knowing that the show is all about -- to use a quote from the exhibition by Christoph Niemann -- "inspiration from spending time with my kids," I was all anticipation. Still, I could not imagine that it was going to be so personal. Being there with my sixteen-year-old framed and enhanced the experience.
First, I focused on a case with a lovingly arranged heap of Michael Rotondi's journals. "It's All One Thing" -- a sampling of a hundred notepads -- revealed his gossamer sketches and writing. The intricacy as well as sheer volume were breathtaking. Seeing Rotondi's notebooks helped me imagine Leonardo's, as I recently read How to Think Like Leonardo da Vinci by Michael Gelb, where he describes the maestro's prolific sketchbooks. Next, I turned to a tablet where Rotondi's letter to his son written from Kyoto was reprinted. He wrote about limits of style and how a building should be invisible like a "huge extra ordinary cedar tree." It was truly serendipitous -- just that morning I was contemplating the 20-year cycle of Japanese Ise shrine and its planned destruction/rebuilding program in the name of inevitable renewal.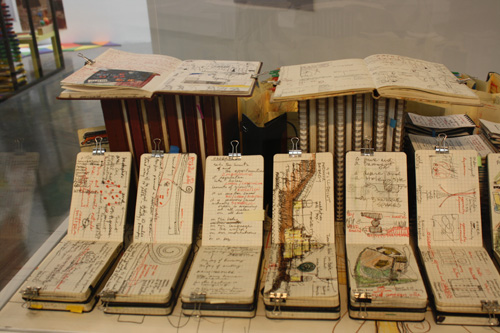 As I walked around the space jotting down quotes that resonated with me, a woman asked me if I write for anyone. Somehow, it was not enough to simply answer her question. I was compelled to explain the concept behind the installation we were standing next to in response. "Take a look at this book, these are stories of children going through custody battles reinterpreted by artists," I pointed to Steven Hull's Ab Avo or From the Egg.
Speaking of talking to strangers and Leonardo... once in Milan I went to see "Madonna Litta" on loan from the Hermitage. Moved by being next to the painting I grew up with, I had to share the excitement. I ended up pouring my soul out to the guard at the museum who did not understand English, but could clearly see what it all meant to me. As a result, he escorted me -- there was no other way he could have been able to communicate the information -- to another gallery with the second painting by Leonardo from St. Petersburg (which was known as Leningrad when I lived there).
On our way out, we wanted to thank Iris and Rebecca. After debriefing Nastasya, Iris added: "Did you know that in conjunction with the gallery part of the show we are holding a Cause for Creativity workshop at the Santa Monica Museum of Art on May 22 called 'Marking Time?' We're starting with the individual and ending with the city/community. Dan Koeppel is the author of the mapping/walking project called Big Parade. You should team up with your mom to do that as well!" Both my daughter and I thought it would be great! Then, Iris wondered if we had any questions.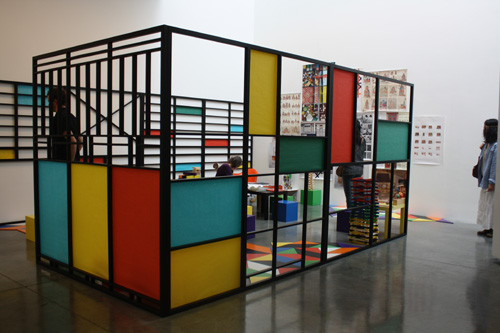 I pointed to the interactive corner, defined by geometric screens. "These are inspired by Frank Lloyd Wright, Le Corbusier, Mondrian, and Charles Eames who all played with Froebel blocks as children," she replied. I decided to take another look and walked over to the play-conducive area with furniture scaled to little children. And there was that woman I had talked to earlier; I could not resist. I wanted to share what I had just heard: "This is Wright, Corbusier..."
She smiled and introduced herself. She happened to be the owner of See Line, the gallery that represents Eamon O'Kane, the artist behind the installation: "A History of Play Froebel Eames Studios." She said: "He is right here. Do you want to talk to him?" That was a fantastic opportunity! Eamon told me that his sons inspired him to create this highly charged play environment which doubles as a studio. And for me, the premise once again was confirmed: it's all about mutual growth. Since the best teachers are the ones we love, parents and children perceive and learn together.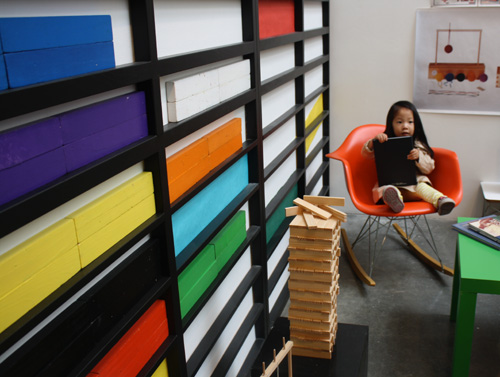 Calling all HuffPost superfans!
Sign up for membership to become a founding member and help shape HuffPost's next chapter