The 2013 Miss Universe® pageant is just around the corner (Saturday, November 9th on NBC), and I had the chance to catch up with the winner of the 1997 crown, Brook Lee.
Several months ago, Brook came to my company to transfer over some of her old home movies, and we've loved walking down memory lane with her, and learning more about her views on the pageant world of yesterday and today.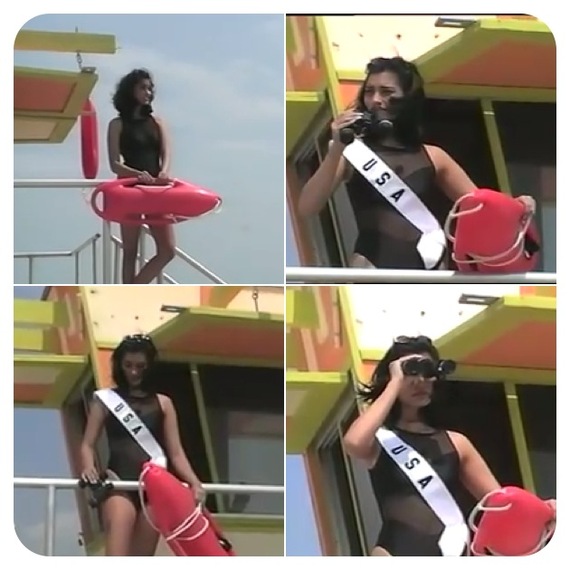 As the only native Hawaiian to win both Miss USA and Miss Universe titles, Brook burst on the scene in 1997 and captured Miss USA in Shreveport, Louisiana, then the Miss Universe crown in Miami Beach, Florida. Since her pageantry days, Brook has made several memorable television appearances and hosted numerous TV shows in Asia and the US. Now focused on raising her six-year-old son, she currently serves as Tech Ambassador for the popular blog, MommyLovesTech.com, where she shares tech-savvy tips to help make motherhood a little easier.
Here are highlights from my recent conversation with Brook about the upcoming Miss Universe pageant that's being held in Russia, her favorite memories from her pageant days, and what she's doing today -- and yes, she really does laugh this much when you talk to her!
MC: So what do you think will be interesting about this year's Miss Universe pageant being held in Russia?
Brook: Well obviously Russia is such an exotic location, very Dr. Zhivago winter cityscapes...ha! I am interested to see how the location will come across on television.
MC: Over the last few months, Russian President Vladimir Putin has approved new homophobic laws for his country -- laws that criminalize LGBT people and their allies. The Miss Universe host Thomas Roberts has spoken frankly about his choice to be a part of the event in spite of the government's stance on gay rights, and the Miss Universe pageant issued a statement that they find Russian laws "diametrically opposed to the core values" of Miss Universe. Do you think that this year's pageant will help or hinder the conversation about gay rights globally? Do you think that having an event like Miss Universe will affect any sort of social change in Russia?
Brook: A country's law is their business...and even though I don't agree with Russia's view towards the LGBT community, I don't think it is the right of a show like Miss Universe to get in the middle of any country's laws and regulations. I am a big believer in leading by example...and much like the Olympics that will also be held in Russia, I think just barreling through and just being there is a statement in and of itself. If Miss Universe decided to pull out of having the pageant in Russia, I don't think it would have affected as much change as I am sure they are doing now by being there. They're showing that -- even in the face of oppression and intimidation -- beautiful things can happen and people will carry on and make impressions and in-roads.
MC: I know you may not be able to answer this...but do you have any guesses about who will win this year?
Brook: (laughing) There are so many conspiracy theories I would hate to make a prediction and cause a flurry! I will send a shout-out to my girl Hinarani De Longeaux, Miss France. She is from Tahiti and I met her this summer while I was there -- I hope she is a having a blast in Russia.
MC: OK, so no comment -- that's fine, you can be that way. So can you tell me what kind of doors that your Miss Universe win opened for you?
Brook: Miss Universe opened doors, windows, sunroofs, and chimneys! (laughing) For a hula dancer / college student from Pearl City, Hawaii, winning completely changed my scope of the world. I traveled the world, met dignitaries, heads of states...I got to see things and go to places I would have never been able to dream of on my own in Hawaii.
MC: That's pretty amazing. And can you tell me about the challenges of life post-Miss Universe?

Brook: You know that's an interesting question, and I guess it changes from day to day and year to year. I can honesty remember after I gave up the title in 1998 and I was sitting at my house in Hawaii surrounded by a year and a half's worth of memories -- boxes and stuff -- and just panicking thinking how am I ever going to top this? But as I got older, I started to kind of process what the year meant to me, and how to wear it and incorporate it into the rest of my life. I will always be Miss Universe 1997, but there is so much more to me than just that one year...so it's really about truly living that. It's hard to be held to that standard and stay frozen in time for people...I will never be that girl I was in 1997 again, but I try my best to not disappoint the pageant fans! (laughs)

MC: I understand that you have started a very elite club, "The Universe Society"? Can you tell me more about how you got that idea?
Brook: There was no formal way for Miss Universes to connect to each other, and I really felt this need to talk to other titleholders who had been on the same wild ride as I had been on. There's no one else who understands what it's like, and so I decided to create a group. The first event for The Universe Society was an official viewing party to celebrate the 60th Anniversary of Miss Universe, back in 2009.
I helped set up the party in LA, where I live. Nearly a dozen former Miss Universes attended, some traveling from as far away as Namibia. The other women were so excited to have this opportunity to connect. There was a flurry of emails and calls, and it was like planning this wonderful class reunion. We got to share updates on kids, weddings, and our lives post-pageantry. The viewing party went very well, and we're working on our next event.
Now that I've gotten my videos transferred over, I've been telling all the others in the Miss Universe Society about how important it is to digitize their pageantry video. Whether you win or not, it's important to preserve this time in your life. Time truly flies by -- I can't believe it's been 17 years since I was crowned! I'm so grateful for the technology that makes me able to connect to other Miss Universes who are spread out all over the world, and lets me re-live those memories and share them with my fans.
MC: What are some of the best memories that you've gotten to re-live after you had your videos transferred online?
Brook: I'm thrilled to see all these amazing moments from my past come back to life - great memories of traveling through Paraguay and meeting our U.S. troops in South Korea at the DMZ, but also, the early precious moments of becoming a first time mom...simple moments like watching my husband and son playing in the pool in Hawaii together. This is a whole other side of me that I was reminded of - memories I had nearly forgotten. I'm really looking forward to sharing some of my favorite memories with my son Fynnegan as he gets older. I'm thankful to YesVideo for saving my memories for myself, and for my family.
MC: We're glad we got to connect with you too! Thanks, Brook.
In celebration of Miss Universe 2013, YesVideo is offering one free video transfer per person, which can be activated by visiting Brook's page.
Related
Popular in the Community