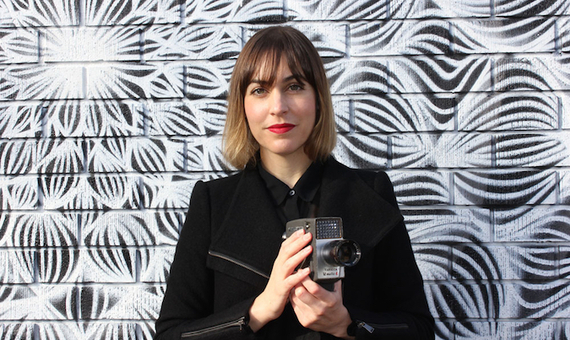 Director Brooke Goldfinch heads up international female filmmaker collective Film Fatales' Sydney branch. She's studied at NYU, made a film with James Franco, won a Best Director Dendy for her short film Red Rover and is currently working on a psychological thriller set in Wollongong. I interviewed Brooke about her work with Film Fatales for a recent feature for Catalogue magazine. Here's our chat.
How did you link up with Film Fatales?
I was a journalist and I decided I wouldn't be able to make films unless I made a really big change in my life, because I was having too much fun. So I decided to go to NYU to study film, in the Masters program. Film Fatales founder Leah Meyerhoff was probably three or four years ahead. I saw her at a party once, and she told me about it. This is when New York Film Fatales was just one small group, now it's like, a thousand groups. Writing is so isolating, and I really enjoyed getting together with a network of filmmakers. I think men are much better at doing that in a more natural way. They go to beers and that sort of thing, hang out.
More of a bro way.
It's a bro way. And it's unintentionally exclusive, sometimes. So I just really enjoyed the peer support, and setting goals. It was really motivating. Then I moved to LA, and went to Film Fatales there. I was new to the city, I was writing a lot, so I wasn't having a lot of human interaction, and just really needed that. Then when I moved back to Sydney last June, Leah came over with her film Unicorns, and she got in touch. She said, Why don't you start a chapter here? So, without knowing how successful it would be, I contacted a few people I knew, and I got a few friends to recommend people to me. We're still in our early stages - we have about 25 women now on our email list.
When I tell people about the idea, the first thing they say is, That's so great because women feel like they're in competition here. That's not my personal opinion, but it's an interesting comment that keeps coming. And the thing Film Fatales does really breaks down that competition, really quickly. There's a lot of stuff coming out now about the gender imbalance, but I think it's become more present for us too, attending the group. It gets to be more of a thing of, How can we make it a more fair industry?
The gender thing can be so subtle, but so powerful.
That's why I think this group is so important, because I think sexism is often incredibly subtle, and often not intended. But incredibly problematic. When I go to a networking event, often I get asked on dates more than I get I asked to hang out and meet up - and that sort of networking, just hanging out with people, is so important.
That's how opportunities arise.
Exactly, because you're just hanging out with your mates, and you tell them about something you heard about or whatever. You share information. Everything we do at Film Fatales is that. We share information, we share crew recommendations, we share stories about directing. Stuff that makes you a better director. It's a really exciting time to be working on Film Fatales, because I think the industry is just starting to - I mean, I don't know why, because these statistics have been around forever, but there is this push now, to see more equal representation. I think that's really exciting, and I think we're starting at the right moment. Intersectionality is a big focus of Film Fatales and we recognize that the prejudice we face as women is often amplified for our members that are women of color, queer women and disabled women.
Calling all HuffPost superfans!
Sign up for membership to become a founding member and help shape HuffPost's next chapter