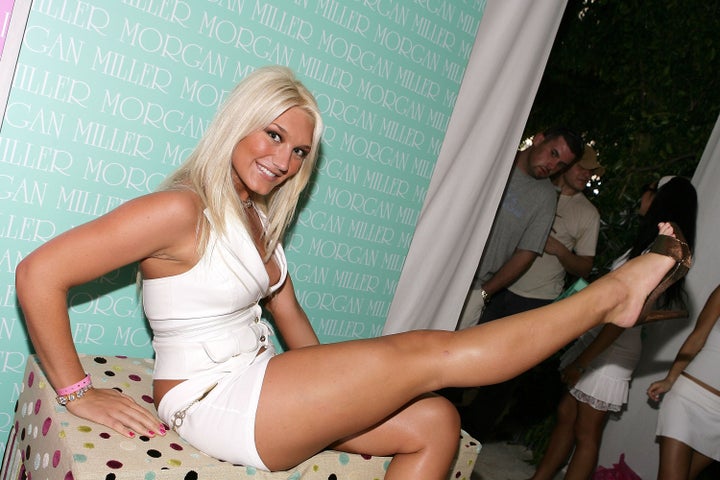 The reality TV star stripped down and posed inside of a dog cage as a part of Women In Cages, a PETA benefit exhibition being held at Cafeina Lounge in Miami, Florida, according to The Sun. The racy shots obviously brought a blush to her famous father's face, as the Hulk can be seen blocking out his daughter's more private parts in a few photos circulating on the web.
Despite the reaction from her parents, Brooke Hogan is, of course, not fully nude in the shots, though they are racy in nature. A representative for Brooke told the Miami Herald, "the photos at the exhibit are very sophisticated and classy and just give the illusion of nude or the perception of nude, but of course to get these shots, the shoot itself is fully nude."
Brooke has been a strong PETA supporter in the past, even going as far as to say she would beat up any animal abusers given the chance. "I'd be happy to have my five minutes with one of those animal abusers in a dark alley …" the PETA Files quotes her as having said.
PETA wrote to The Huffington Post, "The photo shoot that Brooke Hogan participated in was not a PETA-sponsored event. However, we're grateful to Brooke for participating in the photo exhibition in Miami, for which the proceeds of the photos are going toward PETA's lifesaving programs."
Many celebs have appeared nude in PETA's "I'd Rather Go Naked Than Wear Fur" campaign, recently including George Clooney's ex-girlfriend, Elisabetta Canalis.
You can see the Brooke Hogan pics for yourself by clicking either of the links below (WARNING: The Photos Contain Content That May Be NSFW):
Calling all HuffPost superfans!
Sign up for membership to become a founding member and help shape HuffPost's next chapter