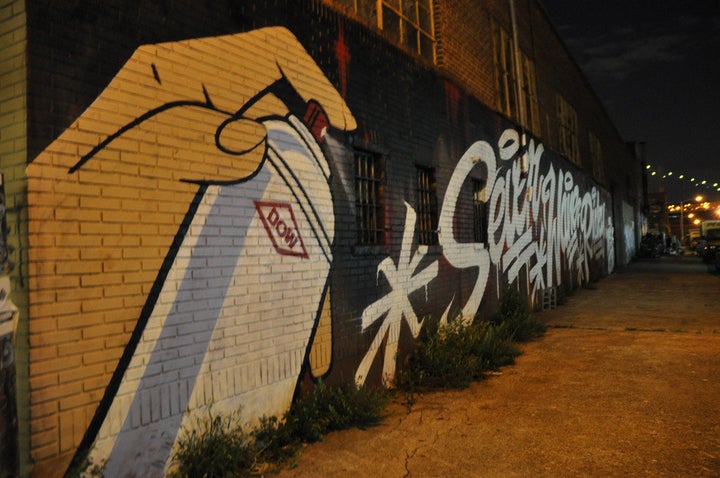 The Borough of Brooklyn has become a melting pot of all things artistic. My son, a 25-year-old writer/editor, has made Brooklyn his adopted home. He was marveling recently that so many modern day masters of contemporary writing, regularly give readings of their work around town. I often find myself reviewing music of inspiring depth and boundless energy emanating from a variety of great musicians living and recording in Brooklyn. Consequently there is a "live" music scene in many parts of the borough. A friend's son produces meticulously crafted, industrial design inspired furniture and sculpture somewhere in a converted factory in Red Hook. These are but a few examples of the artistic vibrancy of this city. Perhaps it is the relative affordability that draws economically challenged artists, but I suspect it is also a sense of community that is Brooklyn that fosters and nourishes a collective artistic soul that is drawn to this Borough in the shadow of New York City.
So it was no surprise to see Brooklyn itself as the source of inspiration for an exciting new multi-media work by two artists, themselves immigrants, who have made Brooklyn their home. "Brooklyn Babylon" is the brainchild of a graphic artist and animator from Croatia and a Canadian musical composer from Vancouver, British Columbia. The work was commissioned by the Brooklyn Academy of Music for its 2011 Next Wave Festival. It combines Danijel Zezelj's animation and "live" painting with Darcy James Argue's carefully orchestrated musical score to tell the story of the not so mythical Brooklyn Babylon.
The story unfolds with Lev, an immigrant master carpenter who creates beautiful carousels that feature his masterfully carved animals. Lev unexpectedly finds himself realizing the dream of having his work recognized,in this case by city officials, as he is chosen to build a carousel to top off a colossal new tower planned to be built in downtown. The tower has its supporters and its detractors as this modern-day edifice has the prospect of turning Brooklyn into a Metropolis. The implicit growth that comes with such ambitious expansion plans threatens to undermine the precious close-knit neighborhood feeling, the very soul of the community that has nurtured Lev's own artistic development.
The story unfolds right before your eyes as Mr. Zezelj's sweeping animation is flashed across a large screen behind the orchestra. Bold streaks of black and white form, graphic comic-like images of a bustling neighborhood. Part Fritz Lang's "Metropolis" and part Bob Kane's "Gotham," Zelzelj's images are modern and yet nostalgic. We see the growing tower and the ominous shadow that it casts on the surrounding neighborhoods. As Lev builds his beautiful carousel, he questions his own involvement in the project. As these scenes unfold overhead, Mr. Argue's Secret Society Orchestra creates the sounds that breathes life into Mr.Zezelj's images. To add to the spontaneity of the experience there is a scaffold set above the orchestra, just below the animation screen, where Mr.Zezelj, using rollers and brushes, creates a continuously changing scene in a dazzling exhibit of "live" painting.
Mr. Argue's orchestra is an eighteen-piece marvel of multi-instrumental versatility. Theatrically having his musicians entering the stage from all directions, he abandons the regimentation of seating all the brass in one line and all the reeds in another. Mr. Argue's set-up spreads the stage of the Performing Arts theater with a semi-circular array of musicians who remain standing in working class attire throughout.The experience creates a wonderful sense of immersion with visual and audible sensory stimulation working in tandem to help present the story. There is a marvelous sense of involvement in the creative process as you see the musicians change instruments to create the precise sound Mr. Argue has orchestrated.
Over the past year Mr. Argue was apparently cloistered at the MacDowell Colony in New Hampshire, a nationally recognized retreat that affords artists a peaceful, bucolic setting in which to create enduring works of imagination. It is here where he wrote the majority of his score for "Brooklyn Babylon." Using Mr. Zezelj's animation and sketches Mr. Argue composed this compelling piece of music to help tell the story. Mr. Argue chose a team of dedicated and talented musicians to make this demanding project work. It is their collective voice that allows him the flexibility to create the multi-phonic textures so critical to his work. Mr. Argue employed sounds seldom heard together but perfectly suited to his purpose. Whether it was the euphonium of Mr. Fahie, the contra bass clarinet of Mr. Sinton, the piccolo of Mr. Von Kleist, the melodica of Mr. Webster, the acoustic guitar or Mr. Noelle, the gutsy tenor of John Ellis or the soaring trumpet of Ingrid Jensen to name a few, the music is awash in sounds that are carefully crafted to produce the desired effects in perfect concert with Mr. Zezelj's fleeting images.
The result is a dramatic piece of music that tells a story that is near and dear to the artistic hearts of Mr. Argue, Mr. Zezelj and I suspect many of the musicians who give it life. A story about the vulnerability of fragile, artistically friendly neighborhoods that are the creative lifeblood of the artists who live there. It deals with the conflicts that come from wanting to have your art accepted and being able to enjoy the fruits of your labor, while at the same time retaining your artistic integrity. The end result is an impressive narrative that offers visual splendor and musical majesty of the type not often experienced, a tour de force. Mr. Zezelj's "live" painting gives the performance a kinetic quality that keeps you engaged. At the end of the performance Mr. Zezelj blackens out his own creation -- a final demonstration of the impermanence of art and metaphorically of the fragility of his precious Brooklyn neighborhoods.
Having in recent months seen three vastly different large ensembles -- The Christian McBride Big Band, The Westchester Jazz Orchestra and now the Secret Society -- it is safe to say that large ensemble composition, orchestration and arrangement are all having a welcome resurgence. The expanded palette of colors that can be used with a big band is only limited by the creative mind of the composer. After his auspicious debut album "Infernal Machines" from 2009 and now with "Brooklyn Babylon," Mr. Argue proves that he is a fertile force indeed.
Artists: Darcy James Argue,composer and conductor; Danijel Zezelj, Animation and live painting; Erica Von Kleist, Piccolo, flute, alto flute, alto sax, soprano sax; Rob Wilkerson, flute, clarinet, soprano sax, alto sax; Sam Sadigursky, flute, clarinet, soprano sax, alto sax; John Ellis, clarinet, tenor sax; Josh Stinton, clarinet, bass clarinet, contrabass clarinet, baritone sax; Seneca Black, trumpet, flugelhorn; Tom Goehring, trumpet, flugelhorn; Matt Holman, trumpet, flugelhorn; Nadje Noorhuis, trumpet, flugelhorn; Ingrid Jensen, trumpet, flugelhorn; Mike Fahie, trombone, euphonium; Noah Bless, trombone; James Hirschfeld, trombone tuba; Jennifer Wharton, bass trombone, tuba; Sebastian Noelle, acoustic and electric guitar; Gordon Webster piano, electric piano, melodica; Matt Clohesy, contrabass, electric bass; Shawn Baltazor, drums and percussion.
Related
Popular in the Community