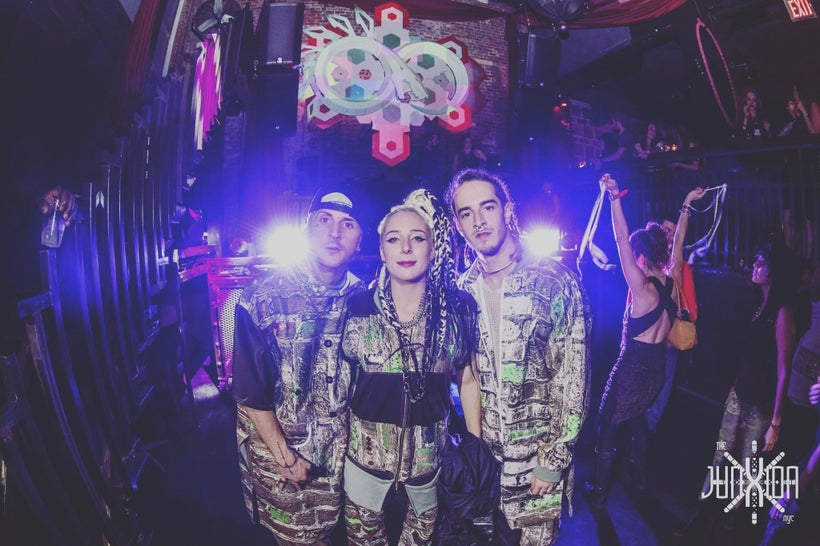 Decorated in vivid colors and geometric patterns, a group of artists captivate their audience before the performance even begins. Their charisma engages your mind while their style engages your eyes. Loose-fitting clothes undulate with movement and draped fabrics billow around them; they are drenched in colorful light but framed in darkness as the rumble of global bass music ripples through the air. It is a visually striking and multi-sensory experience.
This is the universe of Pendulum People — a collaborative troupe of galactic artists who not only create art but become art. Inspired by the hypnotic movement of their swaying namesake, the group showcases all-original choreographed dance, music, fashion and thought-provoking spoken word. They are an embodiment of motion, expression, art and community through their ever-changing, and sometimes improvised, hallucinatory live performances.
The story of Pendulum People begins in 2015 when a choreographer (Justin Conte), a poet (Nova Zef), a producer (Lukas van der Fecht or LVDF), a dancer (Soraya Lundy) and a puppeteer (Kimba Ji) found each other in the creative well of Brooklyn, New York. Each member is a master of many crafts, with skills ranging from wardrobe design to dancing. Like Captain Planet and his band of Planeteers, Pendulum People empower each another's individual talents while always working together to be of service to their collective art. "We give a voice to the artistic community," says Nova as we discuss their mission. "We fuse our inspirations in our quest to create new culture."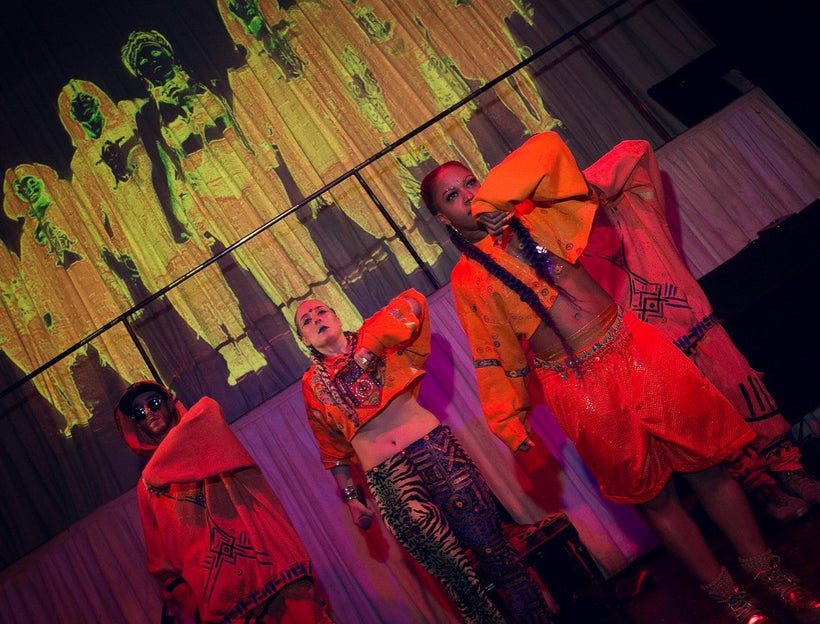 Nova, Justin, Lukas, Soraya and Kimba were all disenchanted by the greed and politics of the art and music industry. In a culture of 30-second videos and disposable trends, becoming a self-sustaining artist is harder than ever. Between the scores of musicians that line the New York subway tunnels and the top 40 music lists that never seem to change, there is a large gap where many artists struggle to find their niche. In a way, it was their disenchantment and their need to create art that brought them together.
Though their journey was wrought with many of the financial and logistical challenges one would expect, Pendulum People followed their thirst for art and eventually found a creative spring to drink from. Tired of talking about change or waiting for something to happen, they decided to make their art from scratch. "You can do it yourself," says Justin as he explained the group's formation. "We are patient artists. It's not about ego, it's about the physics of coming together."
When Pendulum People finally gained momentum, the result was a new age, world-inspired theatrical performance that incorporates elements of dance, poetry, narrative, singing, meditation, art and humor. At some moments it is playful, utilizing bizarre puppet-like characters and eccentric costumes, while at other moments it shares a poignant message and expresses the vast spectrum of human emotion.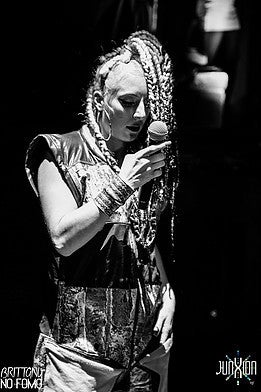 Populated by fictional characters that are derived from a root of truth, the audience is immersed in a 30-40 minute performance that pulls them through an artistic wormhole full of color, glitter, words, sound and movement. "We want our audience to get lost in a story or join the ceremony," says Justin about the audience participation. "They can dance, listen, meditate."
As individuals, they are deeply immersed within the transformational music festival scene having performed as Pendulum People at events such as Burning Man, Symbiosis Gathering and Mysteryland. While they embody the neo-hippie aesthetics and lifestyle of the festival community, they possess an edge that separates them from other performers in the scene. Trying to describe what sets them apart is like trying to describe a new color—you can't because you've never seen anything like it before.
Initially, their focus remained solely on the live show as they worked on building their own creative outlet to share with willing audiences. As Pendulum People evolved and their audience grew, they realized they were in a unique position to not just entertain, but also to liberate. In addition to inspiring their fans to be harbingers of change, they encourage their communities to do the same by offering dance, art and music workshops for both youth and adults.
Nova, Justin, Lukas, Soraya and Kimba know no other driving force than the need to create art; It is this force that fuels their every action. Art has long been a vessel for enacting change and through their performances, Pendulum People challenge their audience to forge their own paths, despite how difficult it may be.
"A pendulum is a representation of balance and movement—when multiple pendulums sync, they all start to move harmoniously in the same direction," says Justin. "We are the movement and our collective manifestations will make the change."
Calling all HuffPost superfans!
Sign up for membership to become a founding member and help shape HuffPost's next chapter
This post was published on the now-closed HuffPost Contributor platform. Contributors control their own work and posted freely to our site. If you need to flag this entry as abusive,
send us an email
.