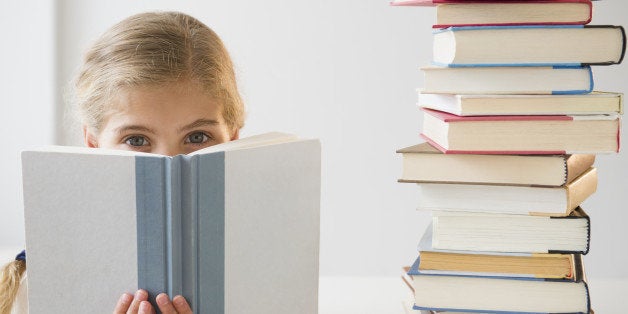 Every September, Brooklyn boasts the largest free literary event in New York City.
In 2015, the Brooklyn Book Festival (BKBF) took place at nearly the same time as such world-headlining events as the opening of the United Nations General Assembly, and a historic visit by the Pope to New York. While major media focused on these headliners, readers, writers, poets, graphic novelists, publishers, booksellers -- that zany ecosystem that comprises New York's robust literary culture -- flocked to Brooklyn as the celebratory 10th annual Brooklyn Book Festival unfolded.
Far from some dreary, dusty marketplace of booksellers, beleaguered and kvetching about the death of physical books and the ascendancy of mobile readers, this was a high-octane, caffeinated event filled with electric speakers, big ideas, aspirations, and creativity.
8 Reasons to Attend the Brooklyn Book Festival Next Time It Comes Around
If you've ever loved a book --or wanted to write one!-- you will go bananas at this annual festival. Here's why:
The main Sunday festival event offers dozens of sessions, presentations, author panels, presentations, and readings. This year, well known speakers included Chris Hayes, Joyce Carol Oates, Salman Rushdie, Katrina Vanden Heuvel, and Brooklyn's own Pete Hamill, Jonathan Letham, and Philip Lopate, among many others.
You can explore a vast outdoor vendor marketplace, a nirvana for book-aholics, where publishers and others showcase books, magazines and related items on sale, with knowledgeable staff who are happy to schmooze.
It's free! At least most of it is. Sunday's main events are admission free for attendees, offering the equivalent of an exuberant, freewheeling college refresher course, with authors, critics, agents, and illustrators appearing as speakers and panelists.
The Brooklyn Book Festival is so ... Brooklyn. Meaning, it's informal, and a little edgy, offering as it does a platform for independent publishers, nontraditional publishers, books, and discussion.
It takes place in some of Brooklyn's most famous and beloved venues, offering visitors a glimpse inside such landmarked spaces as Brooklyn Borough Hall (see photo below), the Brooklyn Historical Society's gorgeous wood-paneled library, and the Brooklyn Navy Yard. St. Francis College, founded in 1858 and a truly historic Brooklyn institution that continues to educate immigrants and first generation residents, is a central venue. Popular local bookstores throughout the borough -- BookCourt, powerHouse Arena, Park Slope Community Bookstore and Unnamable Books, to mention a few -- cram audiences and speakers into readings. The venues are non-corporate, diverse, and fun.
It's an amazing networking event; you'll meet all kinds of people with a common interest in books.
It's global. Brooklyn's brand has gone global, and so has this once-quite local literary festival. Mexican authors were well represented this year, as were writers from Latin America and the Caribbean, Europe, Indonesian, India and Israel.
And, with so many authors living in Brooklyn, the BKBF has the relaxed ambiance of a Vermont country fair, with, admittedly, some long lines to get seats at popular events.
City-wide Weekday "Bookend" Events
To celebrate its tenth anniversary and a decade of growing prominence and promise, the 2015 Brooklyn Book Festival expanded its venues to Queens, the Bronx, Staten Island, and of course, Manhattan.
Most of these other-borough events took place during the weekday "Bookend Events," a run-up to the weekend festival.
You could, in fact, have explored every borough in the city during the week's events. For example, literary events were hosted by Argentine Consulate, the LIC Bar in Long Island City, WNYC's Green Space in Manhattan, the Bronx Museum of Arts, and Comic Book Jones in Staten Island. History buffs could mark the 800th anniversary of the Magna Carta, and Constitution Day held, appropriately, in a session held at Brooklyn Law School.
Main Brooklyn Book Festival Event: Sunday, September 20, 2015
BKBF's main literary extravaganza, featuring some 300 fiction and non-fiction authors and attracting thousands of book lovers, took place on Sunday, September 20th. Lucky fans found such favorites, including Mona Eltahawy, Lauren Groff, Marlon James, Phil Klay, Dennis Lehane, and Jon Ronson.
For the first time, the Book Festival held a Children's Day at MetroTech Commons near the Fulton Mall and indoors at the NYU Polytechnic School of Engineering.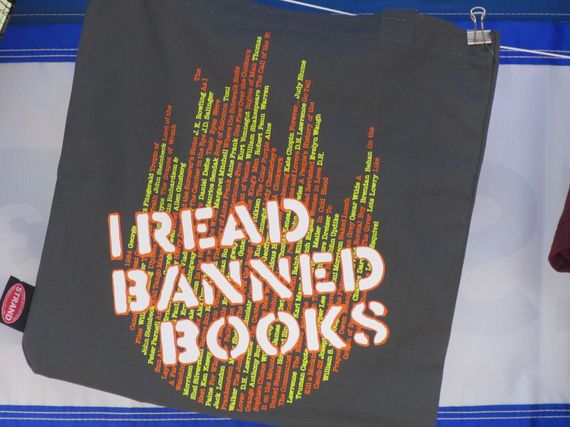 (A huge vendor marketplace at the annual September Brooklyn Book Festival features books, paraphernalia and more. Photo by Ellen Freudenheim)
A Homegrown Festival Hits Big Time
One of the best creations of Brooklyn's recent cultural ascendancy, the Brooklyn Book Festival is a homegrown event. The germ of the idea was planted during the era of Brooklyn Borough Marty Markowitz, conceivably the borough's most indefatigable booster. It was a moment when Brooklyn's literary renaissance was beginning to be nationally recognized. Johnny Temple, the publisher and editor in chief of Akashic Books and now chair of the Brooklyn Literary Council, recalled being enamored of Brooklyn's literary history, and pitching the idea that Brooklyn really deserved its own literary event. Liz Koch and Caroline Greer, now festival board members and co-producers, both then working at Brooklyn Borough Hall, got on board. Literary pied pipers, they brought in others.
In that put-your-shoulder-to-the-wheel Brooklyn way, they just made it happen. Today's Brooklyn Borough President, Eric Adams, has, importantly, continued to support the festival.
And what a creation! On its tenth birthday, the Brooklyn Book Festival was, once again, the nation's largest festival featuring independent book publishers.
Sometimes, with the Brooklyn "thing," it's hard to know whether what's happening here--in artisanal cuisine, music and word culture-- is cutting edge, or comfortably hip in a mainstream kind of way. Some of the authors presented at the Brooklyn Book Festival have very challenging things indeed to say. But the Festival itself has grown up, and matured.
For those of us who have been tracking Brooklyn's revival, it's not surprising that local cultural organizations in Downtown Brooklyn and the Brooklyn Cultural District such as BAM, the Brooklyn Historical Society, Brooklyn Law School, Brooklyn Public Library, the poets space Cave Canem, St. Francis College, and historic St. Ann & the Holy Trinity Church were again cultural and programming partners (and host events, too).
But, in addition to the packed program of writers and tens of thousands of visitors, what lends the Brooklyn Book Festival particular gravitas is its impressive roster of national and international partners. For the tenth anniversary event, its partners included PEN American Center and Center for Fiction (the latter moving soon to Brooklyn), The Nation, The New York Review of Books, the National Book Foundation, NYU, the Poetry Society of America, and the Whiting Foundation, known for its generous annual awards to writers.
If you're in New York next September, spend some time nurturing your brain and soul, and networking your heart out, at the Brooklyn Book Festival. For a list of this year's participating authors, check the 2015 Brooklyn Book Festival site.
Popular in the Community