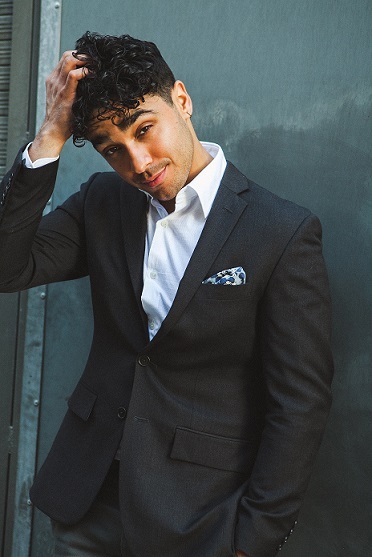 E.J. Bonilla stars in The House that Jack Built which premiered November 6th and A&E's Unforgettable which begins November 27th. Twitter: @ej_bonilla , Instagram: @ej_bonilla . Photo by Jennifer Sosa.
I love the curly locks on this actor, E.J. Bonilla. But let me get away from his looks for just a second. E.J. really has something going for him. A fruitful acting career and now his own production company is in the works. There's no stopping him!
You play Denny Padilla, a new team member to the major crimes division of the NYPD on the fourth season of A&E's Unforgettable. Tell us about your role and what it was like coming into an already established series?
Denny comes from an organized crime background so he's a little closer to the streets than the other characters may be. Denny is a fun-loving guy and I'm really excited about playing him. He plays the fool but he's really good at what he does. You have to be a pretty good detective to make it into major crimes by the age of 28. That to me speaks to an intelligence that is exciting. As far my cast mates are concerned, they have been incredibly giving and loving partners in this endeavor, patient and kind. This has been my first full thrust into prime time television and I don't think I could have asked for a better experience and education.
You star in the indie film The House that Jack Built which was just released on November 6th. How did you first become attached to this project? What's the difference between working on an indie film vs. a TV series?
Oh, I auditioned for HTJB like any other project and have been a part of its growth for a few years now. We filmed back in 2012, so this release has been a while in the making.
That, actually, is one of the big differences between indie film and TV. Often the finished product comes much quicker in television. Indie films are often someone's "baby". An exorbitant amount of time has often gone into the creation of these projects, both in pre and post production.
As someone who has worked in both film and TV, do you have a preference? What attracts you to a role?
Most importantly I enjoy playing real people. I love telling stories, it's why I do what I do. Any character I have the opportunity to play is a blessing. But there is something about film however. It's exciting coming together with other like-minded people to tell a particular story. TV shows may often go on and on but with film, like in plays, there's an arc, there's an "ending". Often that can give you even more room to play.
What do you think about diversity in today's acting world?
I think it's fairly common knowledge that we lack diversity in American cinema and television, not that it hasn't improved since the beginning of the craft. I look forward to a point where we don't view actors of color necessarily as "actors of color" but rather we see them simply as actors, no different, judged simply on our capability. You see we have a habit of calling black actors "black" actors and Hispanic actors "Hispanic" actors. Until that ends we will probably still have an issue. One that needs to be remedied by writers of different cultures and ethnicities telling their stories non-stereotypically and becoming a part of the creative process in MAIN STREAM Media.
How come you go by E.J. instead of Edward Joshua? Are you named after anyone?
E.J. has always been my name. My mother wanted Joshua. My father Edward. They "compromised" but my mother always felt Edward was too preppy, so E.J. I have been since the womb.
You had a recurring role as Nolan Ross's love interest Marco Romero on ABC's series Revenge. At what point did you find out you'd be playing a gay man and did you have any reservations about the role?
I knew Marco's sexual preference when I auditioned for the role. As I've said, I care about telling the stories of real people. Marco's story is just as interesting as any of his straight counterparts.
Tell us about growing up in Brooklyn.
I have yet to grow up, Thank God, but I am a Brooklyn boy and I am proud of it. I'm the only person from my direct community that I know who does what I do and I look forward to being an example to those there now. Anything is possible when you follow your love. You just can't care how people view you. You have to lovingly and unapologetically be yourself. I was the boy walking home with dance tights on underneath his baggy jeans. I love that part of my story.
Anything else you want to say?
Currently, I'm working on other aspects of storytelling, including starting up a production company with my writing partner that we will call ALMOST DARK Prod. I just finished filming a pitch video for a pilot I'm creating with an amazing group of people called GATOS NEGROS, a project I think is extremely special and has the potential to do really well. You can follow our endeavor on Instagram @TheGatosNegros. With regards to acting, I will be appearing on TVLAND'S YOUNGER as HECTOR (a lisping Castilian fashion designer), of HECTOR & DORF's Fashion Design.
I recently got my hands on an amazing album by this new artist NAIQUI called LIFE HAPPENS: The Bipolar Symptoms. Find it on iTunes, it's amazing and uplifting and motivating. I highly recommend it.
Calling all HuffPost superfans!
Sign up for membership to become a founding member and help shape HuffPost's next chapter