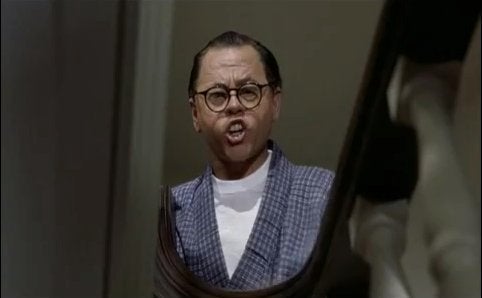 But The Brooklyn Paper reports today that an Asian-American group wants the screening canceled, citing actor Mickey Rooney's "blatantly racist" caricature of a Japanese man in the film
The Academy Award-winning movie features Rooney in "yellowface" with large buckteeth, pronouncing his L's as R's in the role of Mr. Yunioshi, the clumsy neighbor of elegant, New York socialite Holly Golightly, played by Hepburn.
"It's outrageous that public funding would sponsor a film like that," said Ursula Liang, a Bronx documentarian who launched the petition against the screening, to the Paper. "It's not appropriate to show in this day and age."
Why any publicly funded organization in a city where 1-in-8 residents are Asian-American or any channel with a huge Asian-American viewership would choose to show a film with a racist caricature like this is beyond me. It's not funny; It's not classic; It's not beloved to us. By screening this film, the organizers are sanctioning the racism it contains, and subjecting new audiences (including children and Asian-Americans) to a minstrel show of racist ideology. It's 2011. It's New York. Do we still have to fight the hostile, hurtful world of 1961 Hollywood?
And, as the petition notes, this is not the first time "Breakfast At Tiffany's" has caused an outrage in the Asian-American community. In 2008, a public outdoor screening was axed by the city of Sacramento after protests over the yellowface Mr. Yunioshi caricature.
Mickey Rooney himself responded to the allegations after the 2008 incident, telling the Sacramento Bee, "They hired me to do this overboard, and we had fun doing it," he said. "Never in all the more than 40 years after we made it -- not one complaint. Every place I've gone in the world people say, 'God, you were so funny.' Asians and Chinese come up to me and say, 'Mickey you were out of this world.'"
Complex ranked "Breakfast At Tiffany's" in 2010 as the most racist movie of all time.
Brooklyn Bridge Park Corporation has made no plans to cancel the screening and Regina Myer, who heads the city agency, told the New York Post they "recognize that one character in the 'Breakfast at Tiffany's' movie is an offensive stereotype, but this does not negate the value of the film as an American classic."
"The film is a tricky one. While the Yunioshi character is undoubtedly dated and horrible, the movie persists for a reason. Mind you, it is by no means Audrey Hepburn's best role (and, in fact, source material author Truman Capote wanted Marilyn Monroe to play Holly), but her performance has incited romantic fantasies across generations. So where does reconciliation happen?"