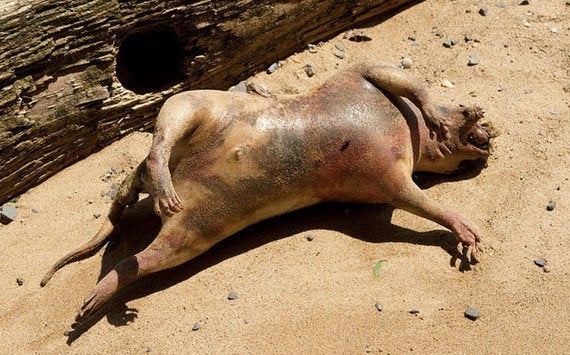 When news spread around New York City this week about the discovery of a grisly-looking, bloated, unidentified animal under the Brooklyn Bridge, many wondered if the legendary Montauk Monster had returned to the New York area.
Various New York media outlets -- The Village Voice, Gothamist, Fox News -- and overseas media, including the U.K.'s Telegraph, that reported on this animal, raised questions of its similarity to another grotesque creature that washed ashore in Montauk, N.Y., in 2008.
Denise Ginley previously told the Huffington Post, "We found the dead creature lying on the strip of sand beside the East River, on the Manhattan side. ... It looked like the tide probably washed the carcass up there along with some driftwood."
The pictures snapped by Ginley show something that looks very much like an unusual animal -- with a hairless body and beak and claw -- found on the beach in Montauk on Long Island's eastern tip.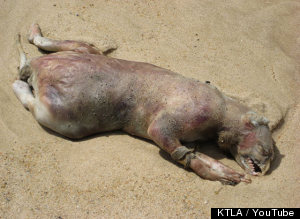 "Ever since 2008, when I investigated the media madness over the stranded, decomposing unknown 'thing' found on the beach at Montauk, unfortunately, every dead animal body, every carcass, has taken on fantastic creature importance," Coleman told The Huffington Post in an email.
"But all have been found to be dead raccoons, dogs, swine, seals, dolphins, and even in one case, a dead sloth," he said.
According to Gothamist, Cornell University naturalist professor Paul Curtis believes the animal found under the Brooklyn Bridge "was likely a small dog that drowned and has been floating in the river for quite a while. It is obviously bloated, and all the hair has slipped off the carcass."
WARNING: These are graphic close-up images of the Brooklyn Bridge creature.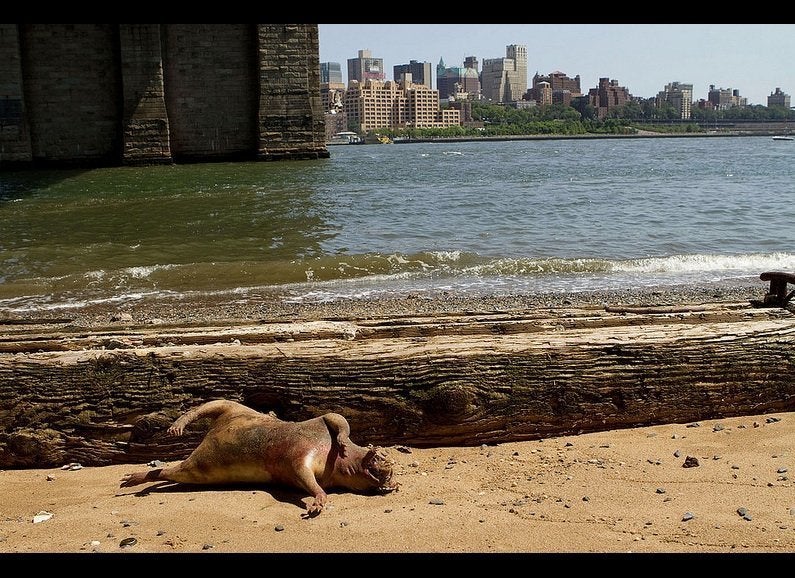 rat monster
A Parks Department spokesperson told Gothamist.com that the animal was eventually disposed of, leaving nothing behind for any type of accurate analysis or identification of the creature.
"There is nothing mysterious here, I would wage, and this one looks like a dead rat or dog, but we'd need to see the skull and more detailed photos to determine the species," said Coleman, who writes on many animal mysteries, folklore and cryptozoology.
While not a recognized branch of science, cryptozoology is generally considered the study of hidden or unknown animals -- those whose existence hasn't yet been proven, like the Loch Ness Monster and Bigfoot. Yet, many of the individuals involved in this research are, in fact, zoologists and scientists of varied disciplines.
This Brooklyn Bridge "monster" is also very similar to an unidentified creature discovered on April 25 at Seal Beach, Calif.
Watch this KTLA news report on the Seal Beach animal.
Coleman is unconvinced the animal discovered in Manhattan is any kind of true mystery.
"From everything I am seeing and reading about, this appears to be a near match to the earlier Montauk Monster, which was a decomposed raccoon," he said.
"This one has raccoon digits which remind people of human fingers, raccoon teeth, plantigrade feet and also a bit of brown-grey fur on the tip of its tail -- all dead (no pun intended) giveaways for a raccoon."
Related
Popular in the Community