The Brooklyn Navy Yard's security guard waves us through and we pedal our bikes behind Felipe Lavelle, creator of Get Up and Ride Bike Tours, Brooklyn's new bike tour company. Passionate about both cycling and his neighborhood, Felipe is leading six of us on a 12-mile bike tour during which we'll experience the local culture and lore of Brooklyn's hot spots. The bikes are comfortable hybrid cruisers, easy enough for amateurs to ride.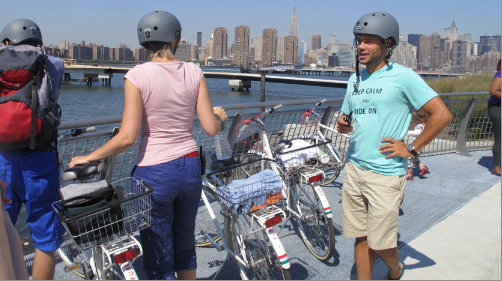 Felipe Lavelle (right) leading a Brooklyn bike tour (Photos: Courtesy of Margie Goldsmith)
Our tour includes the neighborhoods closest to Manhattan: Greenpoint, Williamsburg, Brooklyn Heights, DUMBO and Vinegar Hill. We ride past a group of buildings in the massive Brooklyn Navy Yard, spread out over 300 waterfront acres. Felipe speaks to us through his walkie-talkie. "Ready to go to the farm?"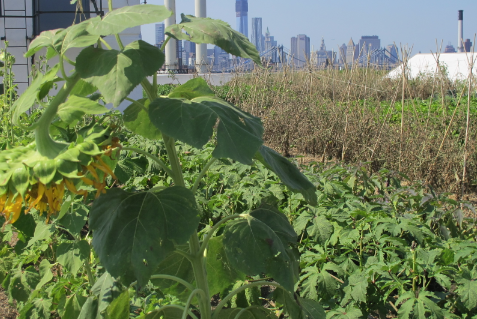 Brooklyn Grange Farm
I must have misunderstood him, though up to now I've had no problem hearing him through my earpiece and transmitter. A farm in Brooklyn? We lock up the bikes and take an elevator to the 12th floor of a warehouse. Suddenly we're smack in the middle of the 65,000-square-foot rooftop Brooklyn Grange Farm with 360° views of Manhattan, Brooklyn and Queens. We walk through neat rows of sunflowers, okra, tomatoes, cucumbers, salad greens, peppers, kale, chard, and beans; we see egg-laying chickens and an aviary with 25 beehives.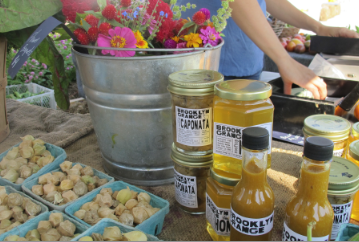 Farm stand at Brooklyn Grange Farm
For sale are okra, eggplant, cherry tomatoes, flower bouquets, homemade Caponata, fresh honey, and hot sauce. I buy some Brooklyn Grange honey from a young farmer from Oklahoma. "Farming in the city is a challenge," he says. "But this is a perfect place because it's filled with sun, bees, and lady bugs." I walk past giant sunflowers and take in perfect views of the East River and Manhattan.
Since we started this tour, every view of The Big Apple has been panoramic and perfect, beginning at the newly-opened viewing dock at Transmitter Park in Greenpoint, which reminds me of a miniature Manhattan Waterfront Greenway, only so quiet you can hear the East River lap against the bank. In the past, I've walked across the Brooklyn Bridge, dined at the River Café, and ridden Jane's Carousel, but I've never explored the 35-acre McCarren Park or Greenpoint with its gentrified warehouses and hipster coffee shops or any of the other historic and eclectic neighborhoods we're seeing. One minute, we're passing by German beer gardens and artist-covered graffiti walls; the next, we peddle past Hasidic Jews dressed in black.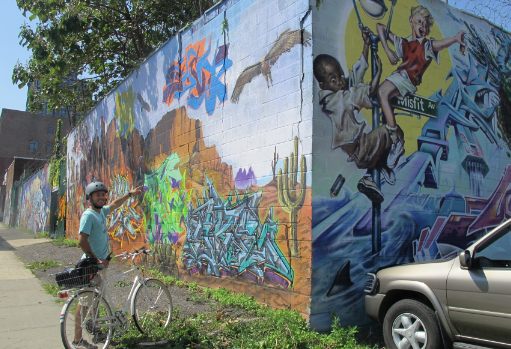 Lavelle points out artist-covered graffiti walls
And it's not just the sights; Felipe is also a foodie and as we ride by the various enclaves, he points out the hotspots and cheap eats such as Lulu's, where you buy a beer and get a free slice of pizza, and The Levee where a shot and a beer cost five bucks; and Five Leaves, the cafe Heath Ledger planned before he died, which his estate funded and now the wait to eat can be two hours long. At "Best" Pizza in Williamsburg, we try thin-crust slices with fresh vegetables from the farmer's market and a side of pickled vegetables. In DUMBO (Down Under the Manhattan ridge Overpass) we park our bikes at the Brooklyn Roasting Company, formerly the stables of the Arbuckle Coffee Building, which dates to the beginning of the 20th century. The line moves quickly and the cappuccino is perfect.
Felipe is an encyclopedia of facts. Brooklyn has 30 miles of waterfront, the streets are alphabetized, and the neighborhood names are what they say: Flatbush is flat, Brooklyn Heights is in the heights, Park Slope is on a slope. There are two new hotels comparable to the Meatpacking District trend-spots (and cheaper): The Wythe and the King & Grove. He points out the building where Frank Serpico was shot during a heroin bust. We peddle by the security-guarded Steiner Studios http://www.steinerstudios.com NYC's first Hollywood-style film studios.
The first battle of the Revolutionary War was fought in Brooklyn, but George Washington and the Continental Army lost. Cadman Plaza Park has a 24-foot high memorial honoring Brooklynites who served in World War II. We stop at the 1847 Plymouth Church where Abe Lincoln came twice; we ride by the 11-bedroom house where Truman Capote wrote Breakfast at Tiffany's, and which recently sold for $12 million.
My favorite place is Vinegar Hill, which was named for the Battle of Vinegar Hill of the 1798 Irish Rebellion in order to entice Irish workers to move here (it worked). It's like being back in the 19th century, riding on cobblestone streets and passing two-story brick houses. Felipe stops in front of a gated driveway leading up to a foot-balled-sized lawn and an 1805 mansion known as the Commandant's House, privately owned since 1964 and bigger than any Newport mansion I've ever seen. No one has any idea who lives here now.

As we wheel our bikes onto the East River Ferry in DUMBO to head back to Williamsburg, I am mesmerized by the views of Manhattan off the stern. I think about the twelve miles we've just covered, the 65,000-acre rooftop farm, the beautiful parks and endless eateries, and the hip and eclectic neighborhoods, the mysterious owner of the Commandant's House. I love my Manhattan apartment, but if I were looking for a new place to live, I would choose Brooklyn in a heartbeat.