NEW YORK -- Miguel Padilla said he couldn't let his fiancee's drunk brother get behind the wheel. Padilla, who also goes by Mike, may have been trying to do a good deed, but he wound up on Rikers Island instead.
As he cruised Brooklyn's streets driving his drunk relative home one night last February, he caught a stroke of bad luck. Police pulled him over. Before he knew it, Padilla was under arrest for driving on a suspended license.
For the next several days, his fiancee scrambled to raise $1,000 in bail to free him. Stuck on the inside, he said, he endured an attempt by another inmate to choke him. Finally, he'd had enough.
"If I had a choice and I had the money I would have paid it," Padilla told HuffPost. "But I didn't have the money, so I had no choice but to plead."
When Padilla, 35, returned to the outside world, he had lost his two low-wage jobs. He also had a misdemeanor on his rap sheet.
Bail is meant to ensure people accused of crimes come back to court. But far too often, advocates say, it becomes a form of punishment in itself. Now a group of lawyers is working to start a bail fund in Brooklyn to keep people like Padilla out of Rikers -- and to give them a fighting chance in court.
Organizers said the Brooklyn Community Bail Fund will launch within days or weeks. Working as a nonprofit in conjunction with the Brooklyn Defender Services, they have raised more than $200,000 from private individuals and foundations to cover bail for low-level offenders with close community connections, and are looking for further funding opportunities. When they return to court, the money will be recycled to cover other defendants' bail.
Bail fund co-founder Scott Hechinger, who also works as a public defender for the Brooklyn Defender Services, said the aim is to change his clients' odds. In his day job, he said, he is presented with a daily parade of defendants being arraigned, desperate to avoid Rikers.
"The very first time I meet my client -- then within five to 10 minutes see a judge -- is arguably the most important part of the case," said Hechinger. He must quickly garner information to plead the case for release. "Bail is everything. When bail is set, I cannot do my job … all negotiating leverage goes out the window."
Hechinger said that when his clients are released -- on their own recognizance, or with the help of a family member -- the equation changes completely. Suddenly, clients can negotiate pleas or head to trial from a position of relative strength.
The fund estimates based on 2013 data provided by Brooklyn Defender Services that defendants are nine times more likely to plead guilty to a misdemeanor if they are stuck on bail. Eighty-eight percent of those out of jail had their cases resolved without a conviction, compared to 38 percent of those in jail on bail.
The Brooklyn effort is modeled after a similar initiative in the Bronx. According to the Bronx Freedom Fund's statistics, between October 2013 and October 2014, 98 percent of the 140 clients it served returned to all of their court appearances.
In part that is because of the low-risk profile of those clients: Under a New York law passed in 2012, charitable bail funds may only serve clients who can't afford to pay in misdemeanor cases where bail has been set at a maximum of $2,000. Typical offenses include turnstile jumping or smoking marijuana in public, said Hechinger.
When defendants do fail to show, Peter Goldberg -- who took a pay cut from his cushy job at a white-shoe law firm to serve as the bail fund's executive director -- won't be bursting through their doors like Dog the Bounty Hunter.
"I've been working out, but we won't do that," said Goldberg. Instead, the fund will call defendants before their appearances -- a simple tactic that Goldberg said has worked surprisingly well elsewhere.
The bail fund is launching at a moment of ferment for criminal justice nationwide. Cities and states are increasingly reconsidering whether they need to jail people accused of minor crimes at all.
"This is not a long-term strategy," Hechinger said of his own project. "This is not a solution to the problem of bail. The bail fund is a short-term intervention to an urgent need."
Some experts on bail have questioned, however, whether focusing on short-term strategies is a good use of both money and minds when larger changes might be possible. Other states like Kentucky have significantly reduced their jail populations by making mathematical assessments of whether defendants are likely to threaten public safety before trial.
But New York is one of very few states where judges may not legally consider defendants' risk to community safety when setting bail. City courts frequently avoid setting bail in the first place: 72 percent of New York City defendants in felony cases were released on their own recognizance as of 2006. But when low-level offenders do receive bail, they are trapped in jail for an average of 15.7 days, according to a Human Rights Watch report that examined those with bail of $1,000 or less. In a 2013 speech, Jonathan Lippman, the state's top judge, blasted how the system traps low-level offenders, calling for a move to risk assessment.
Bail funds are "a bit of a stopgap measure," said Cherise Fanno Burdeen, executive director of the Pretrial Justice Initiative. "If you have bail funds," she worried, "does that prevent the system from actually addressing the concerns? Because they have this Band-Aid holding things together?"
But Burdeen acknowledges that for individual clients, bail funds can be priceless.
Mike Padilla is one man who could have used such a helping hand. Padilla said he was forced to "pretty much just get out of dodge" after his misdemeanor conviction last year. He moved to Florida. After months of searching, too poor to pay bus fare or buy a water bottle under the hot southern sun, he found a new job.
Padilla said he is content with his new life. Despite his kind-of-happy ending, however, he can't help but think about how things could have been.
A bail fund he said, "would have meant a whole lot. I probably would have still had a job, you know?"
CORRECTION: An earlier version of this story said the Brooklyn Community Bail Fund was looking to raise $200,000. In fact, it has already raised that amount.
Before You Go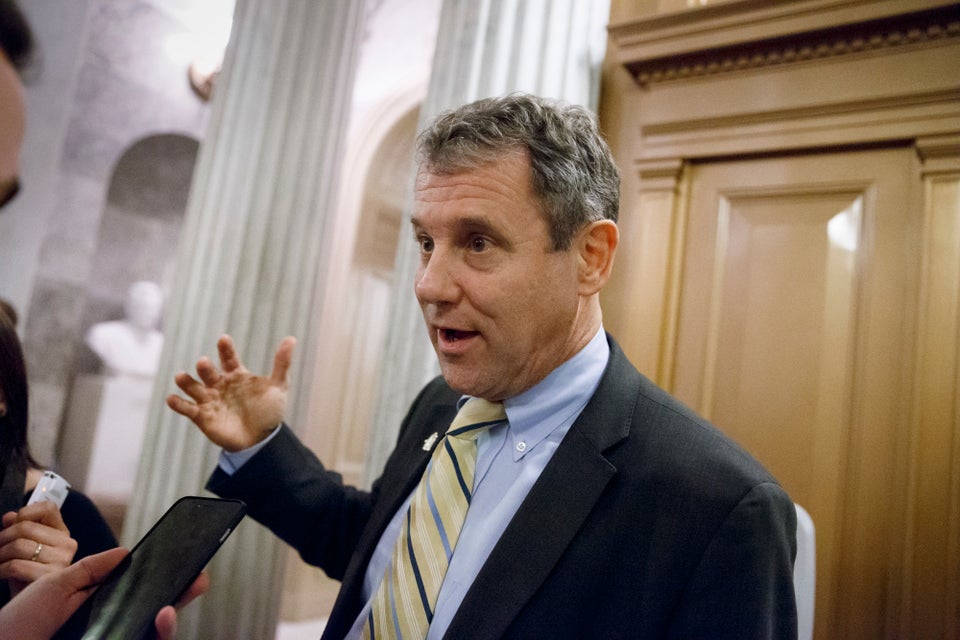 Politicians Take On Wall Street
Popular in the Community