A former New York City police officer found guilty of manslaughter in the fatal shooting of an unarmed black man should not go to prison, Brooklyn District Attorney Ken Thompson said on Wednesday.
"Peter Liang was indicted, prosecuted and subsequently convicted by a jury because his reckless actions caused an innocent man to lose his life," Thompson said in a statement.
"There is no evidence, however, that he intended to kill or injure Akai Gurley. When Mr. Liang went into that building that night, he did so as part of his job and to keep the people of Brooklyn and our city safe."
Liang, 28, is scheduled to be sentenced before Brooklyn Supreme Court Justice Danny Chun on April 14. He faces up to 15 years in prison.
Thompson said in comments also filed as a recommendation with the court that Liang should receive five years of probation on condition that he serves six months of home confinement with an electronic monitor. He also recommended that Liang perform 500 hours of community service.
"Although we disagree with Mr. Thompson on the fundamental issue of Peter's culpability, he deserves praise for his dispassionate and courageous decision that incarceration is not called for in this case," Liang's attorneys Pauld Shechtman and Gabriel Chin said in a statement.
Liang, who was on the police force less than a year, was convicted of manslaughter in the Nov. 20, 2014 shooting of 28-year-old Akai Gurley, which occurred in a darkened, Brooklyn public housing stairwell he was patrolling.
Gurley's relatives expressed outrage over Thompson's recommendation, saying it "sends the message that police officers who kill people should not face serious consequences."
The incident sparked protests similar to those over police shootings of other unarmed black men in Maryland, Missouri and other states.
A jury found Liang responsible for firing a bullet that ricocheted off a wall and killed Gurley, who was walking one floor below. A Chinese-American, Liang testified that he was startled by a noise, which caused him to accidentally fire his gun.
Although prosecutors at trial argued that it was not an accident, Thompson said the case was about justice, not about revenge. "As I have said before, there are no winners here," said Thompson. "But the sentence that I have requested is just and fair under the circumstances of this case."
Before You Go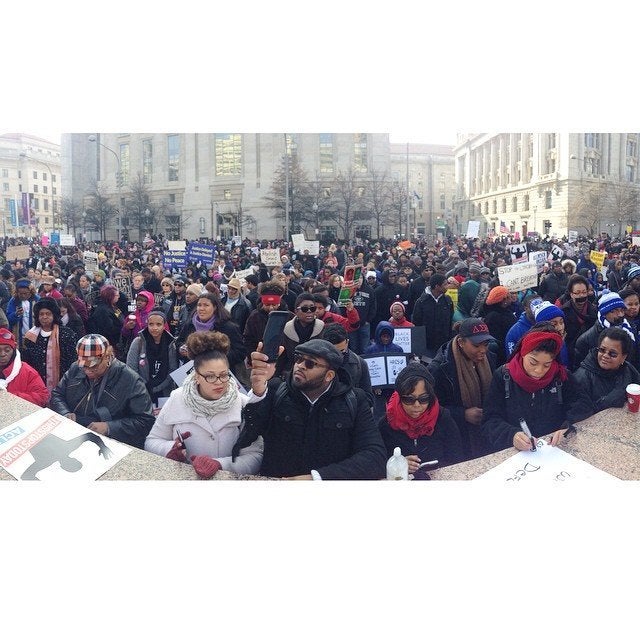 Powerful Black Lives Matter March In Washington
Popular in the Community