 These days, our knowledge of celebrities too often originates with paparazzi images and snarky quotes by anonymous "insiders." After a while, it's easy to forget that stars are real people. That's why HuffPost Celebrity decided to launch its all-new #nofilter quick-fire question and answer series. Because how well do you know someone until they've shared their guiltiest pleasures?

What do you think of Kate Upton's new Sports Illustrated Swimsuit Edition cover?
I love it! I think that what's so cool about it is regardless of whether or not you've ever bought a Sports Illustrated in your life, the fact that they have Kate going to Antarctica is a story in itself that will make people want to buy the magazine. I think it's a really great story, I think she looks awesome. I mean, you can see glaciers in the background, it's very cool. I think they did such a good job.
Would you do another Sports Illustrated cover?
I don't think so. I love Sports Illustrated and they're literally the reason I have a career, but I did it for seven years, and I loved it, but it's time for me to do something else. I haven't actually done any modeling in two years, I've been doing all acting, so I'm sort of working on that now.
What's it like being considered one of the hottest women in the world?
Oh my gosh! I wish you could see what I look like on a day-to-day basis. I actually may have been Photoshopped … Honestly, I think it's funny. When someone refers to you as that, you're obviously very flattered, but I know that it's fleeting and not here for a while, so it's funny.
What's it been like now that Andy [Roddick] has retired from tennis?
It's much more relaxing. And I can drink more wine, which is really nice. [laughs]
Speaking of wine, any Valentine's Day plans?
I'm actually going to be with Gillette on Valentine's Day and we're trying to break two Guiness World Records. The first one is the largest shaving lesson in the world -- we're getting a bunch of guys to step up and come out and get a shaving lesson from Gillette. And the second record is the most kisses in a minute within a couple. So, we're going to see how many kisses couples can fit in on Valentine's Day! And we're getting these guys smooth and ready for their Valentine's Day makeout sessions.
Do you prefer "bearded" kisses or "smooth" kisses?
I definitely like a smooth face. I think a stubbly look looks very cool, but I think when it comes down to it a woman doesn't like sandpaper on her face. You know what I mean? She doesn't want to be scratched when she goes in for a kiss! So, I definitely prefer a soft-to-the-touch kiss.
What do you think about sideboob?
I think it's pretty sexy. I think I would be a little concerned with the things coming out, but I think it's pretty sexy when a woman does it. I think it looks really good if you could pull it off, but if you're going to do it I think you make sure you're practically duct-taped in. Make sure everything is covered, you're strapped down and there are no hazards or risks of having anything pop out.
Continuing on with the sideboob thing, what's the dumbest thing you've read about yourself?
[laughs] Well, I tend to put my foot in my mouth in interviews, so I kind of rant on myself. But the dumbest thing I've ever read about myself is probably the stories when I've been at an event, drinking a ton of alcohol and dancing on tables. Which, that is funny when there's like alcohol mentioned in the placement and you know that the alcohol companies said it and you weren't actually drinking it. Those are kind of weird and funny ... and not true!
If you could give advice to a younger version of yourself, what would it be?
Be more assertive in saying no, that would be the advice I'd give myself. When I first started, I was always so nervous to be assertive and I'm definitely more assertive now.
Would you rather sleep cold or overheated?
Cold because then you can bundle up in your blankets.
What do you wear to bed?
Boxers.
Top or bottom? (In bunk beds, I mean!)
[laughs] I like to switch it up!
Have you read "Fifty Shades of Grey"?
I hated it. I couldn't finish the first book because I did not enjoy it at all. I started it, but couldn't even finish the first book and didn't read the second or third. The Anastasia Steele character, I think I was laughing at her … I did not enjoy it personally. I totally understand the fixation, I get it that people enjoy it, but it was not my cup of tea.
What's the last song you downloaded?
Last night I downloaded Kings of Leon's song "Milk" and it's from one of their albums, I think '03 or '04.
If your friend was getting married and you thought it was a mistake would you say so?
Yes, because I can't keep my mouth shut with my friends.
Hopefully you'd tell them before they were in their wedding dress.
Oh my gosh, yes! I would think if I disapproved of the relationship, that would probably be a conversation we had shortly after the ring was put on. Much, much, much earlier than the actual wedding date. I've never been in that situation thankfully, because my friends have wonderful taste in men, but I would hope that I would say something.
What's your secret/hidden talent?
My dance moves. My dance moves are so horrible that I feel like it has to be a talent. I'm a very literal dancer. I like to dance along to the lyrics of songs. [laughs]
What's your guiltiest pleasure?
Can it be like a food indulgence? Because I would say candy. I indulged in candy yesterday.
What shows are always on your DVR?
"Nashville," which I love, I have all the songs downloaded, as well. "New Girl," "Newsroom" and "American Horror Story."
You guest-starred on "New Girl." How was it?
I love the show, I'm a huge fan. It was really fun to do.
Who's your ideal drinking buddy, living or dead?
You know who it is? It's Chrissy Teigen. She's one of my best girlfriends and she is the most fun drinking buddy you can possibly imagine.
And what's your go-to cocktail?
I actually like red wine. I know it's not a cocktail, but that's usually my go-to drink.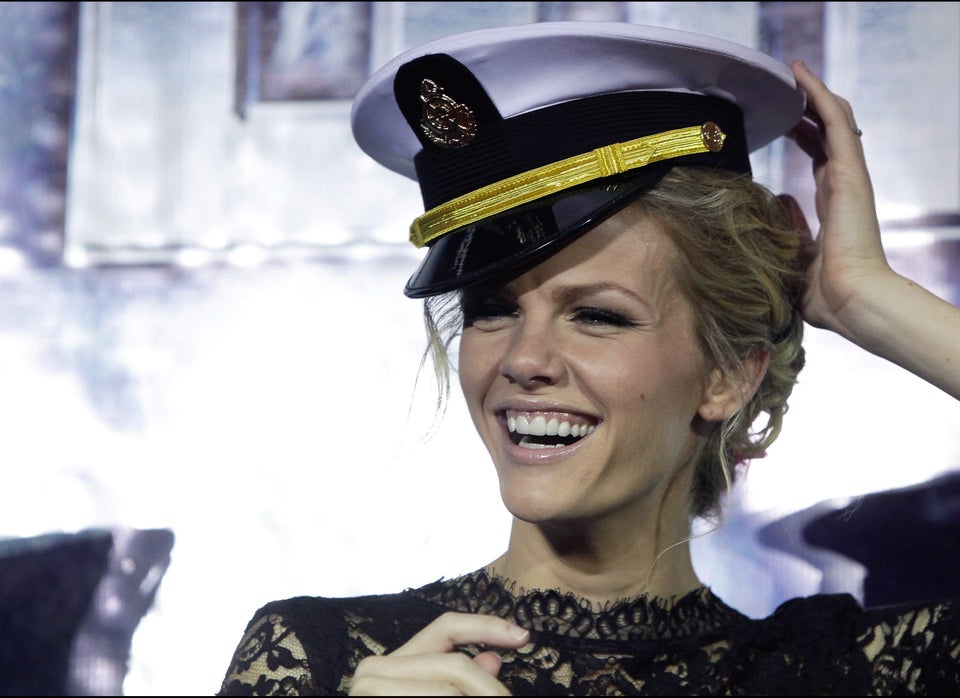 Brooklyn Decker
Popular in the Community