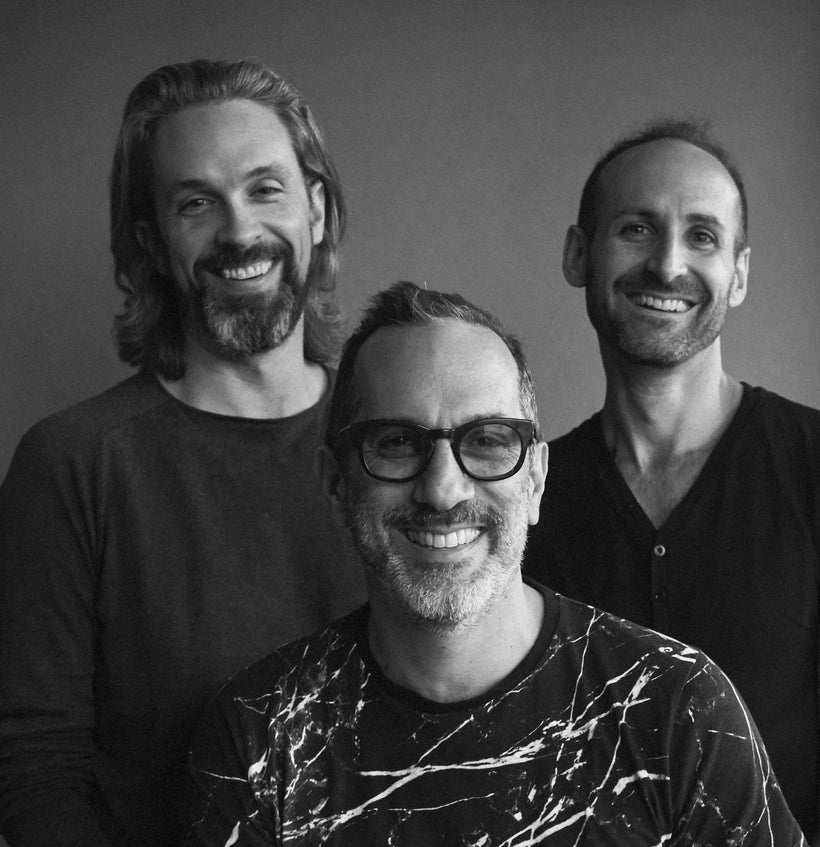 The three partners behind New York City's most buzzed about design studio, INC Architecture & Design, have already had a historic year. Adam Rolston, Drew Stuart and Gabriel Benroth have brought their refined aesthetic to a wide range of 2017 high profile projects including working with Rem Koolhaas on OMA's 121 E22nd St, The Line Hotel DC, the soon to be new TWA Terminal, and the acclaimed 1 Hotel Brooklyn Bridge. With 1 Hotel Brooklyn Bridge, INC was driven to create a luxury hotel inspired by Brooklyn's industrial history and natural setting, addressing local materials and artists. Details include a 25-foot steel grated wall, overflowing with vines and hand-placed vegetation. The team looked at historic wharfs, wharf architecture and materiality to capture the industrial ancestry of the waterfront. The integration of crates, palettes, moving blankets, valves, and levers, links back to INC's fascination of tools and purpose built artifacts. In addition to connecting to the contemporary identity of Brooklyn, the hotel nods to the historic, hardworking, shipping roots of the Brooklyn waterfront in materials such as rope and the bleached aged wood of piers. At INC, context is king and the 1 Hotel Brooklyn Bridge is a reflection of this mindset. We sat down with the trio to learn more about their inspiration and process.
"The design of 1 Hotel, Brooklyn Bridge, is a praise poem dedicated to Brooklyn's waterfront. Overlooking the Park, the East River and lower Manhattan, the aesthetic of the hotel draws inspiration from contemporary Brooklyn design culture, the history of the wharf that originally occupied the site and the natural landscape exemplified by the new game changing Brooklyn Bridge Park."
What was your favorite part of the design process?
When we began the project there wasn't a single decent hotel open in brooklyn and the 1 Hotel brand didn't exist. Rethinking luxury sustainably, imagining one of Brooklyn's first five-star hotels and being an integral part of the invention of a new brand were all fascinating challenges. Developing an environment to be sensual and sustainable, to be casual and luxurious and to be inspired by nature but with a Brooklyn edge was a total joy.
Developing a hotel that would be inspired by nature, casual and sustainable while also creating an environment that would be sensual, luxurious and edgy was a joy but it was also our biggest challenge. This kind of casual luxury that retains an urban and urbane grittiness didn't exist. There were no comparables. The hotel has a jeans & cashmere atmosphere. This brand's take on luxury is something new and is in part why it has been so well received. Its got edge, its design driven and it's comfortably inviting. That's a tricky balance.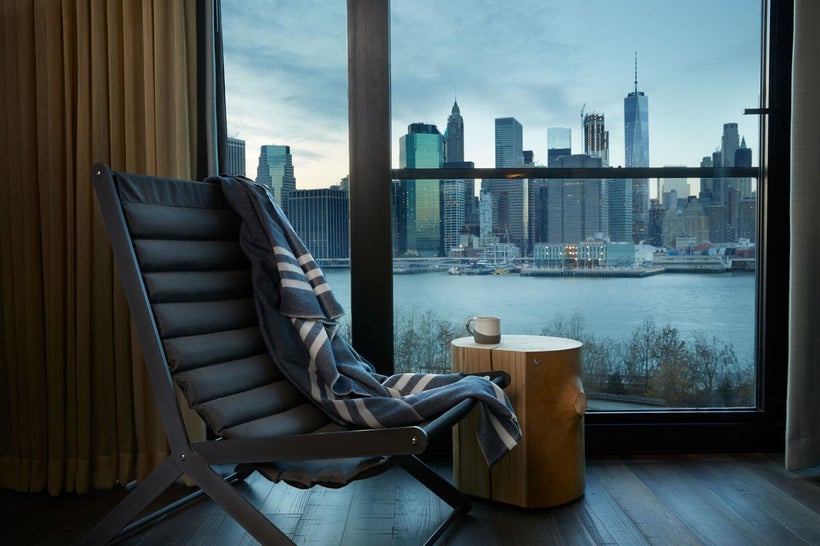 How did you find your inspiration for the hotel?
At INC context is king. Context is everything. Our inspiration for the hotel came directly from the park, the history of Brooklyn's waterfront wharf and Brooklyn design culture then and now. Inspired by the Brooklyn context we hoped to create an organic and sensual brutalism. In our deep dive into the hardworking history of the waterfront wharfs and Brooklyn's contemporary maker culture we found that Brooklyn's beauty belongs to its strength and its ingenuity. Brooklynites are tough and resourceful. We worked to combine this robust strength with the elegance and poetry of the parks natural beauty.
How do you see Brooklyn changing? Is 1 Hotel Brooklyn Bridge part of this shift?
Brooklyn is all grown-up. What was once a margin, is now a center. What was once a satellite to Manhattan is now a destination onto itself. Until the 1 Hotel, brooklyn didn't have an anchor hotel. Brooklyn has come into its own. Manhattan has the Plaza., Brooklyn now has the 1 Hotel Brooklyn Bridge park. This hotel will be brooklyn's living room both for the hotel guest but more importantly for Brooklynites.
What are your favorite things to do, see, or experience at 1 Hotel?
In good weather, the roof garden is off the charts. There is no view like it in all of Brooklyn. There's a rooftop bar with specialty cocktails and light fare. There are views up the east river, the brooklyn bridge looms above, lower Manhattan is laid out before you and you can see as far as the Statue of Liberty. We imagined the roof as an oasis or piece of the park lifted into the sky, a garden evocative of the park below, inspired by the roughness of the east river coastline and orientated toward the view.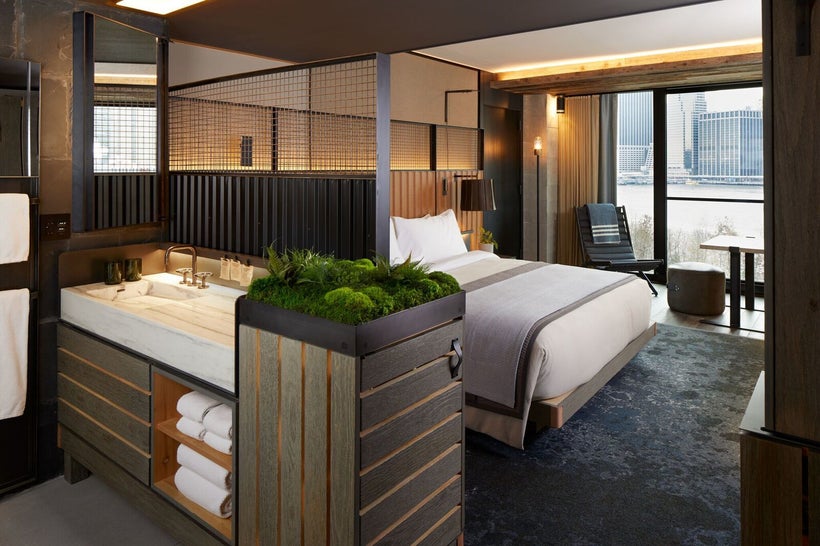 How do you define eco-luxury? What is its role in design?
We prefer the phrase sensual sustainability to eco-luxury. The 1 Hotel Brand asks the question: Can sustainability be sensual not stressful? We believe it can. Good design can foster a connection to and respectfor nature. Thoughtful planning can support physical and psychological well being. The use of sustainable materials and systems can reduce carbon footprint. Designing for natural light, fresh air, natural materials and greenery are some of our more obvious tools. Creating spaces with animated sensory stimulus combined with ones that are calmingly simple can have quantifiable effects on emotional health. Recycling and upcycling can, in the right hands be extraordinarily beautiful.
Where can guests find eco-luxe elements?
Throughout exclusively real, unaltered, often naturally aged materials were used for their physical attributes and inherent beauty. Natural colors earth tones, aged and patinaed colors were selected in the textiles and finishes. We were inspired by natural rock formations to develop a design language of stacking, layering, piling and incompleteness to foster a physical environment that is stimulating and surprising . The hotel is supplied with filtered water throughout, we decided to celebrate and connect the visitor to that fact by placing a drinking water supply directly as you enter the room. Roof water collection, used to irrigate the park, is highlighted in the lobby with its massive drain pipe exposed to view. On a rainy evening, in the lobby living room you can hear the water softly rushing by. All these element come together to drive a connection to and awareness of nature.
What new designers/makers did you discover through the design process?
In an effort to connect the project to its Brooklyn context we took a curatorial approach to many of the furnishings and objects that are found in the Hotel. We collected a group of original objects by some of Brooklyn's brightest design stars including Eric Slayton, Taylor Forrest, May Furniture Company, Bien Hecho, MMaterial, Moses Nadel, Friends x Family and Uhuru among others. This collection of unique objects helps to define the character of the public spaces turning the lobby into Brooklyn's living room.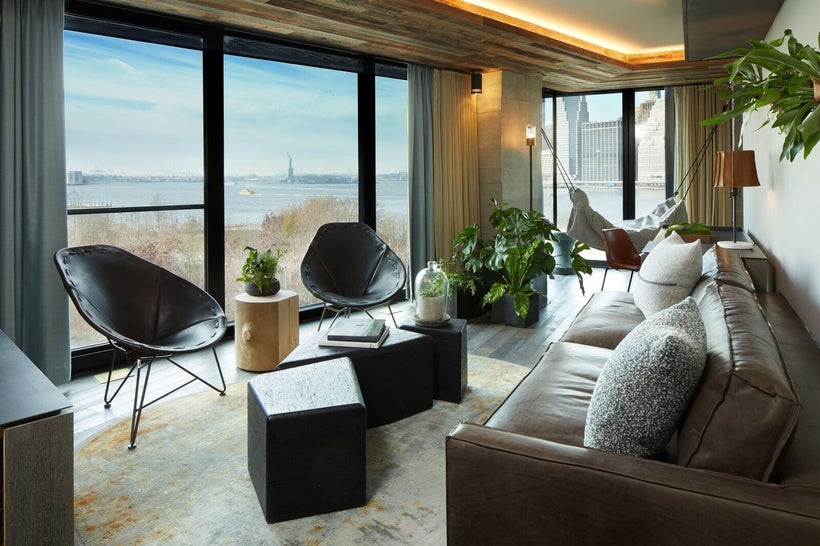 How did you find these designers, and why did you choose them?
We love to shop! There is nothing better than discovering a new designer or beautiful object. At 1 Hotel our goal was to capture the modern creative independence of Brooklyn and its "do-it- yourself" maker culture. Much has been written of Brooklyn's "maker" culture. But what do we mean when we use the words "crafted" and "made"? On our hunt into Brooklyn's design culture we were inspired by an emphasis on problem solving, an honest use of materials, a simplicity of form and most importantly an interest in how things are made not just what they look like. Beauty here is the by-product of thoughtful solutions, practical applications, and the usefulness of the well-crafted object.
What are unexpected materials used in the hotel?
One of our favorite materials in the project is used in many of the side and dining tables throughout the hotel. We found a Brooklyn craftsman that was willing to up-cycle the wood leftover from the shipping crates and pallets used in the delivery of the hotel furnishings and materials. In the lobby you will set your drink down on a hunk of beautifully proportioned butcher block wood assembled of crate material from the delivery of the sofa you are sitting on! Now that's eco-luxury.
Do you have plans to design more hotels in the future?
Yes, yes, yes! Right now we're working on the re-birth and conversion of Eero Saarinen's TWA flight center, at JFK airport into an hotel and event center. The design will celebrate all the heroic optimism of that ground breaking structure and the era that made flight sexy. In the fall we are opening the Line DC that includes the adaptive re-use of an old church for the lobby and restaurant. It's a little bit sacrilegious in a good way!
Calling all HuffPost superfans!
Sign up for membership to become a founding member and help shape HuffPost's next chapter
This post was published on the now-closed HuffPost Contributor platform. Contributors control their own work and posted freely to our site. If you need to flag this entry as abusive,
send us an email
.